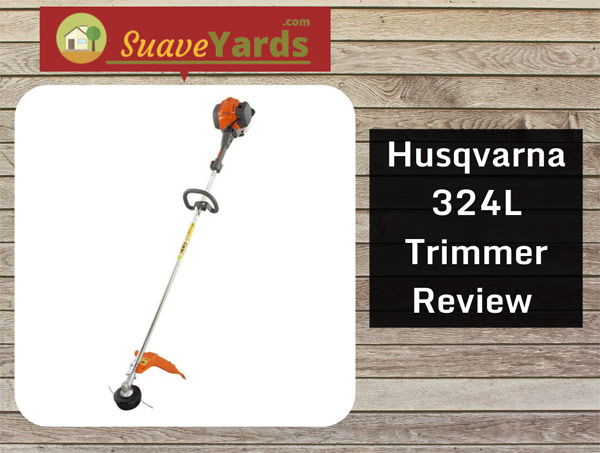 ---
Review At A Glance
---
The Husqvarna 4 Stroke Trimmer is an absolute powerhouse of a weed trimmer, fueled by a top notch Honda engine.

Got a big yard? Make this your choice.
MY RATING: 90%

---
Editor's Note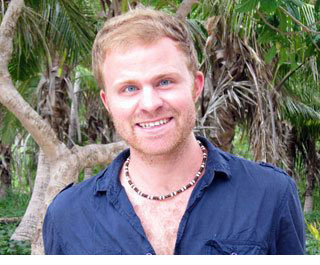 I hope you love the products that I recommend here! Just so you know, I work with Amazon and other affiliate partners and may be compensated from the links below.
---
---
Specifications
---
Size (w x h x d in inches) – 9 x 70 x 9
Series Name – 324L
Power Type – Gas
Cylinder displacement – 25 cm³
Power output – 1.07 hp
Weight (excl. cutting equipment) – 11.24 lbs
Maximum power speed – 7000 rpm
Idling speed – 3100 rpm
Cutting Swath – 18 inches
Line – Dual Bump Feed
Line Diameter – 0.095 inches
Two Year Warranty
PRICE – $$$
---
About The Husqvarna 4 Stroke Trimmer
---
So let's get down to business:
The Husqvarna 4 Stroke 324L is is a gas trimmer with a 4-stroke engine that runs on pure gas, there is no need to mix oil and fuel.
It has a straight shaft and a dual bump feed line using a 0.095 inch diameter line.
The cool thing is:
It uses Husqvarna's Smart Start and air purge system to remove air from the carburetor so it starts more easily. It has a Honda engine and uses the T35 Husqvarna trimmer head.
Excluding the cutting equipment it weighs in at 11.24lbs.
---
The Good
---
Wow!
This really does have a lot of power.
It goes through even the thickest of weeds without any problems whatsoever and never bogs down.
If you have a large area to clear then this can get through pretty much anything in the minimum of time. It is a delight to use in that respect.
It'll blow your mind.
A lot of this is down the the quality engine. It is not made by Husqvarna, but is a Honda GX25 engine, that is surrounded by Husqvarna shrouds.
Honda are known for their reliability and this engine runs perfectly and is also quiet and very fuel efficient.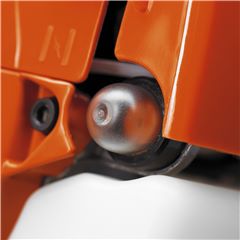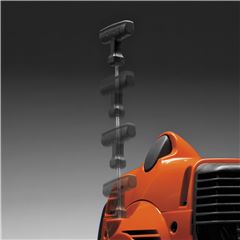 Above: This Husqvarna is well made and has a lovely Honda engine
So this is a 4-stroke engine.
Essentially that means a couple of things – it takes four steps to create power – with each step being more concentrated in comparison to a 2-stroke engine.
Think about it this way:
With four stroke engines the torque is much nearer the base of the unit meaning you barely have to apply any gas to get a good amount of power. Just above idle will provide you with plenty of power to trim.
And another benefit of 4-stroke engines?
They run purely on standard gasoline, you don't have to mix gas and oil, which makes things a lot easier. Simply put in the gas and you are good to go.
Even better:
Also with 2-stroke engines the smell of 2-stroke gas inevitably seeps into your clothing, so you don't have that issue easier.
This is nicely made – it is pretty much all steel and metal, with just a couple of plastic pieces. It is a quality commercial style unit with the (previously mentioned) great Honda engine detached and built onto the shaft.
And you know what?
It is also easy to assemble, start and use – there is almost no resistance on the recoil. Small details like the soft grip, adjustable handle make it really comfortable to use and elevate it above most other gas trimmers on the market.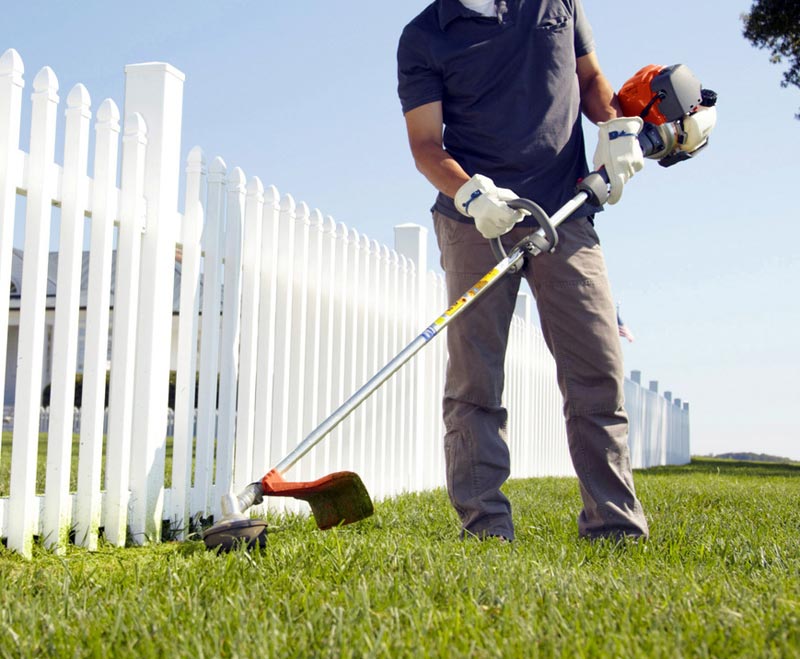 Above: The trimmer head is fantastic
But you're probably wondering…
Do I have to constantly refill the string?
Well it uses a T35 Husqvarna trimmer head which is huge and holds so much string, I'd estimate maybe up to 40 or 50 foot of line, which is pretty much unparalleled and means you don't need to stop to fill it up as much.
And one final thing:
It also edges really well.
Quite often with two stroke engines they bog down when you flip them over to edge, whereas this works flawlessly when you do so – the engine keeps purring away and you can easily and quickly tidy up your yard.
It is great!

---
The Not So Good
---
A word of warning:
The guard on this is not perfect – it doesn't protect you from the grass you cut.
In fact the chances are that, as you will probably be using this to cut down substantially overgrown grass and weeds, you could be left covered in grass at the end of it all. It could definitely do with improvement.
What's more:
The string is also quite close to the top of the trimmer head, and this makes cutting grass in really tight spots a little more of a problem. It isn't a big problem, but something to be aware of.
Where the air filter cover sits with the main plastic frame is not as well protected as it should be. I had some issues with the clips breaking off – so this could be made more secure.
Also as you are not mixing fuel there is no tinge to the fluid in the fuel tank. The fuel tank is also made of solid white plastic.
My point is this:
A combination of these two factors means you have no idea how much fuel is left in the tank unless you open it and look every time. A slightly transparent fuel tank would make this a lot easier.
Price wise it is also at the higher end of the market – although there is a reason for that – namely the power and quality you get!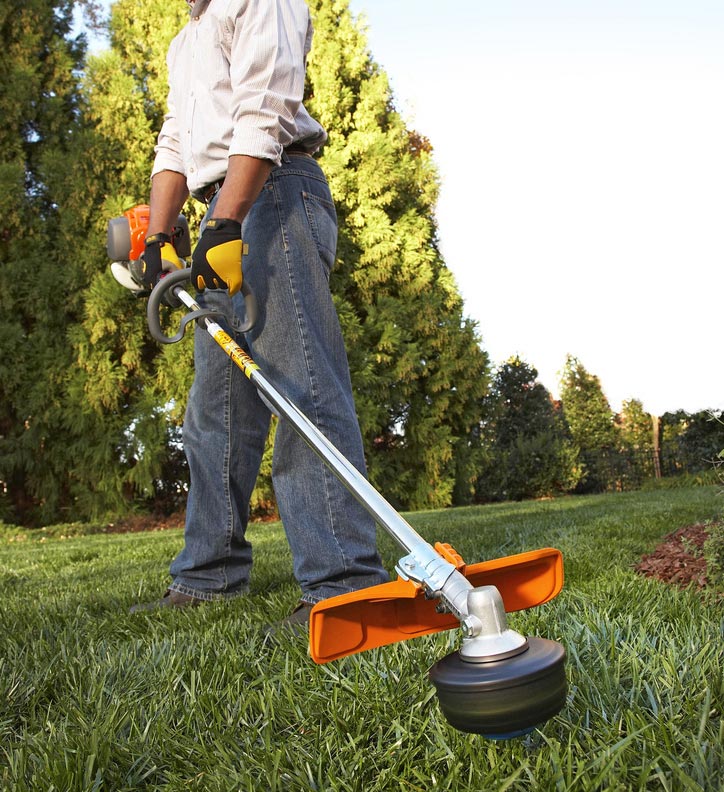 Above: The Husqvarna 4-stroke trimmer is at the higher end of the market price wise.
---
At A Glance
---
✔ Pros
Really powerful
Fantastic Honda engine
4-stroke engine
No mixing oil
Well made
Easy to assemble, start and use
Fantastic trimmer head
Edges really well
✘ Cons
Guard is not great

String quite close to top of trimmer head

Air filter is poor

More expensive

Not easy to know how much fuel is left
---
Conclusion
---
My Verdict
Design - 93%
Performance - 93%
Price - 85%
90%
Great string trimmer
This really is one of the most powerful string trimmers on the market. If you have a large yard and lots of thick weeds to cut down I strongly recommend this.

It is perfect for land or commercial use, it starts easily, is well balanced, quiet considering the power and has a 4-stroke engine so no worrying about mixing oil and gas.

It literally goes through pretty much any weed or heavy grass like a hot knife through butter and you have the peace of mind of knowing it uses a top quality, ultra reliable Honda engine.

It is a bit more expensive, but you get so much for your money and it is so rewarding to feel it effortless cut through months of overgrown weeds and grass with the minimum of fuss!

User Rating:

4.3 ( 1 votes)
---
FAQs
---
Can you add attachments to this?
No you cannot.
What kind of gas should I use?
Husqvarna recommends that you use 90 octane (RON) or higher for this trimmer. Check the manual (page 12) for full details.
What size string can I use with this trimmer?
Husqvarna recommend anything from 0.095 inches to 0.105 inches.
Can you use a strap or harness with this?
Yes, you can attach a harness.
---
You Might Also Like…
---
Check out my Best Weed Eaters Buyers Guide for my favourite weed eaters/string trimmers of the year (yes this one features in it!).
My favourite is the Ego Power String Trimmer – it is battery powered, but it is great! In terms of gas powered weed trimmers, you might want to check out the Husqvarna 128LD.
Of course you don't necessarily need a weed eater as there are other ways to get rid of weeds.
To the right are a list of general resources that maybe be of use. You can also view my Site Index, which shows everything on my site on one page or check out my recommended links below.
Useful Resources
Six Tips For Effective Weed Control – Fine Gardening
Natural Ways To Get Rid Of Weeds – Houzz
20 Practical Way To Use Weeds – Morning Chores

Conclusion