---
Review At A Glance
---
You've got to go some to find a better budget, lightweight weed eater than the Greenworks 21212 4 Amp 13 Inch Corded String Trimmer.
MY RATING: 91%


---
Editor's Note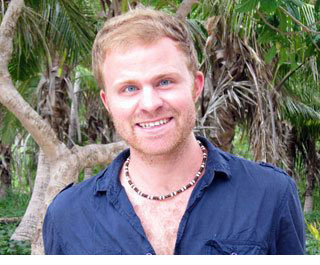 I hope you love the products that I recommend here! Just so you know, I work with Amazon and other affiliate partners and may be compensated from the links below.
---
---
Specifications
---
Power – Electric
Model – 21212
Dimensions (w x h x d in inches) – 4.3 x 39.5 x 10
Cutting Width – 13 inches
Line Diameter – 0.065 inches
Feed System – Dual Auto Feed
Amps – 4
Voltage – 120
Weight – 5.2lbs
Four Year Warranty
PRICE GUIDE: $
---
About The Greenworks 21212 String Trimmer
---
The Greenworks 21212 is a budget end electric string trimmer. It has a 13 inch cutting swath and a dual feed automatic 0.065 inch line.
Casting a closer eye on it:
It has a telescopic shaft you can adjust according to your height and the handle rotates 180 degrees if you want to edge. It has a 4 amp motor you start by holding a trigger and comes with a four year warranty.
The power cord is not included. Make sure you use a good quality outdoor extension cord that is heavy enough to carry the current your product will draw.
An AWG size of at least 16 gauge is recommended for an extension cord of 50 feet or less in length. Extension cords over 100 feet are not recommended.
It is worth remembering that.
There is also a strain release cord you should feed the extension cord around which helps ensure the extension cord does not disconnect.
To use the auto string feed feature run the trimmer by holding the trigger, then release the trigger so it stops. Wait two seconds and then press the trigger again and the strings will automatically advance.
You can advance the strings manually by turning the machine off and disconnecting the trimmer and pushing in the spool retainer button, then pulling on the strings and pull them out.
And finally:
It weighs in at 5.2lbs.
---
The Good
---
First things first:
The price of the Greenwork 21212 is truly phenomenal. It is right at the bottom end of the string trimmer price market, but it doesn't perform that way as you will see.
It is really light too. Of my three favourite weed eaters – the Black and Decker GH900 and the Toro 51480 – being the other two, it is the lightest of the lot.
So what does this mean for you?
It means that for older people or people with limited mobility it is a great choice as it doesn't fatigue you.
For the price and weight it is nice and powerful. A squeeze of the trigger to get it started and it can handle lots without missing a beat – foot long weeds, thick pond lillies, overgrown grass – anything like that is a not a problem.
Now I am not suggesting it can deal with everything.
As it does strain if you encounter really thick brush or weeds, but overall the 4 amp engine gives you more power than it really should – certainly more power than the price tag indicates.
This has a dual automatic line feed and it works well. Release the trigger for two seconds and the line will automatically advance for two seconds. It is quite economical on string and the line feed is reliable and simple to use.
Above: This Greenworks has an automatic line feed that works well.
And you know what surprised me?
For a budget price trimmer it has several unexpected features. The shaft length can be easily adjusted to suit your height.
There is a catch built into the handle which safely secures the extension cord to stop it being easily detached and this works well.
The head can also be quickly and easily rotated 180 degrees. Simply pull the little sleeve on the shaft to unlock the cutting head and then just swivel it depending upon how you want to use – as a trimmer or an edger.
It couldn't be much easier.
For the price you pay you should get a decent amount of use out of this. I like the fact that it is a double string as this reduces stress on the head during use.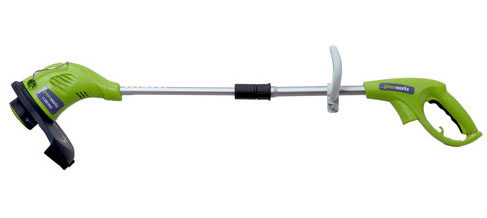 Above: The shaft length can be easily adjusted
This is turns contributes to the longevity of the device as it means the ball bearings are not unduly aged. There is a fair amount of plastic in the build, but it is sturdy and durable.
And get this:
You get a four year warranty – amazing for a budget trimmer!

---
The Not So Good
---
There are a few issues around the handle. Mainly the trigger is quite large, taking up pretty much the whole handle and there is no safety lock.
So:
This means it is easy to grab it and inadvertently start it up and rip through something without realising. I am surprised this feature hasn't been added.
Also the handle is slightly flimsy and has a tendency to move a little whilst you use it. It isn't a major thing, but it is definitely noticeable.
You might want to note this:
Despite the shaft being adjustable, even at its longest it is not very long and if you are above 6 foot you will find yourself stooping somewhat.
Generally most people who buy this will have smaller yards, so won't take too long trimming, so it shouldn't be a massive problem. Just be aware you might be left with a slightly sore back or arms after use if you are tall.
Beyond that:
The plug placement is slightly awkward, it protrudes from the head of the unit and it is easy to bump it with your leg or hip. Thankfully the cord should be well secured due to the cord retention grip.
Finally this is a lightweight, budget trimmer if you have lots of thick bush or a large yard to trim it is not for you.
Above: The Greenworks 21212 is slightly short even when the shaft is extended fully.
---
Conclusion
---
My Verdict
Design - 87%
Performance - 88%
Price - 98%
I will preface my conclusion by saying if you have a larger yard, or medium to high level work that needs to be done, then this definitely isn't for you.
But having said that for simple, straightforward, smaller jobs it is unbeatable and I can almost guarantee you won't find a better budget trimmer that this one.
It is light, quiet, easy to use, will easily hack through tall grass, brambles, larger weeds and has a good amount of power to do so. It might actually be the case you look at the price and think it is too good to be true, well it isn't I promise you!
Want a budget price, lightweight, powerful, durable, electric weed eater - this should be your top choice!

---
At A Glance
---
✔ Pros
Great Price
Very lightweight
Good amount of power
Auto line feed is easy to work
Adjustable handle
Cord is secured well
180 degree head rotation
Should last a while
Four year warranty
✘ Cons
No safety lock
Handles moves
Short even at longest length
Plug placement is annoying
Not for large scale jobs
---
FAQs
---
Does this take a two-prong or three-prong extension cord?
It takes a two prong.
Do I have to use the prestrung spools? Or can I buy my own string for it?
You can purchase your own line, just make sure it is the correct diameter (0.065 inches) so it fits through the holes.
Is this a brushed or brushless motor?
It has a brushed motor.
If I pull the trigger harder does the speed increase?
No it is a simple turn on and off switch. There is no variable speed.
---
You Might Also Like…
---
There are a number of top quality weed eaters around these days, my favourite is the Ego Power String Trimmer – it is battery powered, but it is great!
In terms of electric powered weed trimmers, you might want to check out the Black & Decker GH900. To the right are a list of general resources that maybe be of use.
You can also view my Site Index, which shows everything on my site on one page or use my recommended links below.
Useful Resources