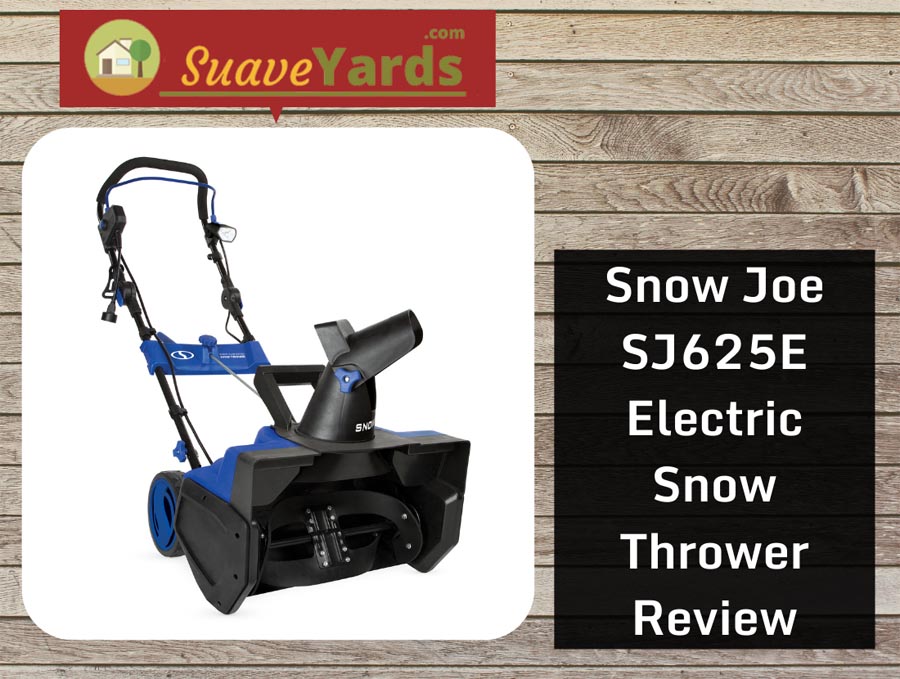 ---
Review At A Glance
---
It's nighttime and the snow is really pouring. You don't want your car to be trapped with over a foot of snow on the driveway. You may have a snow thrower, but is it right for nighttime clearing? If you have the Snow Joe SJ625E Electric Single-Stage Snow Thrower, then you have the right and safe equipment for clearing snow at night.
MY RATING: 90%

---
Editor's Note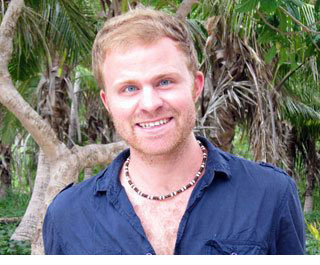 I hope you love the products that I recommend here! Just so you know, I work with Amazon and other affiliate partners and may be compensated from the links below.
---
---
Specifications
---
Model number: SJ625E
Power source: Electric
Motor: 15 amps
Clearing width: 21"
Clearing depth: 12"
Throwing distance: 20'
Weight: 35.7 lbs
Warranty: 2 years
PRICE GUIDE: $
---
About the Snow Joe SJ625E Electric Single-Stage Snow Thrower
---
As an electric snow thrower, this snow equipment is not meant for ice.
It's for paved surfaces, and light and fluffy snow.
It's good for quick pickups
For one, it's quite handy and light–at least when you compare it with snow blowers, which are mostly powered by gas.
The Snow Joe SJ625E Electric Single-Stage Snow Thrower only weighs 35.7 pounds.
However
It can process snow more than its body weight.
This snow thrower ploughs 800 pounds of snow every minute.
Fantastic, isn't it?
The machine is quite fast, too.
It runs at 1,800 revolutions per minute when there is no load.
Let's get to the basic details
The SJ625E can clear a width of 21 inches.
That's actually good considering this is a piece of electric equipment.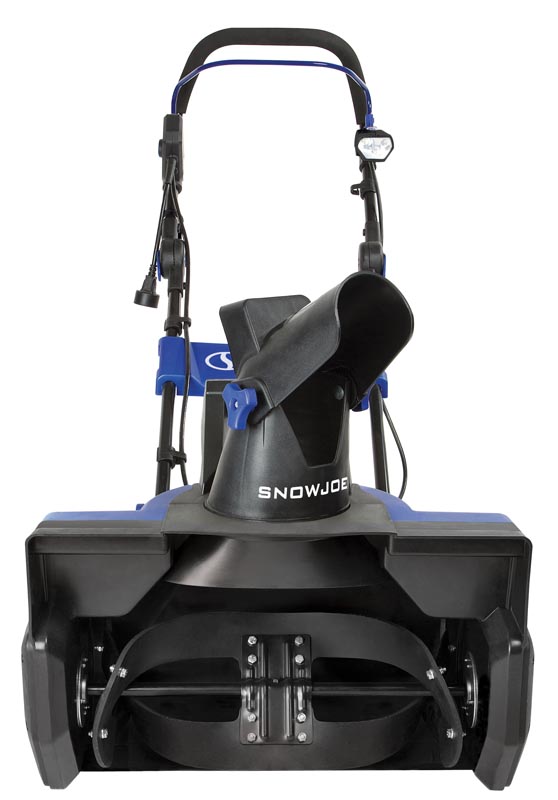 What's the deal?
Electric machines are very convenient, but they are also meant to be inferior than their gas-powered counterparts.
Not this one.
It means
The machine works like a gas-powered one with the convenience of an electric equipment.
It's convenient since you don't need to regularly maintain it with oil change and other things.
Since it's electric
You will need an extension cord since you will be clearing snow outside.
You can use a cord 100 feet long. That size will need a minimum extension gauge of 12.
The machine has a cord lock so that you can properly keep the entire thing.
Here's more
You can clear a foot of snow for every pass.
The snow will be thrown 20 feet away.
Lastly
You get a two-year warranty when you buy this equipment.
---
The Good
---
The SJ625E is basically a larger electric snow thrower.
That's not a bad thing!
It just means that it's more powerful than a lot of its electric counterparts.
In fact, Snow Joe markets this product as "an electric snow thrower that delivers the power of a gas machine with the convenience of an electric unit."
Really sums up the machine
The power comes from the product's durable steel auger with rubber blades.
They give you a path of 21 inches and a depth of 12 inches in every clearing pass.
You must know!
It actually works well even if the snow is more than a foot deep.
Snow Joe was quite modest when it said that it can only clear a maximum depth of 12 inches of snow.
Where does the snow go?
That's up to you!
The chute can rotate 180 degrees. So, you can choose the direction where you want your snow to be dumped.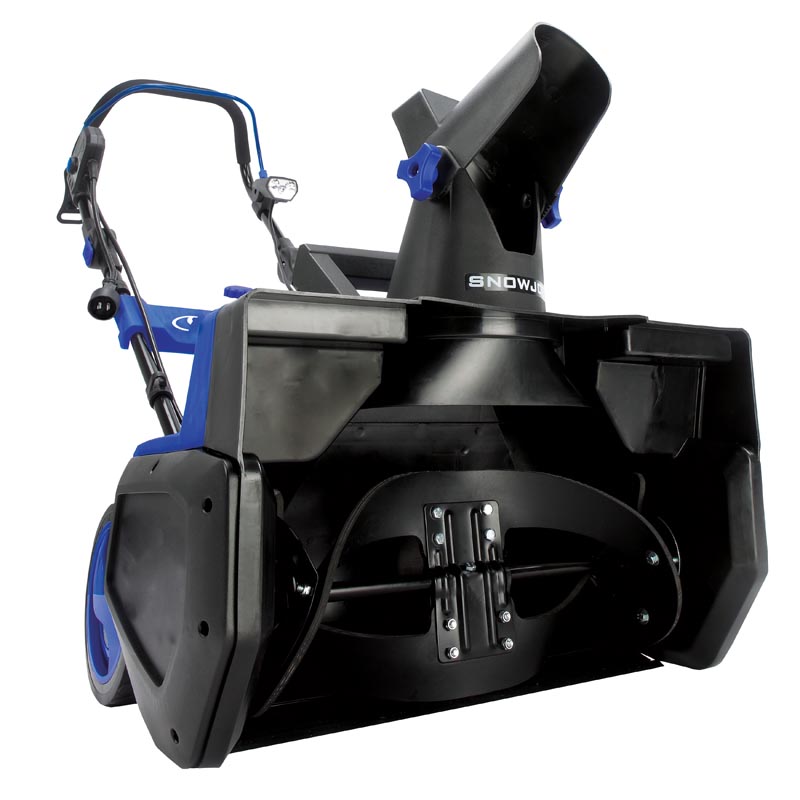 It will be thrown 20 feet away from you.
Further
You can also adjust the height of the chute deflector so that you can control the stream of the snow.
Actually
While the machine is meant for paved surfaces, it doesn't mean that it won't be able to work on rough surfaces.
You can clear snow on sloping terrain even with some obstacles.
You know why?
The snow thrower has a pair of all-terrain wheels.
These also make it easier for you to maneuver the machine.
By the way
This electric snow thrower is also good for decks.
Partly, that's due to the size of the machine. It's not too heavy at all!
Weight is important
Imagine having to lug a bulky and heavy machine onto the deck.
That's not easy!
But why do we say it's good for nighttime clearing?
It's a compendium of characteristics. One of which is the three-watt headlight.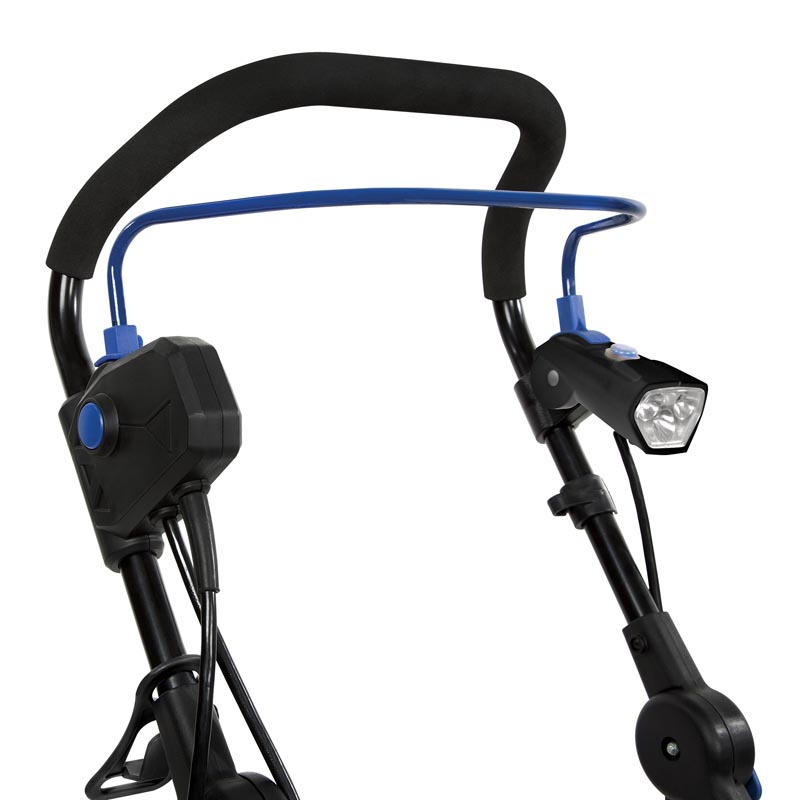 When it comes to clearing at night, light is very important.
Obviously!
There's more to it though. It's not just an ordinary light, it's a really good light that illuminates really well even when it's 11 p.m. or 3 a.m.
Also because it's electric, it's quiet.
You don't have to disturb your neighbors even if you are clearing snow super late at night or super early in the morning.
Since it's electric
It's also easy to start.
The best part?
This snow thrower is really affordable.
Finally
This machine has an ETL certification.
For those who don't know what this is, the most important information is that this basically means that the Snow Joe SJ625E is safe

---
The Not So Good
---
Tall people might have a hard time using this thing.
Why?
The chute crank is too low.
In the grand scheme of things, it's not a terrible thing. A tall person can just squat a little bit to get to the crank.
But
It's just better when you can reach it by bending down a little.
One major disadvantage:
This snow thrower cannot scrape off all the snow on the ground though.
There will be an inch or so of snow left on the ground.
While it may not sound so bad, if you have to clear snow, you at least want to clear everything on the ground.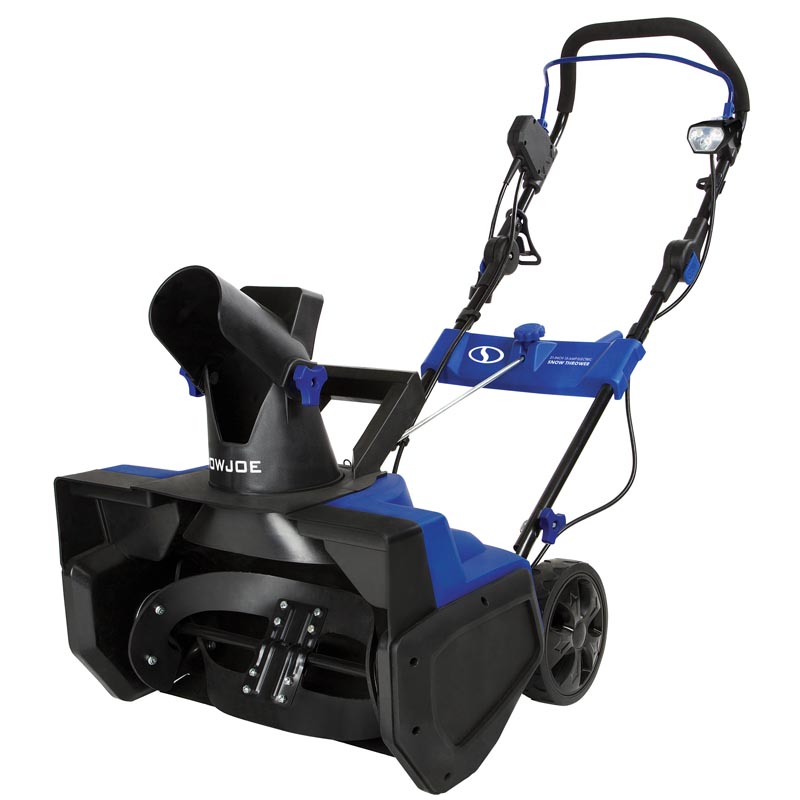 There's also this
It's great for wet and fluffy snow.
But with dense snow, this machine turns into a non-snow thrower.
What does it mean?
When it comes to wet and dense snow, the machine will merely push the snow aside.
The auger doesn't suck off most of the snow.
In essence
Nothing can actually be thrown.
So if you live in a region where snow is really heavy and has a tendency to become wet and dense, then this snow thrower is not right for you.
---
Conclusion
---
My Verdict
Design - 89%
Performance - 89%
Price - 92%
90
%
Perfect for nighttime clearing
There are times when the best time for you to clear snow is late at night or early in the morning. The Snow Joe SJ625E Electric Single-Stage Snow Thrower is a great piece of equipment for clearing snow when it's dark out.
The main reason why this is so is because of the three-watt LED light. It makes nighttime clearing really safe. Not only that, since it's an electric-powered machine, it's quiet. By that, it means that it's quieter than most of its counterparts.
This snow thrower works almost as good as some of the gas-powered snow blowers without the hassle of one. It's also affordable. And just like other electric-powered snow throwers, it's easy to maintain.

---
At A Glance
---
✔ Pros
Durable steel auger
Adjustable chute
Okay for sloping terrain with obstacles
All-terrain wheels
Easy to maneuver
Good for decks
Really good light
Lightweight
Can handle more than a foot of snow
ETL certified
Affordable
✘ Cons
Crank is too low
Doesn't scrape off all the snow
Doesn't throw wet and dense snow
---
FAQs
---
What is the best way to clear snow?
For obvious reasons, you should start near the electric outlet. You can then work outward clearing snow and directing the chute to the best area you think the snow should be dumped. Push the snow gently for best results. When you turn, overlap the clearing paths for optimum results.
Why do I get tangled by the cord?
There is a proper way to use the snow thrower so that you won't get tangled with the cord. When you turn, you have to step on the cord and turn the machine on its wheels.
How do you assemble this snow thrower?
It's quite easy, actually. It is mostly assembled. You only need to put together the lower, middle and upper part.
---
You Might Also Like…
---
The Snow Joe SJ625E Electric Single-Stage Snow Thrower is just one of four Snow Joes that made it to our list of the Best Single-Stage Snow Blowers 2020.
The other Snow Joe snow throwers you ought to know about are the SJ623E, SJ615E and SJ620.
But if you have to deal with a larger yard and more difficult snow, you will probably need a two-stage snow blower. We also have a list for the Best Two-Stage Snow Blowers of the year.
Useful Resources