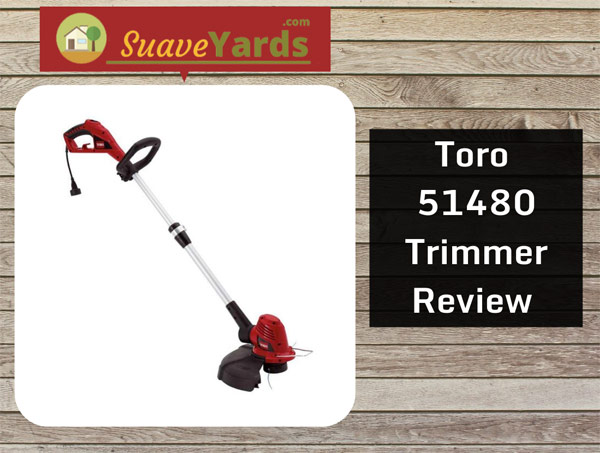 ---
Review At A Glance
---
Shame this has a flawed auto-feed system as the Toro Corded String Trimmer is really well built and amazingly powerful.
MY RATING: 88%

---
Editor's Note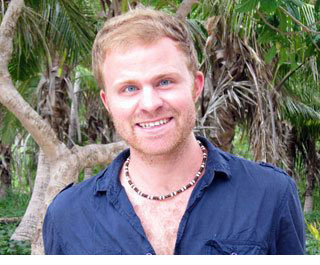 I hope you love the products that I recommend here! Just so you know, I work with Amazon and other affiliate partners and may be compensated from the links below.
---
---
Specifications
---
Power – Electric
Model – 51480
Size (w x h x d in inches) – 6 x 40 x 10
Cutting Width – 14 inches
Weight – 6.3lbs
Line Type – Dual Auto Feed
Line Diameter – 0.065 inches
Amps – 5
Voltage – 120
Two Year Warranty
PRICE – $$$
---
About The Toro Corded String Trimmer 51480
---
Powered by a 5 amp,120 V motor this Toro Corded String Trimmer is the 51480 model, and has a 14 inch cutting width and a dual auto-feed line.
So let's dive in:
The line diameter is 0.065 inches and when you pull the trigger, the line is automatically adjusted to the perfect cutting length by the trimmer.
The shaft is made of aluminum and telescopic – it can be adjusted to suit your height and the handle can also be adjusted for comfort and balance.
And:
It has a push button operation to switch from trimmer to edger and a guide wheel to help ensure you get a straight line when edging.
It weighs 6.3lbs and comes with a full two year warranty. Note you need to buy an extension cord separately.
---
The Good
---
The Toro 51480 is more expensive, but for the extra price you do definitely get a superior build quality.
Why do I say that?
Well as soon as you get it out of the box you can tell it is sturdy – for instance the handle, shaft and power switch are very well constructed and it feels above average for what is a consumer tool. It definitely seems built to last.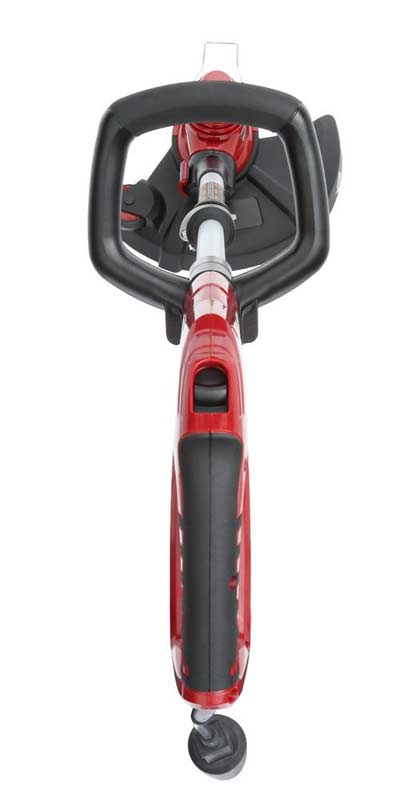 Most electric string trimmers use 4-Amp motors, whereas as this Toro uses a 5-Amp motor.
And that has a serious effect:
It means it gives it more power to cut through things a 4-Amp motor would struggle with – for instance it got through thicker branches on English boxwood and Forsythia without a problem.
The motor didn't bog down whether I was using it as a trimmer or an edger. The extra amp is worth considering if you will be encountering heavier grass/weeds.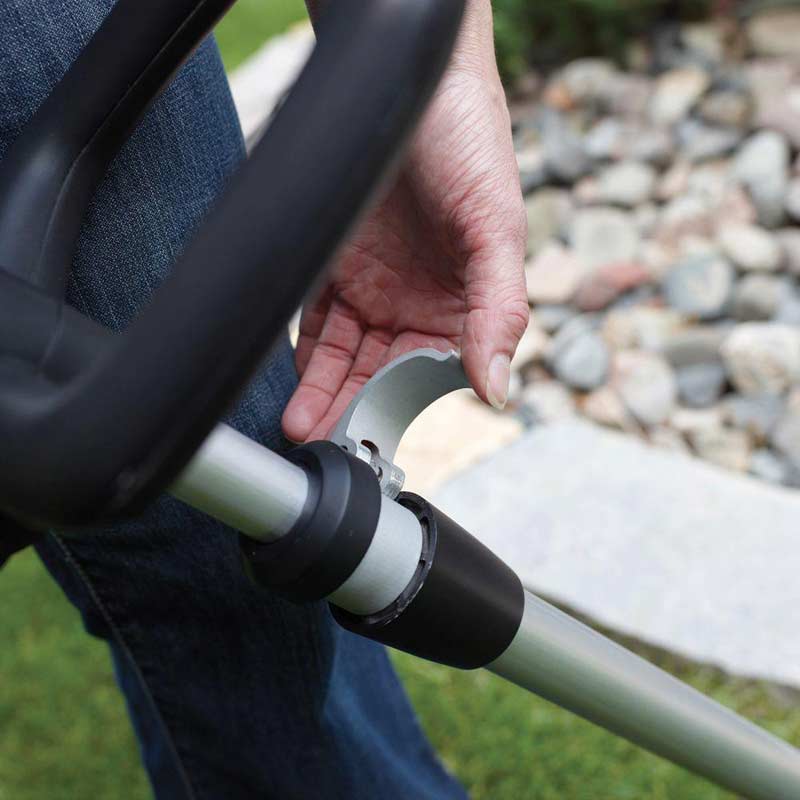 Above: The build quality of this Toro is really good
The motor therefore really pushes the performance of the 51480 above a lot of other corded string trimmers. It isn't on a par with a gas unit, but it isn't that far off. Heavy grass and plants can be very satisfyingly wiped out in a split second!
And that I think you will love.
The edging functionality is also a strong point. It edges very well and the addition of the built in guide wheel is a nice touch.
It helps you get a straight, professional looking edge and stops you accidentally scalping your lawn! It is incredibly easy to edge and very fast too.
And even better:
Changing from a trimmer to an edger is super easy too. It has a rotating head, simply hold down a button and rotate the trimming head and you are ready to go.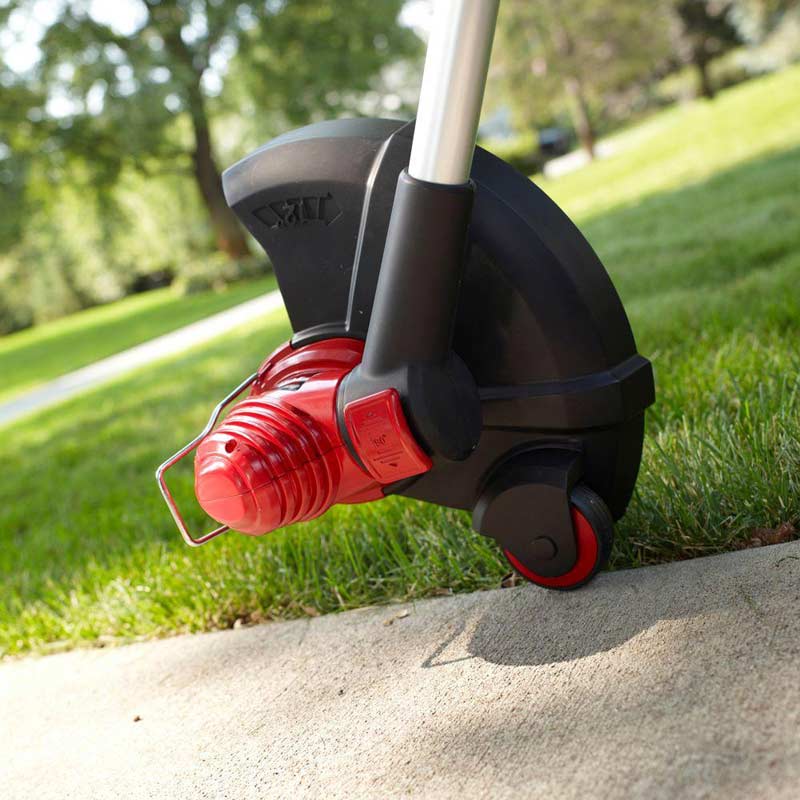 Above: Switching from trimming to edging couldn't be simpler
There are several nice features. The telescopic shaft works well. The handle can be easily extended or collapsed by up to 9 inches to suit your height. Adjusting it is quick and easy and can make it a much more comfortable trimming experience for you.
You get the idea.
The trigger switch is satisfyingly large and easy to operate from practically any position and the safety lock button is also easy to get at.
It has a cord retainer hook on the handle that actually works really well – it really secures the power cord onto the handle and stops it from unplugging. There are lots of little extras that add to the quality feel of this unit.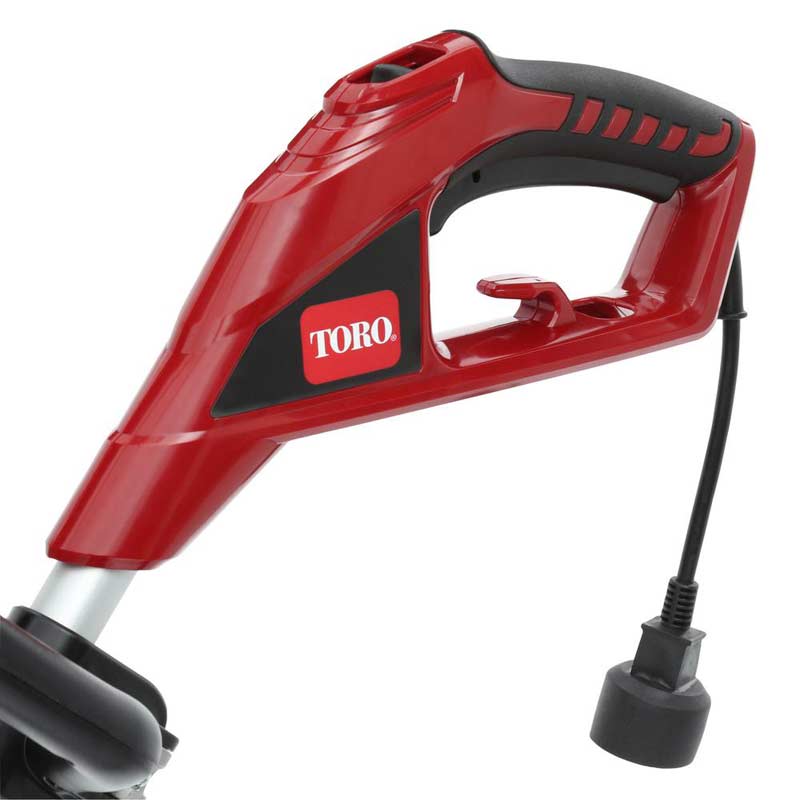 On top of all of this:
It feels nice and smooth when you use it – no excessive vibration and its design is well balanced. Even though it is a little heavier than say the Greenworks 21212 or Black & Decker GH900 it doesn't feel so.

---
The Not So Good
---
One of the downsides of this is, ironically, the motor which I spoke about glowingly above.
Hear me out here.
It is great in the fact that it has a lot of power and has the capacity to deal with a lot of trimming most corded motors can't. However it is single speed, so there is no option to shift it down to a lower speed.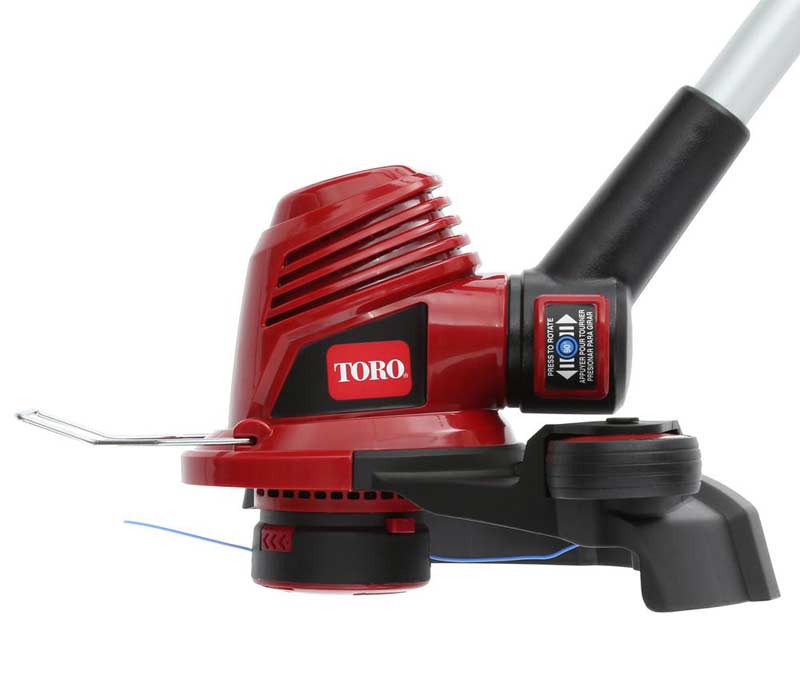 The power is good in a lot of cases, but when you are trimming around your prize plants it actually is an issue as the motor is moving so frantically it is very easy to cause damage to something you don't want to touch, whether that be your plants or even the machine itself. It is definitely in need of a variable speed option.
And another thing:
I am not a great lover of the auto-feed line either. Basically it feeds in the line every time the unit is stopped.
So say for instance you are trimming around a high wear area or edging, you constantly have to stop the trimmer and hold the trigger for two seconds to advance the line.
You get into a cycle of stopping and starting to feed more line. It is annoying and time consuming and a bit of a design flaw.
The line itself is quite light and breaks easily. Given the extra power of the motor I would think Toro could have engineered things to allow use of the next line size up to make things easier all round.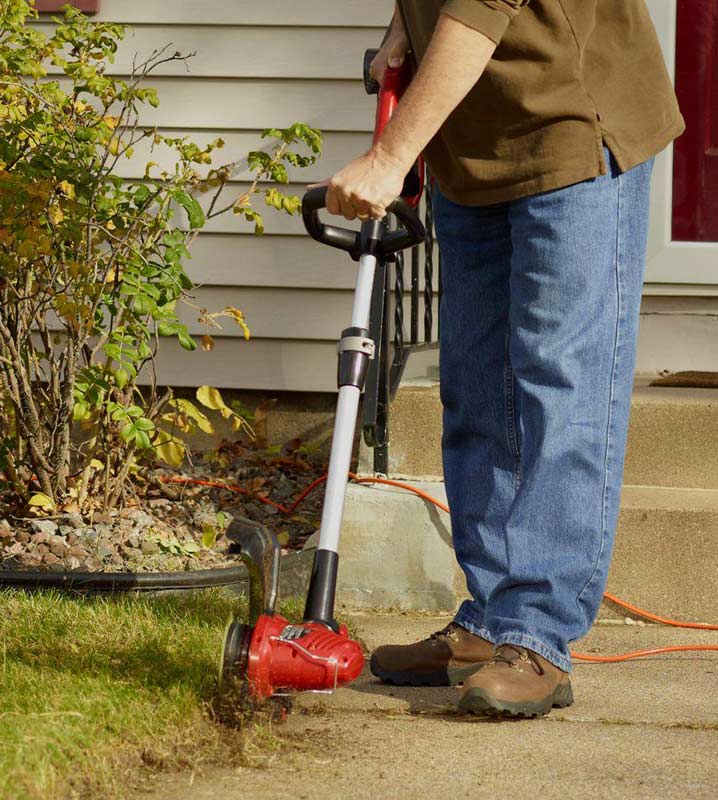 Above: You might have to stoop using this if you are tall
Not a major issue, but an annoyance is:
The black handle on the telescopic shaft is essentially held on by friction – friction and a bolt! However slowly over time and use the bolt comes loose which means the handle moves around and you have to constantly re-tighten the bolt.
Even when the telescopic shaft is fully extended this still might be too short if you are 6'2 plus, it might be uncomfortable to use if that is the case.
Finally:
This is one of the pricier corded string trimmers, so it is worth bearing this in mind if you are on a budget.
---
At A Glance
---
✔ Pros
Good build quality
Powerful motor
Performs well
Good edger
Switching from trimmer to edger is easy
Telescopic shaft
Good trigger switch, safety button & cord retainer
✘ Cons
Needs a variable speed option
Auto feed line doesn't work well
Line breaks easily
Handle moves around
Shaft short even at longest
Pricey
---
Conclusion
---
My Verdict
Design - 92%
Performance - 88%
Price - 84%
88
%
Well built and powerful
The Toro 51480 is your choice if you want a well built and powerful corded string trimmer. If you have heavy grass or weeds to trim and want something that offers almost gas powered performance levels but is corded then you should definitely consider this.
The motor is strong! It is resilient and reliable, it excels as an edger and has lots of extra features that give it an advantage over its competitors.
The main flaw is the auto line feed system which doesn't work particularly well and is time consuming. If you have a large area you will regularly need to trim and/or edge then the Toro might be best avoided as it might be time consuming. You might want to consider something like the Black & Decker GH900.
But in terms of general build quality and power this is up there with the best of them.

---
FAQs
---
How long is the shaft?
It starts at 31 inches and can extend up to 40 inches.
Does it come with a spool loaded?
Yes it does.
What gauge extension cord does it need?
If the cord is 100 feet a 16 gauge cord works well, if it is over 100 feet than a 14 gauge cord is required.
Is a cord included?
No extension cord is included, it has a short cord from the handle but you need to buy your own extension cord.
---
You Might Also Like…
---
There are a whole host of top-class weed eaters out there (including this one!)
My favourite is the Ego Power String Trimmer – it is battery powered, but it is great! In terms of electric powered weed trimmers, you might want to check out the Black & Decker GH900. To the right are a list of general resources that maybe be of use.
You can also view my Site Index, which shows everything on my site on one page.
Useful Resources