---
Review At A Glance
---
MY RATING: 91%

---
Editor's Note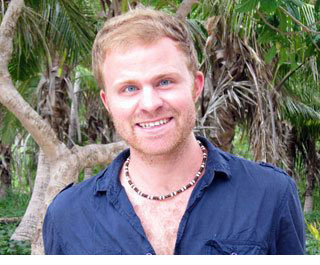 I hope you love the products that I recommend here! Just so you know, I work with Amazon and other affiliate partners and may be compensated from the links below.
---
---
Specifications
---
Power Source – Battery
Model – LSTE523
Size (w x h x d inches) – 9.2 x 41 x 5.7
Line Diameter – 0.065 inches
Cutting Path Diameter – 12 inches
Number of Trim Lines – One
Shaft Length – 38 inches
RPM – 5500 – 7200
Battery Type – MAX Lithium
Battery Run Time – 20 to 40 mins (1.5Ah)
Battery Recharge Time – 3hrs 45mins (1.5Ah)
Weight – 6.3lbs
Voltage – 20V
Two Year Warranty
PRICE: $
---
About the Black and Decker LSTE523 String Trimmer
---
With a LB2X3020 20V MAX Lithium Battery and charger the Black and Decker LSTE523 is a battery powered weed eater.
It uses their Power Drive Transmission system which increases the torque as you approach heavier areas of grass or weeds to give your more power to cut through them.
Taking a closer look:
It also has a two speed control which allows you to choose between 5500 and 7200 rpm. At 5500 rpm you get longer runtime and at 7200 rpm you get more power.
It converts from a trimmer to a wheeled edger by twisting the shaft and is part of the Black and Decker Power Command family of tools.
What does this mean for you?
It means you can swap the head that comes with it and replace it with the Power Command Hedge Trimmer and Power Command Sweeper accessories (that have to be bought separately).
It uses a single line manual feed system that advances your line with the push of a button. The line diameter is 0.065inches and the cutting diameter is 12 inches. It also has an adjustable shaft and handle.
What about the battery I hear you say?
Well the 1.5Ah battery takes around 3 hours and 45 minutes to fully charge, which means a 4Ah battery would take around ten hours to charge!
The length of use you get from the 1.5Ah battery depends upon the intensity you use it at, but it is around 20 to 40 minutes.
---
The Good
---
What sets the Black and Decker LSTE523 apart from many of its competitors is the push button string release function.
Does it work? You bet your bottom dollar it does!
It works perfectly and is head and shoulders above most of the auto feed systems other models use – which usually don't work very well!
Simply push the button on the handle when the line is getting short and more string is let out, no tangling, no problems, just a great trimmer experience.
Good news:
It also uses the same spools (AF-100 pre-wound) that their other models that use 0.065inch line use.
For suburban moderate sized yards this generates easily enough power to handle thick weeds and tall overgrown grass – you won't be disappointed.
Above: The Black and Decker LSTE523 has a great manual feed line.
Hands up:
I am a big fan of the dual speed option you get with the LSTE523. You can switch between the 5500 rpm mode and the 7200 rpm mode by flicking a button.
The 5500 rpm mode is okay for light grass and will give you a longer run time, however it struggles a bit on tougher weeds.
That is when you can switch to the 7200 rpm mode, which takes care of the tougher weeds but will run down the battery more quickly.
Taking it even further:
It is relatively lightweight and has one of the most comfortable handle grips I've used, with the soft material intelligently contoured to fit your hand, making it ultra comfortable to use.
There is also a safety catch on the handle that you need to hold down with your thumb before you can power it up. It is conveniently placed and makes the unit more secure.
This is neat:
It has a flip-to-edge collar, that means you can switch between trimming and edging without worrying about adjusting the shaft length as you might usually have to do.
This makes flipping between the two modes really simple – so less time mucking about doing that, meaning you will get your lawn looking shipshape more quickly.
Above: Changing between trimming and edging is simple!
The construction is solid – that isn't to say there aren't plastic pieces – there are quite a few, but the plastic parts do not feel flimsy or easily breakable.
To top it all off:
As mentioned before it is part of the Power Command line of tools, so you can buy a hedge trimmer and sweeper/leaf blower accessory to use with it (simply remove the trimmer head). This offers a good value for money option.

---
The Not So Good
---
The big problem with this string trimmer is the battery and the charger.
To be frank:
The 1.5Ah battery runs out pretty quickly, even on smaller yards. It lasts around 20 minutes on the high setting and about 40 minutes on the lower setting. If you order it with the 1.5Ah battery, you actually get two batteries, which does help a bit. Or you can order a higher capacity battery which would be more expensive but last longer.
The batteries also don't have a gauge or an indicator of how much battery life is left, which is also an annoyance.
And this compounds the problem:
The charger you get with this is pretty poor. It takes around 3 hours and 45 minutes to fully charge a 1.5Ah battery. Compared to the EGO Power String Trimmer, which takes 40 minutes to fully charge a 2.0Ah battery you can see the problem!
I am not sure why Black and Decker don't utilise the normal lithium ion techniques used by the likes of EGO Power and Makita, etc. It means you really have to plan your weed whacking sessions!
That would make much more sense!
You can set the handle to one of three lock points but they do sometimes come loose. It just vibrates out of the lock and drops to the next one. Not a game changer, just annoying.
Even though the shaft is adjustable, it is a touch short even at the longest setting, which might give you a big of a backache when you are trimming.
Finally:
The ergonomics of the edger mean it is more uncomfortable to use than the trimmer. You will probably need to break occasionally to save fatigue on the back and arms.
There is also no metal edge guide which makes it more difficult to stay on track, and it inevitably takes longer as you have to go slower.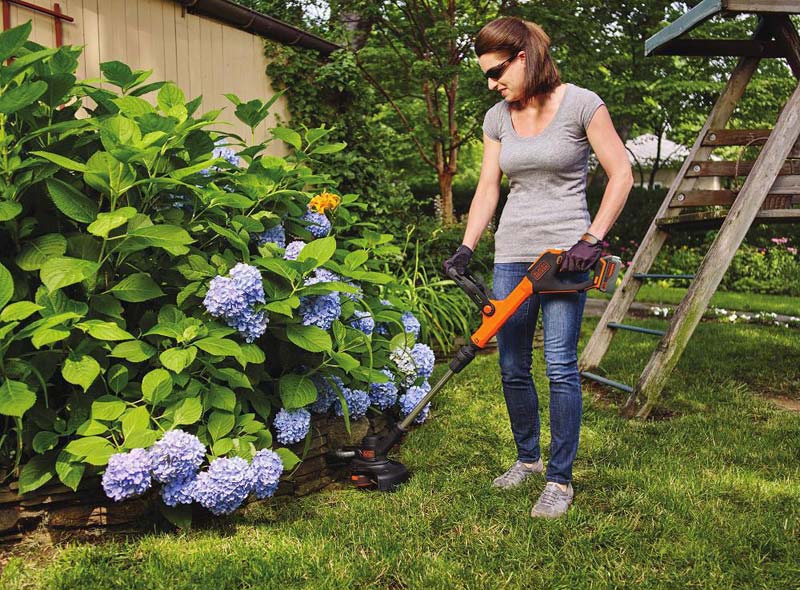 Above: The battery and charger let the LSTE523 down slightly
---
At A Glance
---
✔ Pros
Great line feed system

Good power

Two power modes to suit the job

Lightweight

Comfortable grip

Flip to edge collar makes it easy to switch modes

Solid construction

Can be used for other accessories
✘ Cons
Battery doesn't last that long

Battery takes ages to charge

Lock points comes loose

Shaft is a touch short

Edger is not that comfortable to use
---
Conclusion
---
My Verdict
Design - 89%
Performance - 93%
Price - 91%
91%
Lots of power
All in all this is an excellent purchase and one of the few weed eaters that can offer a virtually flaw free line feed system, which is almost worth the money alone!

Aside from that it is plenty good enough if you have a standard suburban yard and don't want the hassle or restrictions of gas or a cord. As long as you aren't tackling anything out of the ordinary it will certainly will have enough power for you and the dual power system is good for taking care if you are trimming around a more delicate area of your lawn.

You need to weigh up the cons of the battery and charger before you decide whether to get this, but if your yard isn't too big it will be absolutely fine - in fact it will be better than that it will be great!

User Rating:

3.95 ( 2 votes)

---
FAQs
---
What is the advantage of having two 1.5Ah batteries rather than one 3.0Ah battery?
The main thing is the 3.0Ah battery weighs about twice that of 1.5Ah battery so it would be top heavy.
Can you load your own line or should you use the preloaded spools?
There are instructions in the manual that show you how to reload the spool, but I think the preloaded spools are much better.
Can a thicker line be used?
No it only takes the specified line.
---
You Might Also Like…
---
There are some fantastic weed eaters on the market right now and for what it is worth this is one of them!
My favourite is the Ego Power String Trimmer – it is battery powered and it is great! Another good option is the WORX WG154. To the right are a list of general resources that maybe be of use.
You can also view my Site Index, which shows everything on my site on one page or look at my recommended links below.
Useful Resources