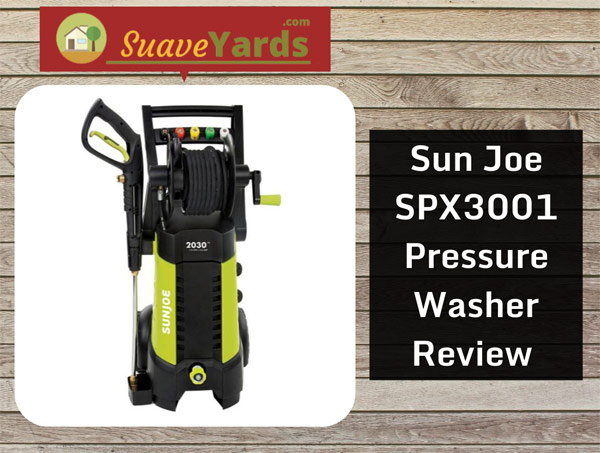 ---
Review At A Glance
---
With good electric pressure and a nice amount of power. The Sun Joe SPX3001 Electric Pressure Washer is perfect for domestic jobs. Oh and it is really well made too.
MY RATING: 90%

---
---
Editor's Note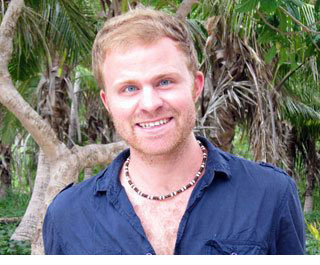 I hope you love the products that I recommend here! Just so you know, I work with Amazon and other affiliate partners and may be compensated from the links below.
---
---
Specifications
---
Size (d x w x h in inches) – 14.5 x 16.5 x 33.5
Amps – 14.5
Weight – 36 lbs
Max Flow Rate – 1.76 GPM
Max Pressure – 2030 PSI
Power – Electric
Working Pressure – 1450 PSI
Cord Length – 35 ft
Hose Length – 20 ft
Two Year Warranty
PRICE: $$
---
About the Sun Joe SPX3001 Electric Pressure Washer
---
Established in 2004 under the name Snow Joe – the company launched with just one product – an electric snow shovel!
The company very quickly grew and expanded with a number of products that weren't limited to just winter usage and so launched Sun Joe.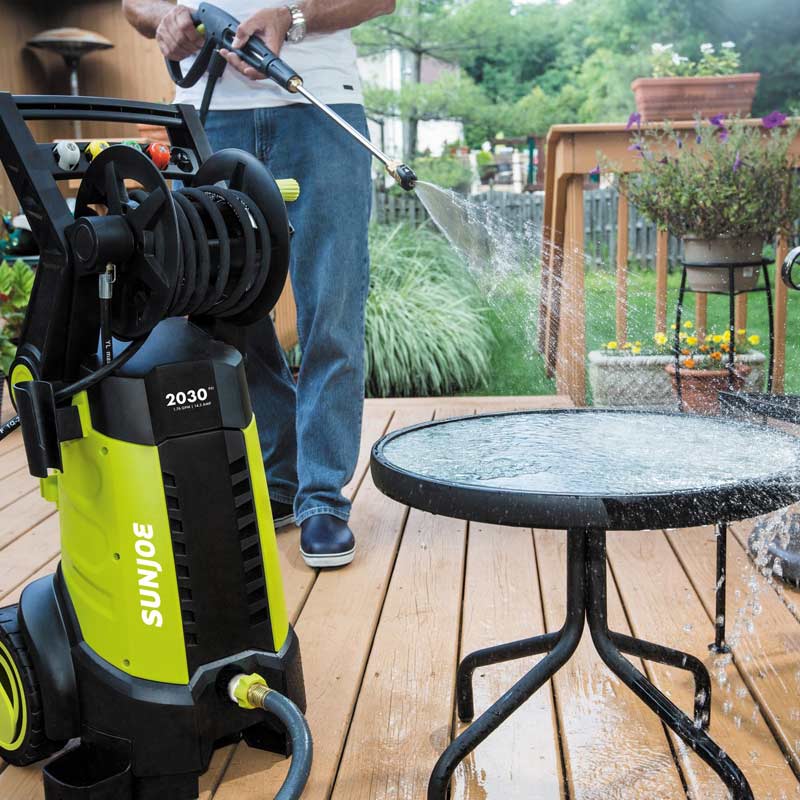 Basically:
Snow Joe and Sun Joe are part of the same company – Snow Joe dealing with snow blowers, ice melters and snow shovels, etc, etc and Sun Joe dealing with chainsaws, lawn mowers and leaf blowers, etc, etc.
Also in their range are pressure washers and the Sun Joe SPX3001 is an electric pressure washer with a 14.5 amp/1800 watt motor. This generates up to 2030 PSI and 1.76 GPM.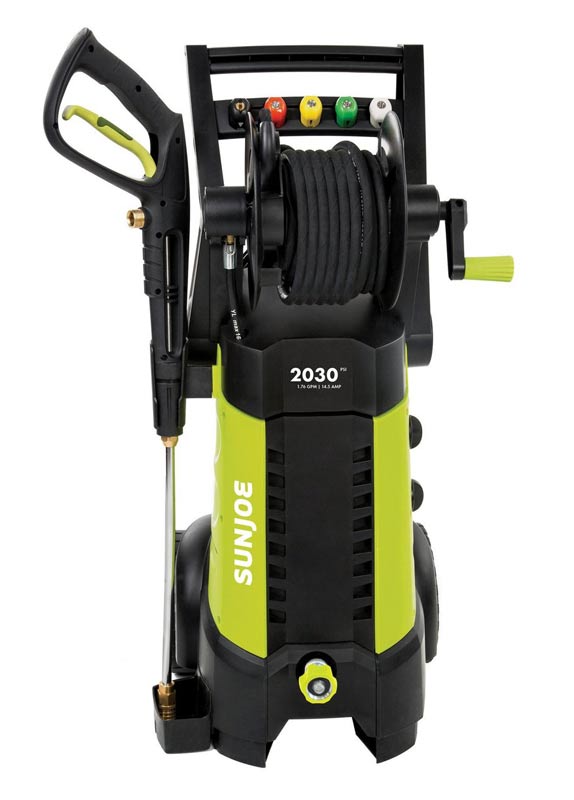 Above: The Sun Joe SPX3001 has a large detergent tank and a wand holder
It has an onboard detergent tank with a 40.6fl oz capacity and a spray wand that extends up to 34 inches. It also comes with five quick fit tips (0º, 15º, 25º, 40º and Soap). It also has a holder that secures the wand
It has an onboard hose reel that extends up to 20 feet and a 35 foot power cord. It weighs 36 lbs and comes with a two year warranty.
---
The Good
---
The Sun Joe SPX3001 is an all round good performing and well priced electric pressure washer.
It starts here:
When you get it out of the box you can tell the build quality is very good for the price. Whilst the housing does have a lot of plastic involved, it is sturdy, resilient plastic.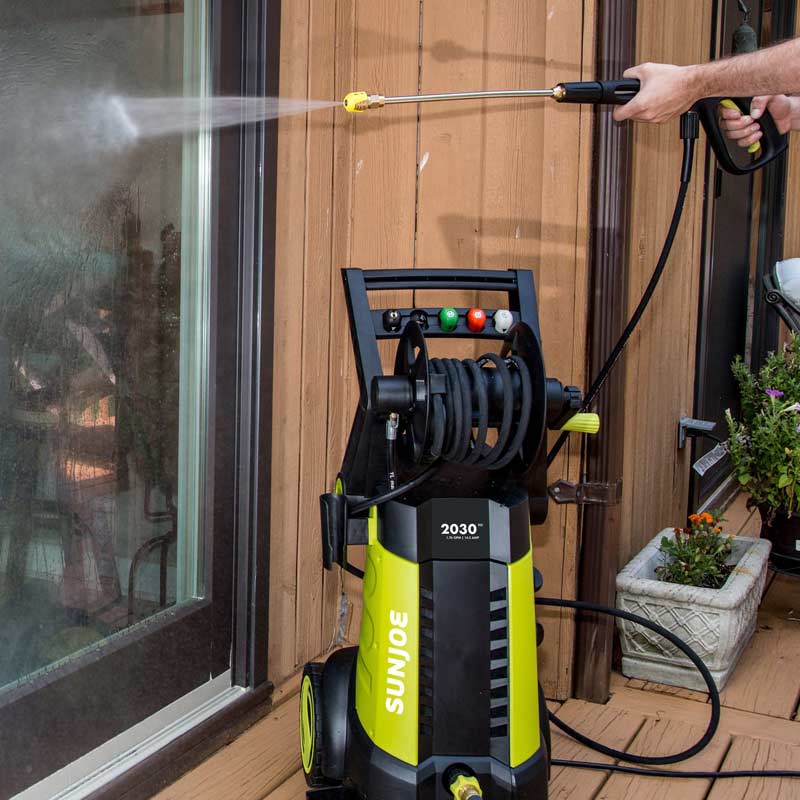 The wand is good quality – metal, strong and has nice brass threading for the hose. You get five quick fit pressure tips with it and they are solid and easy to attach. All in all it feels like it will last.
The pressure tips that are supplied are well designed – and give you lots of flexibility depending upon the surface and amount of grime you need to clean. They are easy to store and snap on and off.
That obviously is a big plus.
Likewise the wand is fantastically designed – it is ergonomically and economically easy to use, it is well made and can be extended up to 34 inches and generally the quality is top notch.
It also has a brilliant wand holster which secures it nicely to the side of the unit and makes it so easy to store away.
Above: The wand is wonderfully designed and easy to use
There are several other design features I like.
The detergent dispensing system is easy to use and it works really well. The size of the onboard detergent tank is large (40.6 fl oz), so you can use the SPX3001 for a considerable amount of time without having to worry about refilling the detergent.
And that is real bonus for you.
The 20 foot hose has a reel – making it easy to wind the hose up and store it away when you are done.
The pump is responsive and purges really quickly when you have pressed the trigger.
It has sturdy rear wheels and because of these wheels and the fact the wand can be extended up to 34-inches you get excellent coverage and cleaning ability.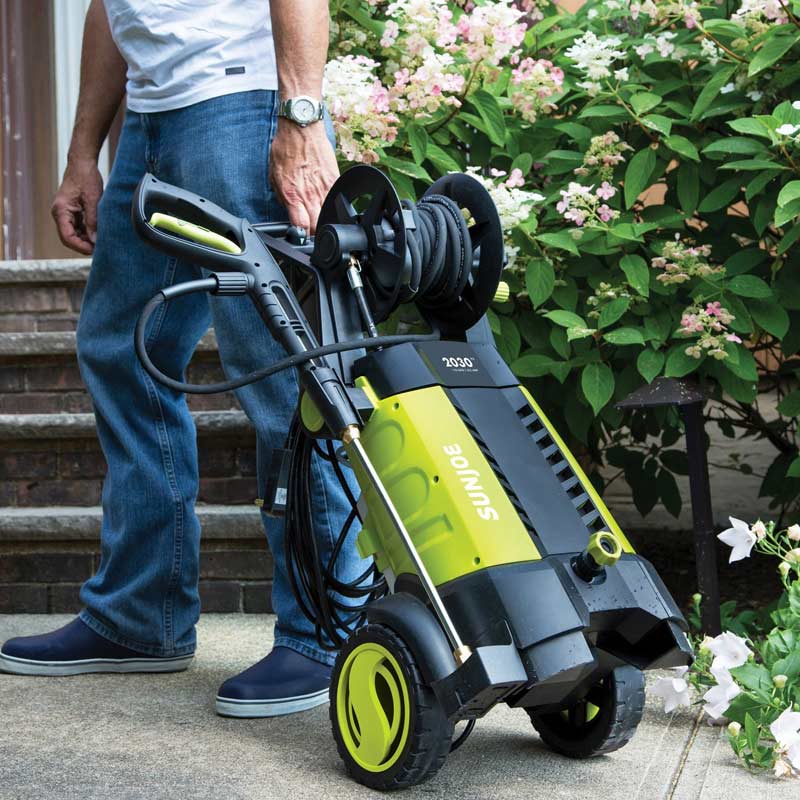 Pretty good eh?
It is light so you can easily maneuver it into tight spots and then extend the wand to clean those hard to reach areas behind grills, in gutters, beneath decks, etc, etc.
The 14.5amp motor generates an excellent amount of pressure (2030 PSI) and an admirable flow rate of 1.76 GPM, easily enough for pretty much all standard domestic jobs.
I love, love, love:
The Total Stop System – so when you release the trigger the motor automatically shuts off. This will undoubtedly lengthen the life of the pump motor by reducing the pressure build up from it continuously running and will also save electricity.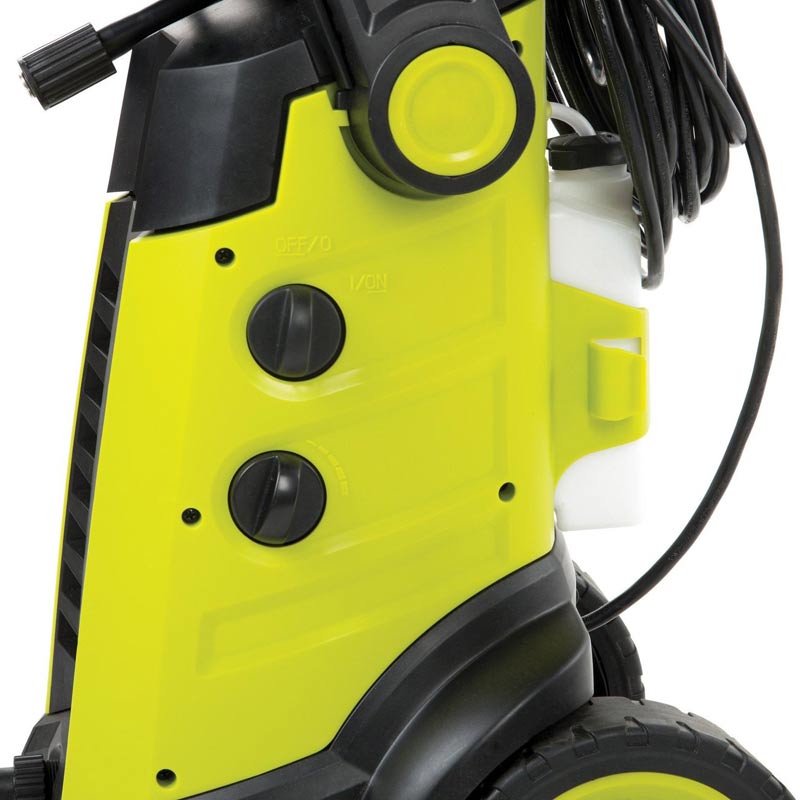 Above: The Sun Joe SPX3001 is really easy to maneuver and has a good flow rate
It is also remarkably quiet to use – much quieter than a gas pressure washer and of course totally silent when you release the trigger thanks to the aforementioned Total Stop System.
All of this, and at a pretty reasonable price tag.

---
The Not So Good
---
A lot of my dislikes about this unit center around the hose. The caddy for the hose is not particularly sturdy – in particular the reel handle.
This surprised me:
The hose itself feels like one of the cheaper parts of the unit. It is reinforced to protect against it bursting, but I think Sun Joe could have spent a little more on this part of the pressure washer.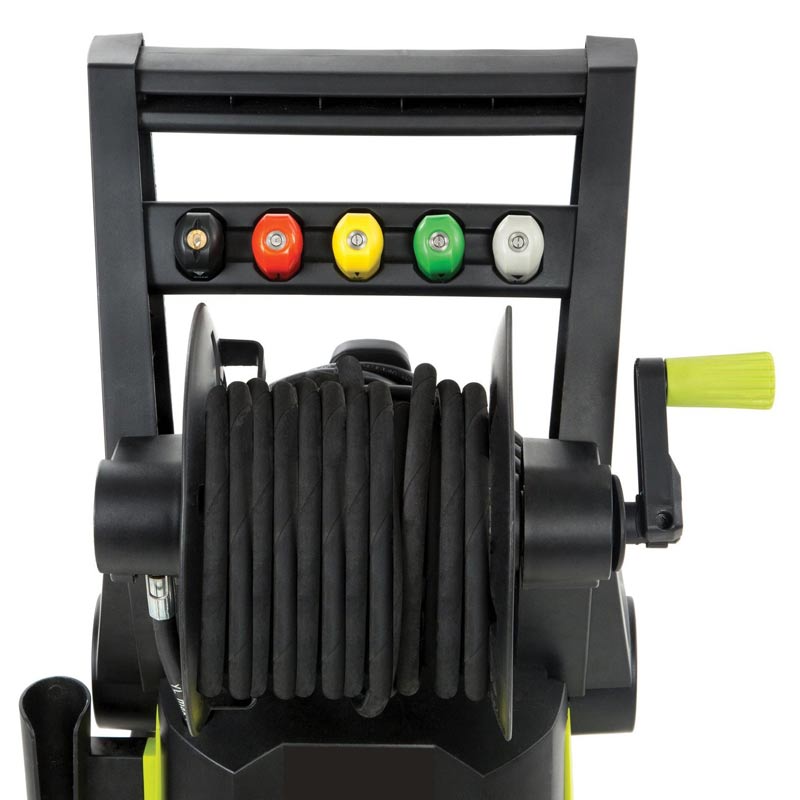 The hose is factory attached to the machine as well, so replacing it is not particularly easy. However I will say I think the hose is perfectly satisfactory if you just intend to use this for standard domestic tasks.
Finally at 20 foot long the hose is shorter than some of its competitors, so think about the area you intend to use this in.
It is slightly unstable when you have it stood up. The addition of a foot or something on the right hand base would be helpful just to give it more stability.
And also:
The power cord and water hose attachments are both on the front of the unit, so it is easy to get them tangled up.
Above: Overall despite a couple of faults the Sun Joe SPX3001 is a great buy.
Finally it is worth noting that all of the fittings and adapters are Sun Joe specific – you can't fit a gun or hose from another brand.
---
At A Glance
---
✔ Pros
Sturdy build

Really nice wand

Good wand holster

Nozzle heads nicely made and easy to fit

Large detergent tank

Handy hose reel

Easy to maneuver and get to awkward areas

Good PSI and GPM

Efficient motor

Quiet
✘ Cons
Hose caddy is flimsy

Hose could be better quality

Hose could be longer

Slightly unstable when stood up

Power cord and water hose can get tangled
---
Conclusion
---
My Verdict
Design - 91%
Performance - 89%
Price - 90%
90
%
Perfect for domestic jobs
This is a fantastic electric pressure washer for 99% of domestic tasks. It is great for washing your car, your driveway, cleaning mold and dirt, etc, etc.
It won't replace a gas pressure washer, so more intensive tasks such as stripping paint from wood, etc, take more time, but all in all it performs excellently.
It is nicely made and has pretty good power for an electric machine. It is really easy to move around and get to tight spots, which can sometimes be a problem. It shifts dirt and has several design points that wouldn't not be out of place on a top end pressure washer.
This gets a big thumbs up from me!

---
FAQs
---
Could I remove the hose and replace it with another hose?
Yes you could, but be aware the hose is factory attached to the body of the unit, so it is not a simple task.
Can I mix detergent and use pressure? Or do I have to squirt soap and then switch to pressure?
You can have either high pressure water with soap or high pressure water only by turning the dial on the side from 0 to 5. Setting 5 gives you soap with high pressure water and 0 gives you just high pressure water.
What is the difference between this and the SPX3000?
This has one large detergent tank (40.6 fl oz) the SPX3000 has two 30.4 fl oz tanks. This has a hose reel, the SPX 3000 has no hose reel. This stores the nozzles in the front of the handle, the SPX3000 stores the nozzles in the back of the handle.
Does the trigger gun lock?
No it doesn't.
---
You Might Also Like…
---
There are a whole number of top quality electric pressure washers on the market (including this one).
You can also view my Site Index, which shows everything on my site on one page, or look at my recommended links below.
Useful Resources