---
Review At A Glance
---
For a budget leaf blower/vacuum/mulcher the Toro Rake and Vac does a great job, despite a few minor faults.
MY RATING: 83%

---
Editor's Note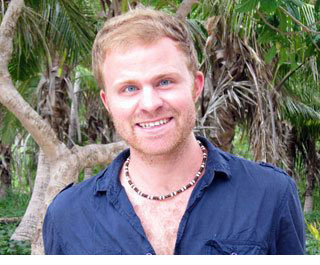 I hope you love the products that I recommend here! Just so you know, I work with Amazon and other affiliate partners and may be compensated from the links below.
---
---
Specifications
---
Model – 51617
Type – Corded Electric
Size in inches (H x W x D) – 14 x 9 x 40
Weight – 6.5 lbs
Power – 10.5 amps
Voltage – 120v
Speeds – Two
Mulching Ratio – 8:1
Bag size – 1.5 bushels (14 gallons)
Maximum Air Speed – 215 mph
Maximum Air Volume – 350 cfm
Two Year Warranty
PRICE GUIDE: $
---
About The Toro Rake And Vac
---
Toro's series of leaf blowers is particularly popular and this is the second model in that series. If you want to see how it compares to the others keep reading.
To call it just a blower is understating this – it is a blower, mulcher and vacuum in one – conversion between the three is done via a quick release latch, so no tools are required.
Delving in a bit deeper:
It is a two speed model – the top speed is 215 mph and the air volume is 350 cfm. It has a 10.5amp motor and weighs 6.5lbs. The mulch ratio is 8:1 and this comes with a 1.5 bushel bag – the bag holds as much (after compression) as a standard wheelbarrow.
There are also a number of accessories you can buy for this and they include: a gutter cleaning accessory kit, an oscillating tube attachment kit, a shred ring kit, a spring bucket and a leaf collector. You can also buy replacement blower vac bags.
And remember:
This blower uses two electrical prongs, not three.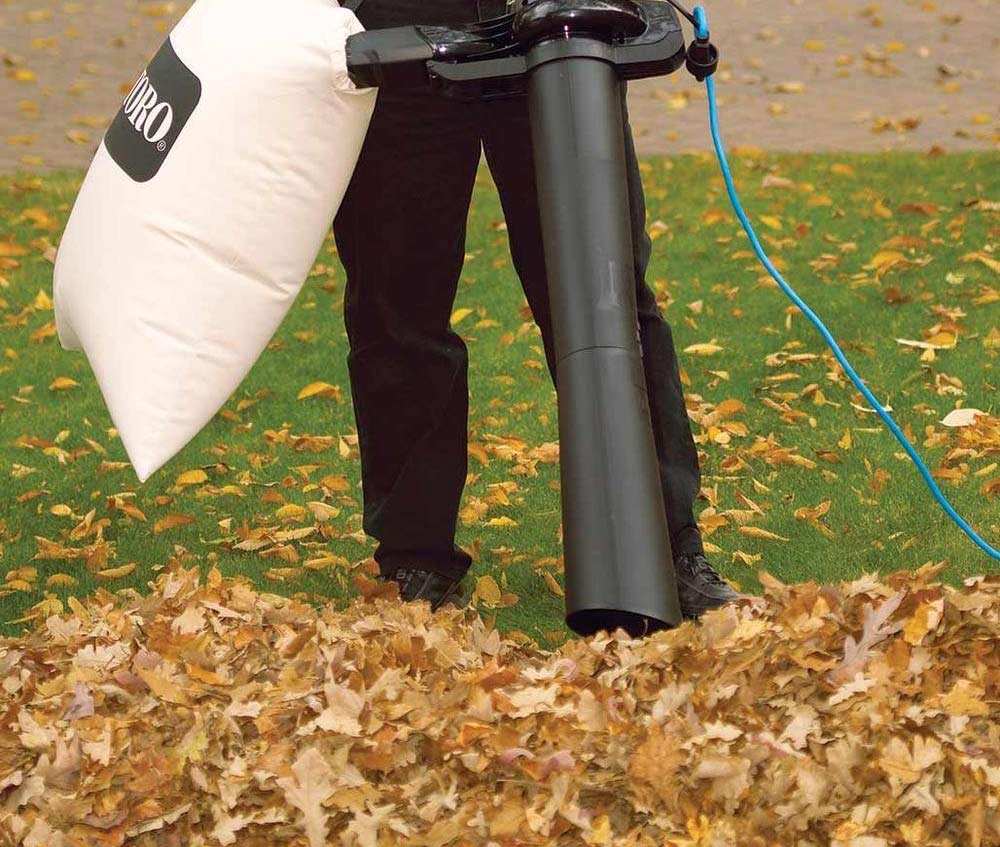 ---
The Good
---
With a top air speed of 215 mph this isn't the fastest leaf blower on the block, but due to some clever design work it works well.
The truth is:
You might have to experiment a little with the attachment and the angle, but on the whole it will blow away wet leaves and fine debris.
This also has two speed modes when being used as either a blower or vacuum and this gives you way more control. The high speed means you can tackle the tougher sturdier jobs whereas the low speed is great in tight spaces, hard surfaces, or when you want to blow leaves from a gravelly area without disturbing the gravel.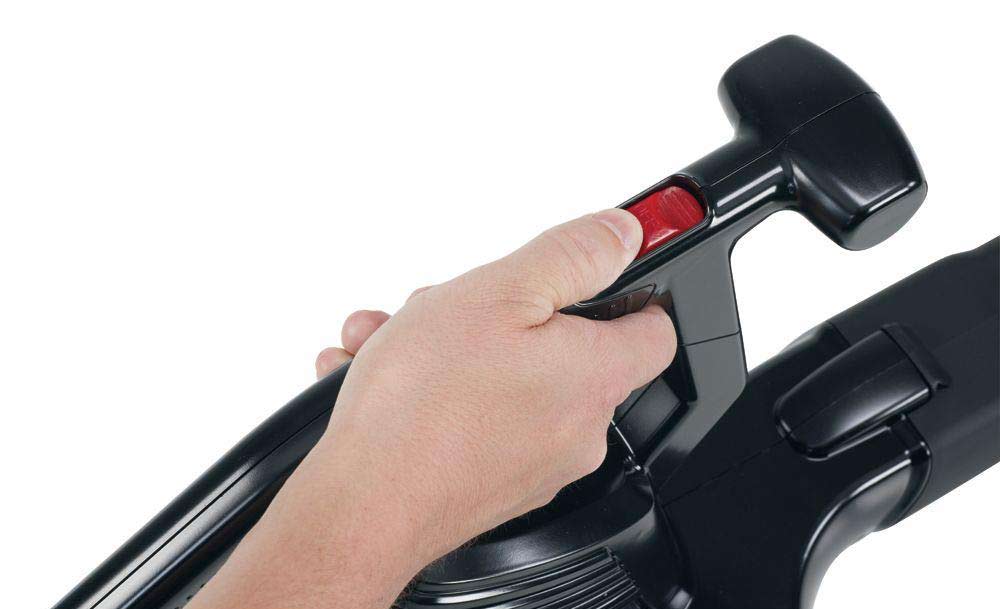 Above: The two speed modes give you more versatility when using the Toro Rake and Vac
The no tool conversion is also a major plus with the Rake and Vac – it is so easy to switch from blower to vacuum. Just flick the quick release latch and within a matter of seconds you have changed modes.
And what does that mean?
Less messing about for you and more time to get your work done.
We've talked about the blowing speed of this, but as a vacuumer it also works really well. The fan has been designed to reduce clogging and improve the flow rate of the vacuum and it mostly certainly works.
The bottom line is:
It has good suction and even though the impeller is durable plastic rather than metal it does shred dry leaves well.
At 6.5lbs this is one of the lightest blower mulchers out there. This of course means you can use it for longer without feeling too much fatigue in your arm. It is a great choice if you are older or limited in your physical strength.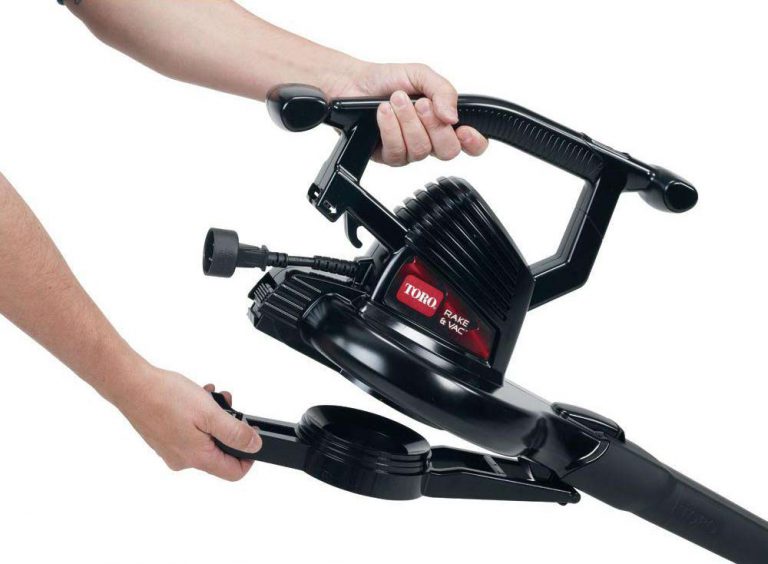 Above: Switching from blower to mulcher is easy and requires no tools
Add to this the fact that the position of the handle keeps the blower in balance, and you feel very little vibration, which means it is easy to maneuver and comfortable to use. The handle design is good too and the grip nice to use.
On top of all this:
This is a real bargain! It is really at the lower end of the price spectrum and you get a great deal for your money. You probably won't find a better blower/mulcher/vacuum for a similar price.

---
The Not So Good
---
First and foremost:
The cord lock system is a bit of a mess, as it doesn't work! It comes unplugged all too easily. The cord loops around a hook and then attaches – essentially this is designed to stop it unplugging, but it seems to have the opposite effect – the cord comes out frequently!
The blower tube is too short. If you are 5'6 or under you will be ok, but any taller and it requires you to stay bent over whilst you blow leaves.
And that frankly, is uncomfortable!
The collection bag this comes with is quite large and when it is full it is quite heavy and might cause you some fatigue on your arm and shoulder. The weight of the bag as it fills up also drags on the blower – making it hard to handle (until you empty the collection bag).
Also the quality of the collection bag is fairly low. Where it connects to the vacuum tube it wears quite easily and when it is full of debris the bag is pulled down and frays.
And of course:
As is common with cheaper leaf blowers, this has a plastic impeller to mulch leaves not a metal impeller.
This means it doesn't mulch quite as well as a metal impeller and also it is less durable and more prone to breaking and you having to pay out to have it replaced.
Above: The cord lock on the Rake and Vac could be much better
---
At A Glance
---
✔ Pros
Good amount of blower power
Dual speed gives good control
Easy to change from blower to mulcher
Vacuum function works well
Very light
Comfortable
Easy to handle
Fantastic price
✘ Cons
Cord comes unplugged too easily
Blower tube is short
Full collection bag drags on blower
Collection bag is poor quality
Plastic impeller
---
Conclusion
---
My Verdict
Design - 79%
Performance - 80%
Price - 90%
83
%
Great value for money
There are a few things that could be improved about the Toro Rake and Vac, but one thing that can't be is the value for money you get.
It is a real budget price blower/vacuum and as long as when you buy this you don't have unrealistic expectations you cannot failed to be happy.
It has sufficient blowing power for most homes, vacuums and mulches well, has dual speed control, is light and easy to handle and so affordable!
If you expect heavy duty leaf cleaning each year then this is not for you. If you have a small yard and want a reliable leaf blower that won't break the bank you can do much worse than this.

---
FAQs
---
Does a power cord come with it?
No, you need to buy an extension cord to use it fully. I would recommend at least a 14 gauge 100 foot cord.
What are the differences between the other Toro leaf blower models?
If you look at my comparison table below, the differences are outlined.
What are the blower speeds?
The 'high' setting is 215 mph and the low setting 100mph.
Can this be used to clean gutters?
Yes and there is a gutter cleaning accessory kit.
Can you use the vacuum function without mulching?
No, the mulcher will always run when the vacuum is being used.
---
Comparing Models
---
The Rake and Vac is one of a number of Toro leaf blower models. The differences between them are outlined below:
| | | | | | |
| --- | --- | --- | --- | --- | --- |
| | Power Sweep | Rake & Vac | Super Blower Vac | Ultra Blower Vac | Ultraplus Blower Vac |
| Max Air Speed | 160mph | 215mph | 225mph | 250mph | 250mph |
| Speed Control | 2 Speeds | 2 Speeds | 2 Speeds | Variable | Variable |
| Air Volume | N/A | 350 cmf | 390 cfm | 410 cfm | 410 cfm |
| Motor (amps) | 7 | 10.5 | 12 | 12 | 12 |
| Impeller | Plastic | Plastic | Plastic | Metal | Metal |
| Leaf Red. rate | n/a | 76% | 81% | 88% | 97% |
===> CHECK THE TORO RANGE ON AMAZON <===
---
You Might Also Like…
---
Check out my Best Leaf Blowers and Best Leaf Mulchers Buyers Guides for my pick of the best pieces of kit of the year. There are some fantastic options. The WORX Trivac, for instance, is a good option.
You can also view my Site Index, which shows everything on my site on one page or look at my recommended links below:
Useful Resources