---
Review At A Glance
---
Mowing is taxing enough, so you should find a mower that would make your task easier and more convenient. Is the Toro TimeCutter 32-inch exactly what you are looking for? For starters, it has a zero-turn capability, which will make mowing manageable.
MY RATING: 92%

---
Editor's Note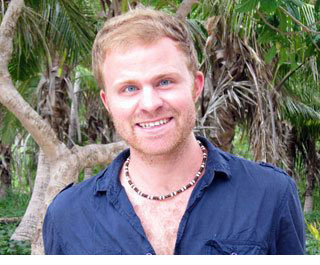 I hope you love the products that I recommend here! Just so you know, I work with Amazon and other affiliate partners and may be compensated from the links below.
---
---
Specifications
---
Model Number: SS3225
Power Source: Gas
Cutting Width: 32 inches
Fuel Tank Capacity: three gallons
Engine: 452cc, four-stroke OHV
Cutting Height: 1.5 to 4.5 inches
Speed: 7 miles per hour
Front Wheel Size: 11 inches
Rear Wheel Size: 18 inches
Turning Radius: Zero
Three-Year Limited Warranty
PRICE GUIDE: $$
---
About the Toro TimeCutter 32-Inch Riding Mower
---
Toro has been manufacturing outdoor equipment solutions for over 100 years. It is in the business of making tasks better and easier. One proof of that is the Toro TimeCutter 32-Inch Riding Mower.
It is a zero-turn mower that has a cutting width of 32 inches so that more work can be done in such a short time. Efficient, right?

The TimeCutter is just one of the many innovative solutions of the brand. This riding mower works with hydrostatic pressure powered by a 452cc Toro engine.
There are three speed options and seven cutting positions with the capability of cutting grass with a maximum height of four inches.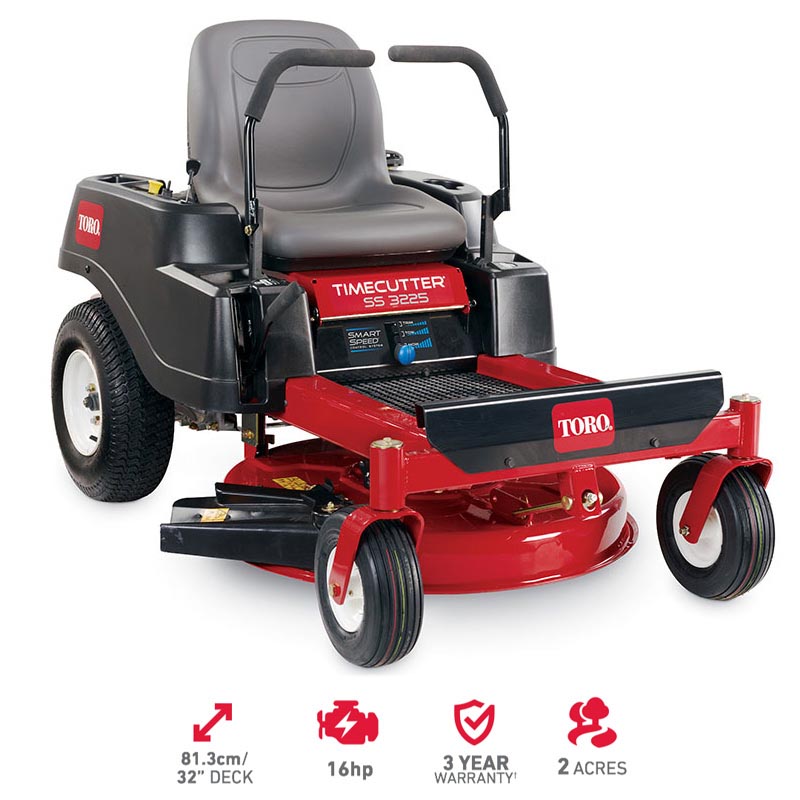 The point is…
This is a capable mower for household use. With the features mentioned above, time spent on lawns will be cut by half at most. With a speed of seven miles per hour, that is fast enough especially for home lawns.
Although, it doesn't really matter if you have to mow for a long period of time because this riding mower has an 18-inch extra tall seat. It is a comfortable ride if you need to take extra time mowing the lawn.
---
The Good
---
You become more efficient when your mower is easy to maneuver. This is why a lot of people prefer the riding mower because it is more convenient and easier to do precise movement.
The Toro TimeCutter 32-inch riding mower allows you to go forward then reverse in no time. This also makes it easier to turn in tight areas.
That's right!
That actually makes work faster. This mower will help you work more efficiently. The speed of this product is also quite fast at seven miles per hour.
The trademarked Smart Speed system also provides three ground speed options: trim, tow and mow.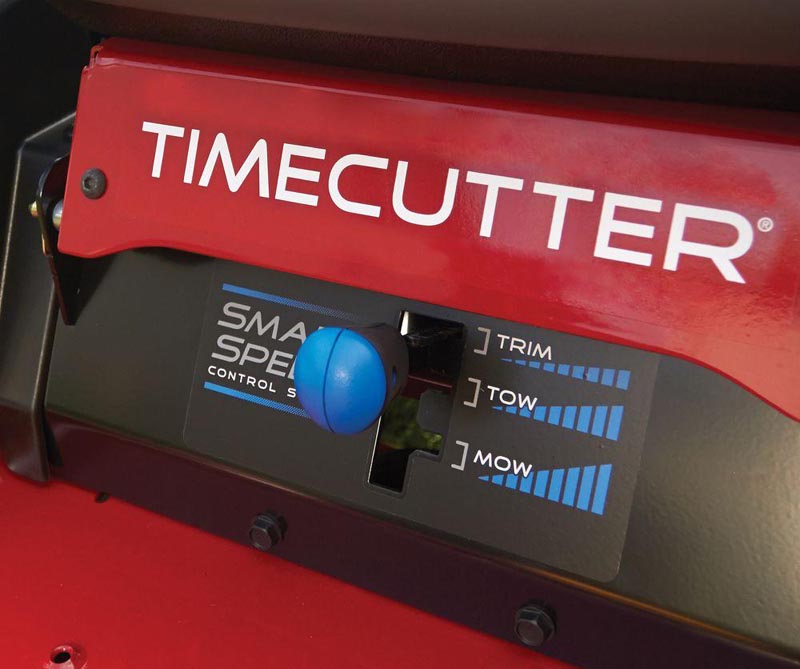 Let me elaborate…
The trim option is great for landscaping and trimming around trees. It can go as fast as four miles per hour. The tow option goes faster with a maximum speed of 5.5 miles per hour.
The mow option, on the other hand, can go as fast as seven miles per hour. This is great for large areas, but takes less time!
Boom!
That is exactly why this product is called the TimeCutter – because it cuts time! Get it? Time. Cutter. With this riding mower, your task can be cut by as much as half. So you have more time to do something else.
Sounds good?
Here is an even better feature of the mower: 18-inch extra tall seat. This makes your ride more comfortable so that you can do your mowing for quite some time.
But you don't really have to mow for long because one trip can already do so much because of the mowing deck that measures 32 inches. The maximum cut is also 4.5 inches.
Let's dig a little deeper
Let's go deeper into the mower by going into the engine power of this thing. The mower has a single-cylinder engine of 452cc, which is exclusive to the brand.
The engine is powerful and dependable. Part of the engine is the full-pressure lubrication as well as spin-on oil filter.
What's more?
The Toro mower has a heavy-duty steel guard that helps protect the engine from unexpected matters on the ground.
It could be branches, rocks or any other kind of debris – you might be surprised riding over unexpected items but at least the engine won't be.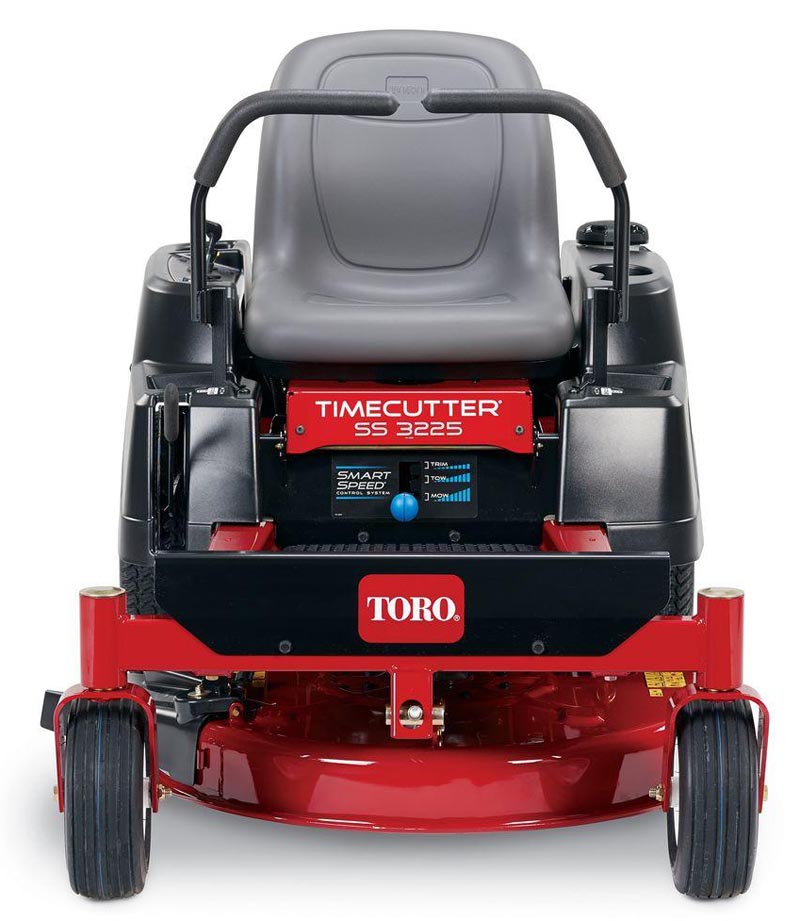 In addition
The mower comes with a hitch kit, which is standard among TimeCutter models. This will help in making the mower more versatile. This will allow you to attach a dump cart if you think it's necessary or maybe a de-thatcher.
You may also attach a fertilizer spreader. In essence, your mower does more than just mow the lawn.
This is HUGE:
At the end of your mowing task, you will have a lawn that could rival a golf course! It is exactly what you call a well-manicured lawn.

---
The Not So Good
---
Take good care of this mower because once parts are damaged, they are quite expensive to replace. The head gasket is usually the first casualty so you have to change every now and then.
If you don't check it regularly, you might do more damage when you let the engine run with a broken gasket.
Unfortunately
I've also heard from a couple of peers that there were problems with the brake module after only a few uses.
The damaged part was covered by the warranty but it was still a hassle since the mower is quite large and hard to bring to and from the facility.
Frankly
The riding mower is also quite hard to steer at first. There will be a learning curve. It may take a few mowing tasks to finally get your groove on.
A word of caution:
The mower's chair is quite comfortable. The 18-inch back rest would be good for your posture. However, it lacks arm rests, which would be great when you need to mow for quite some time.
Basically
While this mower is great for home lawns, it may not be ideal for larger grounds like a farm or commercial space.
For a space that is at least an acre in size or more, this is not the mower for you. Less than that and the mower will work quite well.
---
Conclusion
---
My Verdict
Design - 92%
Performance - 94%
Price - 90%
92
%
Easy to use and great for simple trims and large mowing!
This is definitely a great riding mower for homeowners. Whether trees are involved or not, it's fine. The zero-turn feature allows easy maneuverability. It can go around trees without any trouble.
It's so easy to maneuver that even seniors will have an effortless time mowing their lawn.
There are also three options so you can use the best system for a well-manicured lawn: trim, tow and mow. This way, you can use the appropriate setup for the right kind of work for your lawn.
And if you failed to keep your regular schedule of upkeep, then it's okay because this riding mower can cut grass of up to four inches.
If you happen to run through roots, fallen branches, some rocks and other debris, the mower has a thick heavy-duty 10-gauge steel frame that can protect the engine.
This metal protection also provides optimum balance in flexibility.

---
At A Glance
---
✔ Pros
Zero-turn radius for easy maneuverability.
Powerful engine
Smart System®️ Control System that provides three ground speed alternatives.
Comfortable seat
32-inch mowing deck
Dual hydrostatic transmissions
Strong 10-gauge steel frame
3-gallon tank for more work in just one fill-up
3-year limited warranty
✘ Cons
Expensive parts
Easily damaged gasket
Brake module may be sensitive
---
FAQs
---
Why are zero-turn mowers advantageous?
Zero turn means the mower can go forward and reverse at no time at all. This is great for small areas where it is too tight to make a turn.
But people really prefer this because you make fewer passes, hence, less time doing the work.
Is a 32-inch mower good enough?
For households, this is good enough. It's actually more than good enough. Homeowners usually just need a mower with a width of around 20-plus inches.
So 32 inches is great. But it is not good enough for grounds that are at least an acre in size.
What does limited warranty mean?
As the name suggests, it means that not everything is covered by a warranty. This means that the warranty will only be for certain parts and certain defects.
Usually, this means that while the parts may be replaced, labor may have to be paid by the owner.
---
You Might Also Like…
---
You want to know more riding mowers like the Toro TimeCutter 32-Inch Riding Mower? You're in luck because we made a list of the best riding mowers so far this year!
In this day and age, while it is important that we have an efficient mower, it would be better if we have one that will not hurt the environment. And we do!
Check out this Ryobi 38-Inch Electric Riding Mower.
When it comes to mowers, size doesn't matter. It's the performance. Check out this compact mower with big performance!
Useful Resources