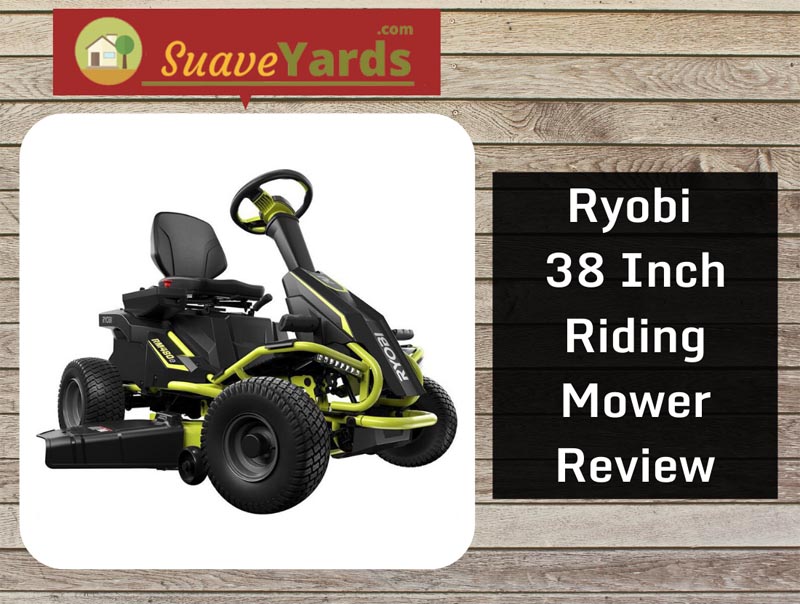 ---
Review At A Glance
---
The Ryobi 38-Inch Electric Riding Mower is just what you need for your home lawn and more. It works well and rides like a go-kart. But the best part about it is that it is great for the environment.
MY RATING: 94%


---
Editor's Note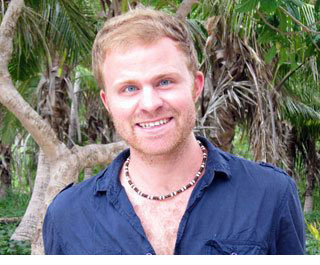 I hope you love the products that I recommend here! Just so you know, I work with Amazon and other affiliate partners and may be compensated from the links below.
---
---
Specifications
---
Power Type – battery
Model – RY48110
Voltage – 48 volts
Motor – 3 brushless motors
Charge Time – 6 hours
Run Time – 2 hours
Cutting Width – 38 inches
Cutting Height – 1.5 to 4.5 inches
Bagger – two-bin soft bagger with bagging blades
Weight – 595 lbs
Warranty – three-year limited warranty
PRICE GUIDE: $$

---
About The
Ryobi 38-Inch Electric Riding Mower
---
Climate change is real and we should all do something to alleviate the global environmental crisis. Good thing the Ryobi 75 Ah 38" Electric Riding Mower exists.
It is an environment-friendly mower that can do its job of maintaining well-manicured lawns with zero carbon emissions.
Ryobi is a Japanese manufacturer of electronics, automobile components, power tools, builder's hardware, among others. It's lineup of lawn mowers is also top-notch as it aims to be the pioneer in innovative equipment.
The brand knows that in this generation, we need to be more mindful of the environment, hence, an electric riding mower that doesn't use gas and has zero carbon emissions.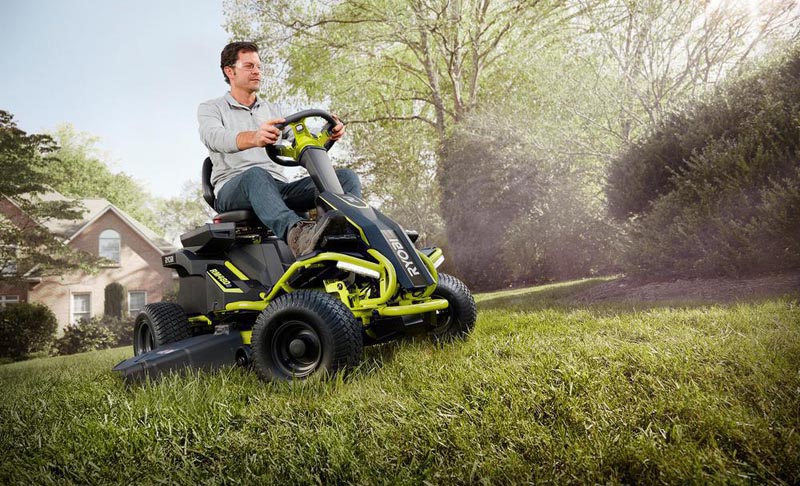 Imagine this…

You get to ride your electric mower to cut around two acres of grass without harming the environment. That's exactly what you will get with this Ryobi lawn mower: two hours of straight mowing for every charging.
Okay, maybe you don't really need to do two hours of mowing but if you do, it's not a bother because the RY48110 has a comfortable seat with backrest. You can adjust the seat based on your comfort level.

What's more?
The mower has a width of 40 inches with a cutting width of 38 inches. In terms of height, it cuts a minimum of 1.5 inches to a maximum of 4.5 inches.
It also comes with 12-position deck height adjustment so you can have a wider range of preference. It has a side discharge with mulching and bagging capabilities.

It has three brushless motors, two of which are direct drive or beltless brushless blade motors for mowing and cutting. The other motor is a direct drive brushless drivetrain.

That's not all

It has cruise control capability with speed at a maximum of eight miles per hour. The cutting speed is at five miles per hour and three miles per hour for the reverse speed. You can also do a 16-inch radius turn with this baby.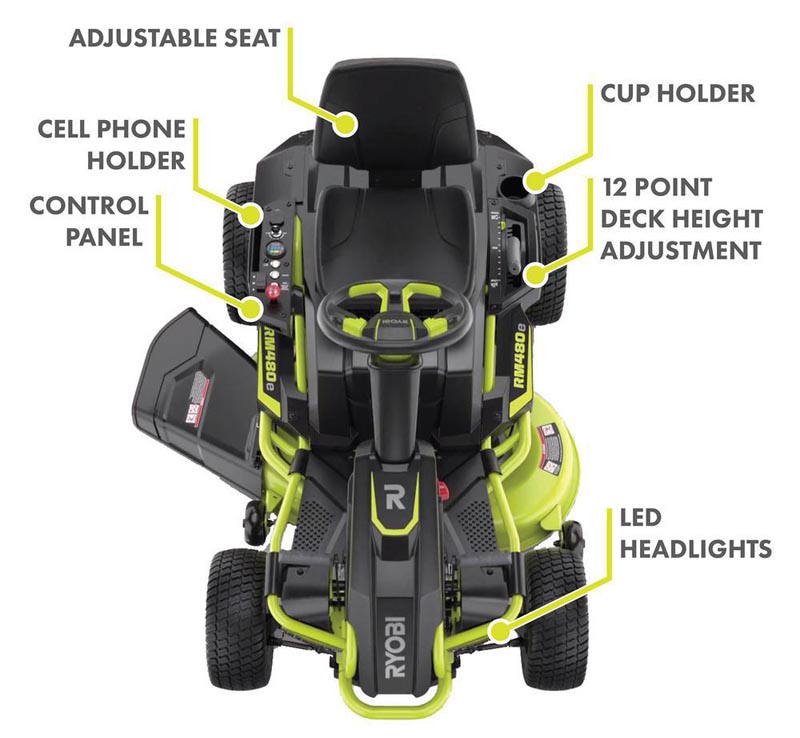 Other features of the lawn mower include LED highlights, quiet operation and parking brake, among others. It has a cup holder so you can stay hydrated while mowing, and it has a phone holder plus USB phone charger so you can be reached even while working on keeping your lawn neat.

---
The Good
---
Most of the features of this electric mower scream modern. It has the cup holder and phone holder to make mowing more like cruising through the streets on your car rather than doing actual work on the lawn. More importantly, you don't have to feel guilty using it because it is ecologically sound.

But you don't necessarily go looking for a lawn mower because it is environmentally friendly. That is more like icing to the cake.

So let's get down to business

Gas-gozzling lawn mowers are so last decade. The electric kind, like the RY48110, will save you money and you don't have to deal with fumes. As a direct result of not having to use gas, this also means that you don't have to deal with spark plugs, filters and belts common in gas-run equipment. Basically, this is a low-maintenance mower.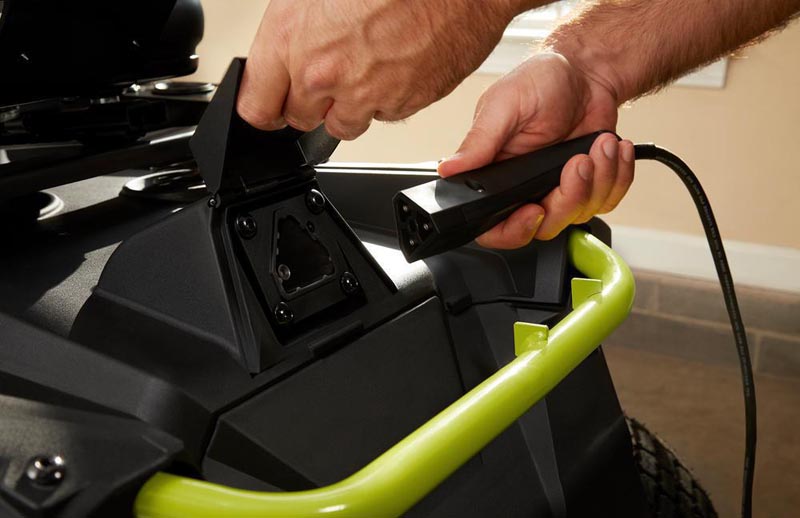 You can mow as early in the morning as you like without fear of waking up the rest of the household or your neighbors because this mower runs quietly. You may also mow at night, if that's your preference, because it comes with a bright LED light.

Sounds good?

The battery actually lasts 10 hours if you don't use the mowing deck. That's actually great especially when you have a speed of around eight miles per hour. With the 75 Ah, you can cover two acres of land.

Riding is quite smooth. It's just like driving a go-kart. It really is a fun ride!

But that's not all

This product is a bit pricey, which is not something you want to hear. In this case, it is justifiable as the mower is durable. You know it because every part used in manufacturing this product is of great quality. This is definitely a good investment because it can be used for many years.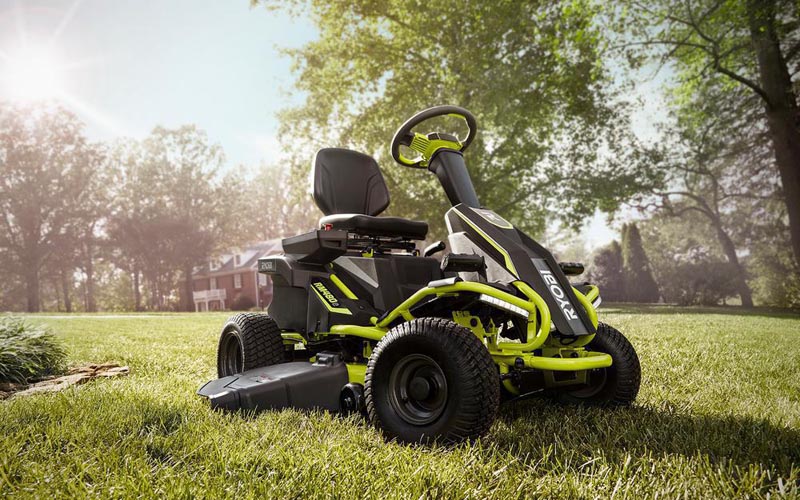 Learning how to use this mower is also quite easy. However, if you have been using a different kind of mower before, this will take some getting used to.


---
The Not So Good
---
Okay, so the lack of suspension may mean that the equipment is low maintenance. But on the flip side, it is not ideal for uneven ground. If you are going through a lot of uneven patches of ground, be prepared to really feel it in your bones.

And while the lack of suspension means the drive is much quieter, you might have to deal with a squeaky steering rack. However, that is not really a deal-breaker as you can always fix the annoying noise with grease.

Annoying isn't it?

Well, here is another source of irritation: charging time. You might have to wait for six hours for the mower to fully charge. According to Ryobi, the mower should be charged when not in use. This way, you wouldn't have to wait hours to be able to use it again.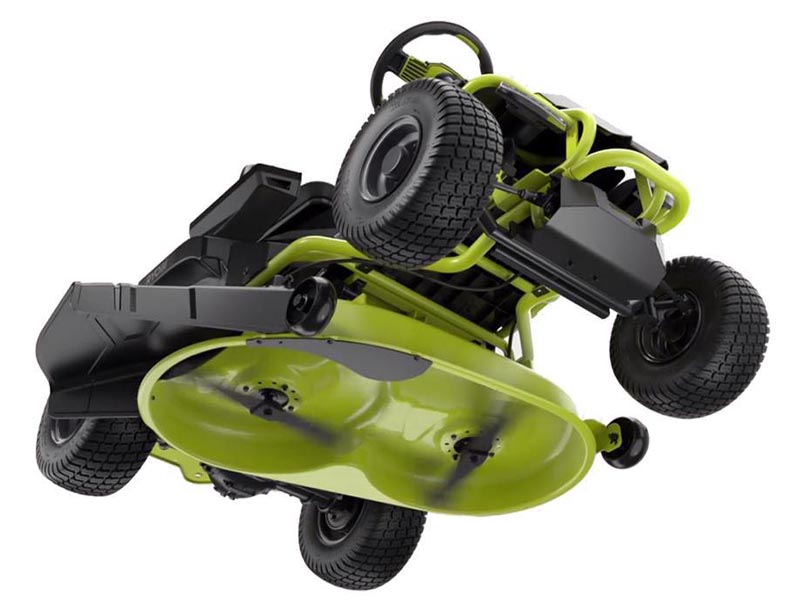 Even more trying is if it's winter. If you don't use the mower, you have to charge the battery at least once a month as maintenance. However, it will be hard to charge if it's frozen. So you definitely cannot leave the mower outside. You need to store it in an insulated place.

In addition to that

This is not ideal for steep mounds. So if you have a 15-degree-plus-angled hilly patch of land, then this is not the mower for you.

In short

This electric riding mower is perfect for home lawns or an even ground of around an acre or two. This is definitely not for large tracts of ranch or farmland. It is also not for areas hilly places.
This is a mower that you have to use regularly because grass that grows beyond half a foot would be hard to tend for this kind of mower.
---
Conclusion
---
My Verdict
Design - 97%
Performance - 93%
Price - 93%
94
%
Environmentally friendly & cost-effective electric mower!
While we want our mower to be effective, we also want a brand that has the foresight to think about the future. The Ryobi 75 AH 38" Electric Riding Mower provides the benefits you want in a lawn mower and more--it has zero carbon emissions.
This riding mower doesn't use gas, which means that it is cost-effective. It may be pricier than other mowers but in the long run, you will realize that you actually saved more since you don't have to buy gas. Plus, it is durable and so you can use it for a long period of time.
The speed of this thing is just outstanding! It can go forward at eight miles per hour and five miles per hour with the mowing option.
Also, with this equipment, mowing doesn't sound like a chore. It's actually quite a fun ride.

---
At A Glance
---
✔ Pros
Environmentally friendly
Cost effective
Low maintenance
Quiet
Fun to ride on
Comfortable seat
With cup holder
With phone holder
Great speed
Durable
Three-year warranty
✘ Cons
Not ideal for uneven / bumpy ground
6-hour charging time
User may need time to adjust to how this mower works
Ryobi customer service is slow to respond to issues
Not for steep hills
---
FAQs
---
Where can I buy the Ryobi 75 Ah 38" Electric Riding Mower?
The product is exclusively sold at The Home Depot.

Is the battery included in the warranty?
Yes, but there is only a one-year warranty on the battery, which is the standard. The product has a three-year warranty.

What is the difference between the 75 Ah and 100 Ah Electric Riding Mower?
The 75 Ah battery can run for two hours while the 100 Ah battery can run for 30 minutes more.

---
You Might Also Like…
---
If you want a mower that has amazing battery power, the Snapper XD 82V SXDWM82K Cordless Mower is for you!

For more options that would really suit your needs, check out the Best Riding Lawn Mowers of this year.
But if you have a battle with a hill, know the Best Lawn Mowers for Hills!
You can also view my Site Index, which shows everything on my site on one page or use my recommended links below.
Useful Resources