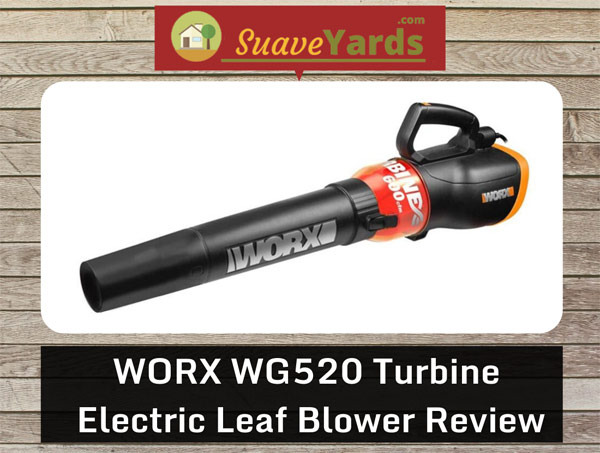 Review At A Glance

In short the WORX WG520 Turbine Leaf Blower is an almost perfect electric leaf blower. HUGELY powerful.
MY RATING: 97%

---
Editor's Note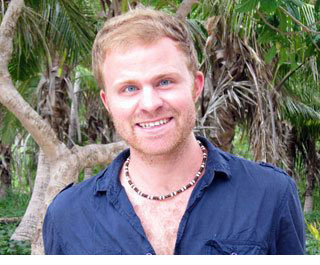 I hope you love the products that I recommend here! Just so you know, I work with Amazon and other affiliate partners and may be compensated from the links below.
---
---
Specifications
---
Power Type – Electric
Model – WG520
Voltage – 120V
Power – 12 Amps
Weight – 6.4lbs
Air Speed – 60 to 110MPH
Air Volume – 320 to 600CFM
Speed Control – Variable
Three Year Warranty
PRICE – $
---
About The WORX WG520 Turbine Leaf Blower
---
WORX are an offshoot of the Positec Tool Corporation – a Chinese based company. WORX was established in 2004 and initially sold their products by direct marketing. It wasn't until 2009 that retailers started stocking their items.
Now a worldwide brand WORX make trimmers, chainsaws, lawn mowers, leaf blowers and much more!
So digging a little deeper.
The WORX WG520 Turbine 600 Leaf Blower is the company's premier entry into the leaf blowing field.
This electric leaf blower is powered by a 12 amp, 120V, motor and can reach an air speed of 110 MPH and has an air volume of up to 600 CFM.
It has variable speed control and weighs 6.4 lbs and comes with a three year warranty.
Above: The WG520 uses WORX's patented 'Turbine jet engine technology'.
Ok, so what is special about this?
It uses WORX's patented 'Turbine jet engine technology' to deliver extreme air volume – this combines a hyper-stream nozzle and a dynamic airflow design.
It also has a built in dust-blower which increases visibility and a cord retainer.
But note:
You will also want to get a thick, low gauge, extension cord to use with this (a thinner cord may result a slight drop in performance).
Because this has a 12 amp engine, which is a reasonably high draw from the main current, I'd recommend using a 16 gauge cable at up to 100 feet or a 14 gauge cable at up to 150 feet.
---
The Good
---
Crack out the bunting – we have a winner!
The WORX Turbine must be the most powerful electric leaf blower available – and by powerful I mean it can move a large volume of air at a high velocity.
We are talking about shifting piles of wet leaves from six feet and then mounds of dry leaves from ten feet or more. In my opinion it is the benchmark in terms of a handheld electric blower – the next step up would be a gas backpack blower.
It is literally hurricane powerful – when you have it on full force there is a noticeable thrust against you. It has a maximum CFM of 600 – way above its competitors.
Allow me to explain.
When it comes to assessing the power of a leaf blower you need to pay more attention to the CFM (cubic feet per minute) figure it can achieve rather than the MPH (miles per hour) figure.
It is relatively easy for a leaf blower to achieve a higher maximum MPH by simply narrowing the nozzle of the leaf blower – you can essentially have a small column of air moving at a very high MPH.
MPH is simply the speed at which the air exits the device. CFM is the volume of air that comes out of the device.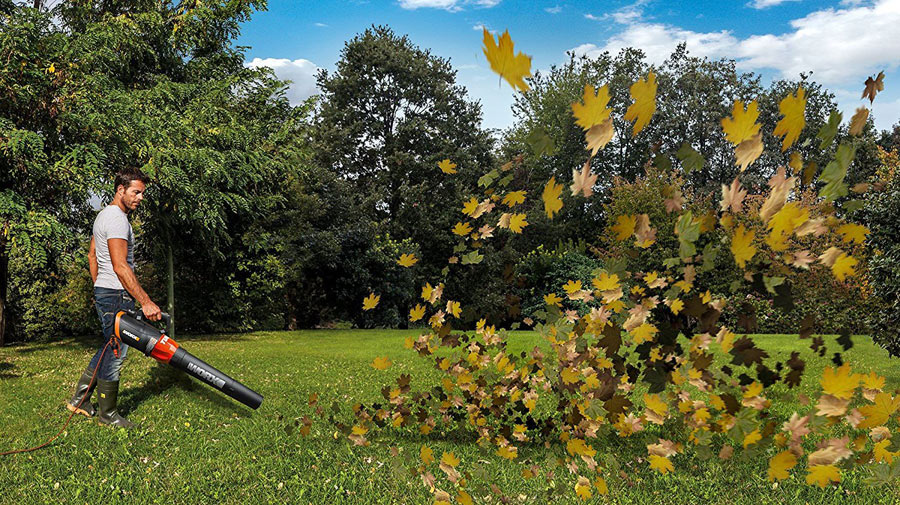 Above: This leaf blower is incredibly powerful
Now stay with me here!
You could think of CFM has the width of a rake – which would you rather have:
Rake 1 – a nice wide, stable rake, or;

Rake 2 – an even stronger rake, but it is only 25% of the width of Rake 1
You would rather have Rake 1 right? It might not be as strong as Rake 2, but you can still rake a lot of leaves very quickly as opposed to Rake 1, which is even stronger, but only deals with a fraction of the leaves Rake 1 can deal with.
Or to use another analogy – imagine you are blowing out a lot of candles on a birthday cake. Using a straw will give you higher MPH, but will take much longer than if you blow through your mouth as you are getting better CFM.
The WORX Turbine is literally like a jet engine!
Now here is the kicker…
The price tag on this is crazily low – the 600 CFM is easily enough for anything half an acre or less, and the value for money you get is ridiculous.
So are you worried this might be too powerful for you?
Not necessarily…
It has a really nice variable speed feature, that is completely adjustable. It acts like a throttle, and effectively gives you total control over the speed of the airflow, allowing you to adapt the blower to whatever situation you are faced with, so you can turn the speed right down when you approach more delicate areas like flowerbeds.
Above: This is nicely designed and feels balanced and comfortable.
One thing is for sure.
WORX have put a lot of thought into the design of the WG520 and it has paid off.
We've already talked about the novel turbine feature that helps it move lots of air. The speed power knob is handily positioned so you can easily adjust it with your thumb and the whole blower is very lightweight weigh only just over 6 lbs.
The overall design is pretty minimalist and it is housed with rugged plastic that feels like it will last.
It can be used one handed, feels balanced and comfortable and, considering the power, it is pretty quiet.
Think I am exaggerating? Buy it and see!
Because it is pretty small it takes up no storage space and it even has a notch on the side so you can hang it on your wall rather than leaving it laying around.
I should warn you though
This takes a long time to assemble- if you think three seconds is a long time! You literally clip on the nozzle and you are ready to go.
It is that simple!
It has an impressive 12 Amp motor that contributes to the power of this thing and make the WORX WG520 Turbine one versatile leaf blower.
Aside from blowing wet and dry leaves, it will be effective as a snow blower, for clearing gutters, drying cars and much much more.

---
The Not So Good
---
Now the WORX WG520 is pretty light as I mentioned earlier, but tied in with the extreme power of this, you might find yourself getting fatigued after prolonged use of it. It might make your arm ache.
The thing is:
It isn't the weight that makes your arm tired, it is the thrust that continually forces the blower back in your hand when you have it at full, or very high, speed.
The solution is to either continually switch hands, or buy yourself a shoulder strap to relieve some of the weight.
Something else that annoyed me.
The extension cord does come loose too easily. There is a cord attachment device but it doesn't work very well as the extension cord seems to slip from the device.
Also the cord attachment device has a slot for the cord to go through at the bottom, but it is a really squeeze to get to get your extension cord through this slot – it does seem undersized.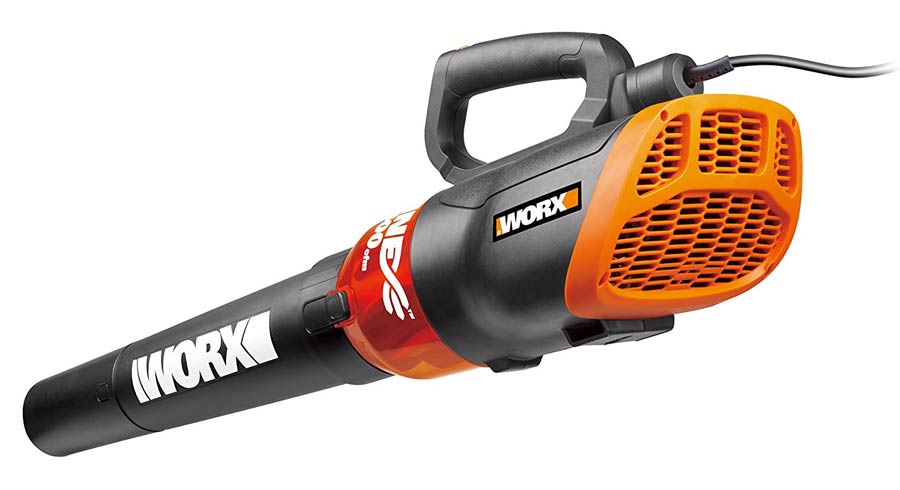 Above: The air intake is positioned on the back of the unit which is a bit of a pain.
And talking of the extension cord.
You should know that the cord plug actually fits a two prong plug extension cord, not a three prong plug, which is quite unusual and again a slight annoyance.
As mentioned earlier this isn't one of those leaf blowers with a thin nozzle, it is much wider, and as I have explained in the section above that is what makes it much better for me. However if you really want pinpoint control you might want to choose another model.
And one last thing:
The air intake is position right on the back of the unit, literally in front of where you hold it. This is great for helping air flow straight through it, but you will find, if you aren't careful, because it is so powerful it will suck you clothing into the fan!
A downward facing intake would have remedied this problem completely.
---
At A Glance
---
✔ Pros
Amazing power
Amazing price tag
Nice variable speed feature
Well designed
Seems durable
Well balanced
Light
Easy to store
Easy to assemble
Nice 12 amp motor
Lots of uses
✘ Cons
Backdraft might fatigue you
Extension cord comes loose too easily
Take two pronged plug
Air intake badly positioned
Conclusion
My Verdict
Design - 95%
Performance - 98%
Price - 98%
97%
Almost perfect blower
I really can't speak highly enough of this leaf blower. In short if you are looking to get an electric leaf blower there is absolutely no reason why you shouldn't choose this.

It is HUGELY powerful, yet light and well balanced and comes at a frankly ridiculously low price tag.

There are very few faults with it, and if you look at it on Amazon you will see it has well over 1,000 reviews and, at the time of writing, 95% of the reviews give it 4 or 5 stars out of 5.

The WORX WG520 Turbine is an almost perfect electric leaf blower.

User Rating:

Be the first one !

---
FAQs
---
Does this have a three prong plus or a two prong plug?
It has a two prong plug.
How wide is the nozzle?
The front nozzle is 3 ⅜ inches in diameter.
Does this come with an extension cord?
It comes with a foot long cord that you will need to attach an extension cord to. I'd recommend using a 16 gauge cable at up to 100 feet or a 14 gauge cable at up to 150 feet.
Can you attach a strap to it?
There aren't any strap hooks or anchors, but you could run a strap through the han
How noisy is it?
The rated decibel level is 82dB
Does it vacuum?
No it is just a leaf blower.
---
You Might Also Like
---
This is without a doubt one of the best leaf blowers on the market – although there are some other good ones available.
You can also get some good leaf blower mulchers, that are great for creating nutritious mulch for your yard.
There are a few factors you need to make sure you consider when you are thinking about buying a leaf blower.
Finally if you want to see everything on my site on one page check out my Site Index.
Useful Resources
Blower MPH vs CFM: Which One Is More Important? Ope Reviews
Choosing The Best Leaf Blowers & Vacuums – Homeadvisor
How To Use Leaf Blower/Vacs And When Not to? The Spruce