January 5, 2020
Great States 415-16 Reel Mower Review: Solid Design, Top Notch Cut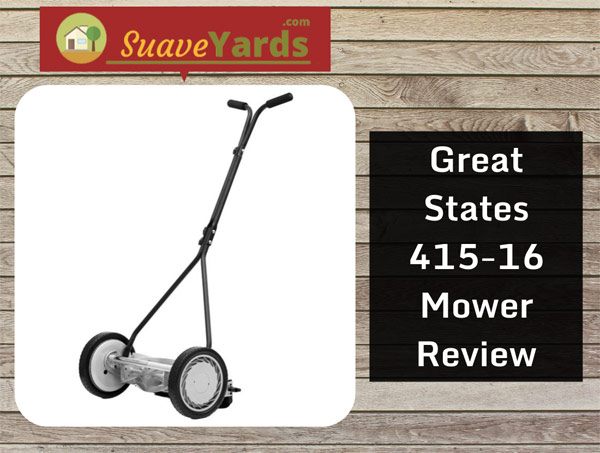 Review At A Glance

The Great States 415-16 is a solidly designed reel mower, that focuses on providing top notch cut quality and it certainly delivers on that!
MY RATING: 93%


---
Editor's Note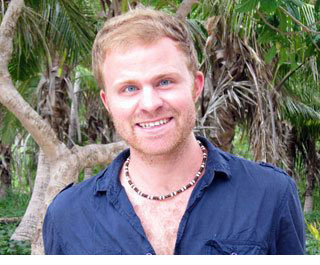 I hope you love the products that I recommend here! Just so you know, I work with Amazon and other affiliate partners and may be compensated from the links below.
---
---
Specifications
---
Power Type – Manual
Model – 415-16
Cutting Width – 16 inches
Cutting Heights – Adjustable from 0.5 to 2.5 inches
Dimensions (inches) – 24W x 51H x 14D
Wheel size – 2 x 10 inch
Weight – 24.65 lbs
One Year Warranty
PRICE: $$

---
About The Great States 415-16 Reel Mower
---
Great States is a sub-brand of the American Lawn Mower Company, the largest, and oldest producer of manual reel mowers in the USA.
The company were founded in 1895 and in 1936 they purchased the Great States Corporation and to this day the Great States sub-brand stands strong in the field of reel mower manufacturing.
So let's take a closer look.
This has a 16-inch cutting width and an adjustable cutting height that can be altered from half an inch to 2.5inches.
It features ten inch ball bearing wheels and a tempered alloy steel reel and bedknife blade. It weighs a touch under 25 lbs and comes with a one year warranty.
Above: The Great States 415-16 has a 16-inch cutting width and a steel construction.
---
The Good
---
I want to say straight off the bat:
The quality of cut you get from this Great States mower is top class. The cut is sharp and uniform and undoubtedly it cuts better than any power mower (this is common with most reel mowers).
If you ever get the chance to compare a blade of grass cut by a reel mower with a blade of grass cut with a gas or electric mower try and do so – I think the difference will surprise you.
The kicker is:
Even on bumpy, uneven or sloped ground this mower does a really nice job and you will get a clean even, freshly cut look to your lawn.
Such is the smooth nature of the 415-16 you could used it on a half or two third of an acre yard and it shouldn't take you long at all to get a neat looking lawn.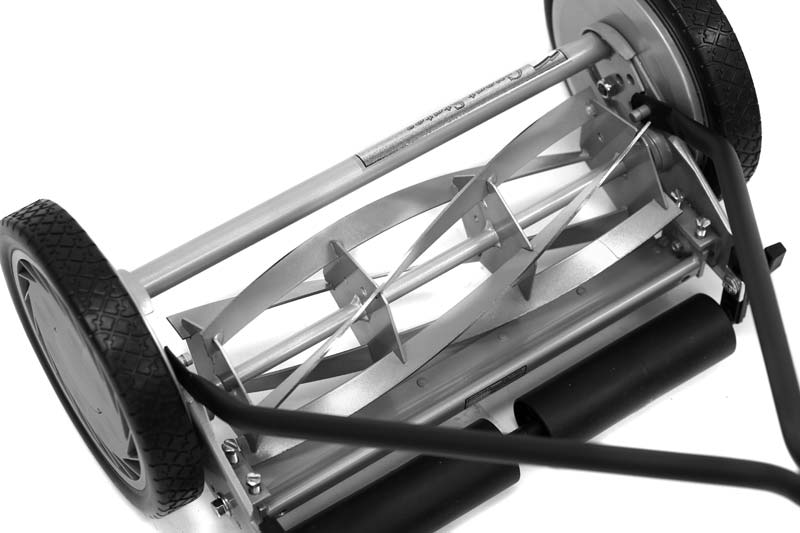 Keep your grass 6 inches or under and, on a mid-size or smaller lawn, this will do a good job in no time at all.
So being a manual mower this must be a nightmare to assemble right?
No! No! No!
This should take you about ten minutes to assemble out of the box. The main part is assembling the handle, but thankfully the instructions are very clear.
It is a case of three screw bolts to assemble the handle, then use the two retainer clips to attach to the deck and then add the hand grips.
Even better – you don't actually need any tools to do this – it can all be done by hand.
Above: The Great States 415-16 gives a lovely uniform cut and is easy to assemble.
Here's the key:
When you have put it together it feels solidly built. The reel is made of tempered alloy steel and the bed knife blade is what means it gives your lawns a nice even cut.
The handle is powder coated to make it last longer and prevent rusts and the blades themselves are heat treated so they should need sharpening less often.
Finally it has a steel side plate that is indestructible! It really feels like it will last a long time.
Perhaps unsurprisingly
This will need minimum maintenance. You will probably need to sharpen the blades every year or two but not do too much aside from that.
It probably is a good idea, after you use it, to use an old paintbrush or something similar to clean out any grass, and then spray a little WD40 onto the blades. It should only take a couple of minutes and if you do it regularly this thing should just keep running and running and running. And that can only be a good thing right?
You are dead right.
Above: This reel mower is light and easy to move and has a tempered alloy steel reel.
As I alluded to before this is nice and easy to move. On the face of it as this is so light – around 25 lbs – you might actually find it easier to push than some of the heavier power mowers on the market.
It does glide across the lawn taking only minimal effort. Occasionally you will find it gets clogged up by a stick (more about that in the Not So Good section below), but when it does it is very simple to unclog, simple use your foot to wind back the reel and the offending piece of material will come out.
It goes without saying.
That as a push mower this is pretty much silent. Just a gentle whirring of the blades is all you can hear (which is actually pretty therapeutic). It is also very compact and will take up minimal storage space.
You can also adjust the cutting height from 0.5 inches to 2.5 inches and adjust the height of the wheels to one of three positions.
Oh and of course there are no fumes or exhaust smoke to deal with.

---
The Not So Good
---
So here is the problem.
Any sticks, twigs, rocks or pine cones on your lawn and this will get stuck. They lock up the blades and stop the mower moving.
Now I explained above you can unclog the mower by putting your foot on the reel and rolling it backwards – so it doesn't take long, but it might be a pain.
Not only that.
It will not deal with large weeds or dandelions. It just flattens them and they spring up again moments later, so you will either need to go over them with a weed whacker or pull them up manually.
The 415-16 is well made, however the one area that could definitely be better is the handle. The problem is it is two pieces bolted together, not one solid bar.
Above: This does struggle to deal with sticks and the handles could be better designed.
This means there are two problems:
The two handles can torque out of alignment with each other, and;

There is more stress at the middle of the handle, which means it is more likely to snap.
The handle covers aren't great either and slide off quite easily.
Finally:
There is a distance of about 3.5 to 4 inches from the end of the reel to the furthest side of each wheel, which means if you are cutting next to a sidewalk or a wall, there will be a small strip of grass that will be left uncut, and you will need to get the trimmer out.
It is a pain, but not a major one.
---
At A Glance
---
✔ Pros
Sharp uniform cut
Healthier cut
Does well on uneven and sloping ground
Simple to assemble
Built to last
No maintenance require
Easy to push
Light
Almost silent
Doesn't take up much space
Adjustable cutting and wheel heights
No fumes
✘ Cons
Can't deal with twigs
Doesn't cut weeds
Handle could be better designed
Can't get right up to walls or sidewalks
---
Conclusion
---
My Verdict
Design - 94%
Performance - 94%
Price - 91%
93
%
Top notch cut quality
This is a great mower for any small or midsize (up to 0.5 of an acre) lawns.
You have all the obvious benefits a push mower has - next to no noise, no fumes, minimal maintenance, but what sets this apart is its timeless classic design. There are no unnecessary, fancy extras - it is a solidly built and nicely made reel mower.
Of course no matter how nicely made a mower is, it lives and dies by its performance and this cuts fantastically well. It will leave your lawn looking even and uniformly cut. Just make sure you rake it first to get rid of any sticks!
It is simple to put together and will last you a long time. The Great States 415-16 should be right at the top of your list if you are looking for a reel mower.

---
FAQs
---
Will it cut going forward and backwards?
No this only cuts crash when it is being pushed forward.
Can this cut lawns on an incline?
Yes it will deal with sloping lawns well.
What are the dimensions of this?
It is about 24 inches wide (from wheel to wheel) 51 inches high and about 14 inches deep.
How often do the blades need sharpening?
Providing you look after this and give it a spray of WD40 regularly you shouldn't need to sharpen the blades more often than every year or two.
Does it come with a grass catcher?
No
---
You Might Also Like
---
Unsurprisingly this features in my list of the best push mowers of the year, but it does have some worthy competitors.
If you feel your lawn might be too big for a reel mower then take a look at the electric, gas and battery powered mowers available to you as there are some great choices.
Buying a lawn mower does require considering a few options though and remember you will need to keep your lawn mower blades sharp!
Finally you can look at all my reviews and information on my Site Index.
Useful Resources