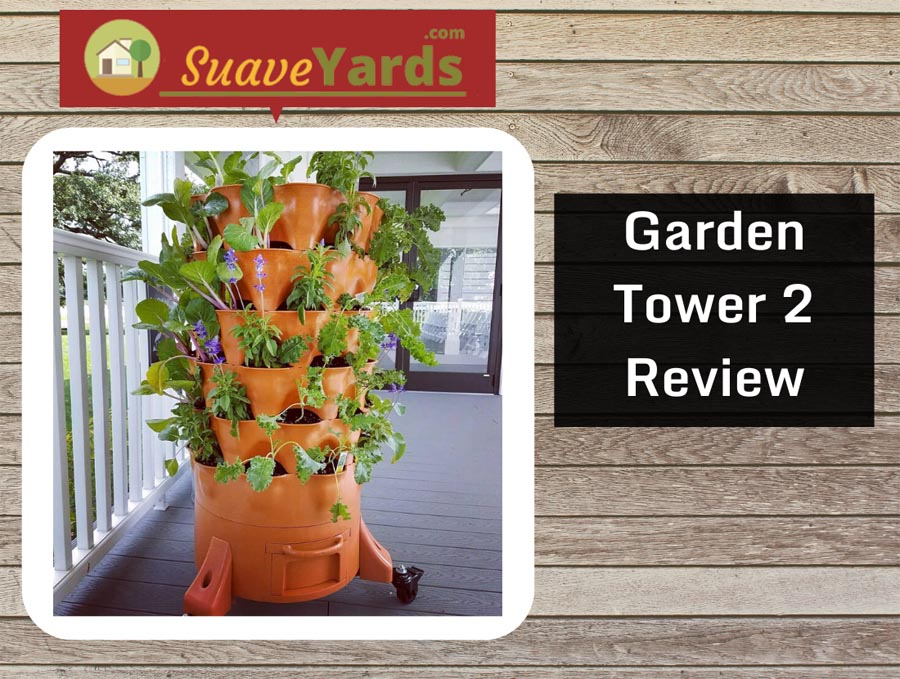 ---
Review At A Glance
---
The answer is a resounding yes – the Garden Tower 2 is the best vertical gardening system out there – it is incredibly easy to use and will help you produce an abundance of healthy and nutritious plants and vegetables.
MY RATING: 96%

---
Editor's Note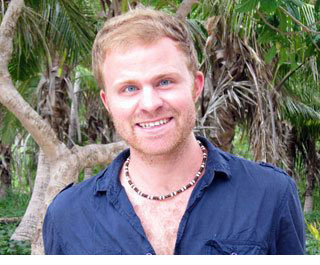 I hope you love the products that I recommend here! Just so you know, I work with Amazon and other affiliate partners and may be compensated from the links below.
---
---
Garden Tower 2 – An Overview
---
Dimensions: 43 inches high and 24.5 inches in diameter
Floor Space Required: 4 square feet
Weight: 36 lbs (dry and empty) and 220lbs with moist soil
Five-year warranty
You can grow up to 50 plants at once.
It has a built in water-recycling system that transport nutrients effectively to the plants' roots – this encourages quicker and more abundant growth.
Holds 6 cubic feet of potting soil
Planting areas support up to 1,000lbs
Made in the USA
Can be rotated 360 degrees
Compost drawer with two gallon capacity
Feet that can be anchored down to secure the Garden Tower
PRICE GUIDE: $$
---
What is the Garden Tower 2?
Back in April 2012 inventor Colin Cudmore, environmental scientist Joel Grant and health professional Thomas Tlusty launched their project on Kickstarter.

They had a dream to allow people around the world to quickly and easily produce organic food – their idea – the Garden Tower Project.

The Garden Tower was duly created and in December 2012 it was sent to their Kickstarter backers.

It must have created an impact as two years later they launched a further Kickstarter project to fund an improved version of their initial idea – The Garden Tower 2.
And guess what?

This project was fully funded in 33 minutes and the Garden Tower 2 was born!

The Garden Tower 2 is a vertical, self-contained, garden and composting system that allows anyone to create their own compost and grow delicious nutrient dense food in a limited space – you can grow 50 plants in the Garden Tower in just 6 cubic feet of potting soil.
Even better…

It eliminates the need for weeding and converts kitchen scraps into organic fertilizer and it does it all faster and with greater results than conventional gardening.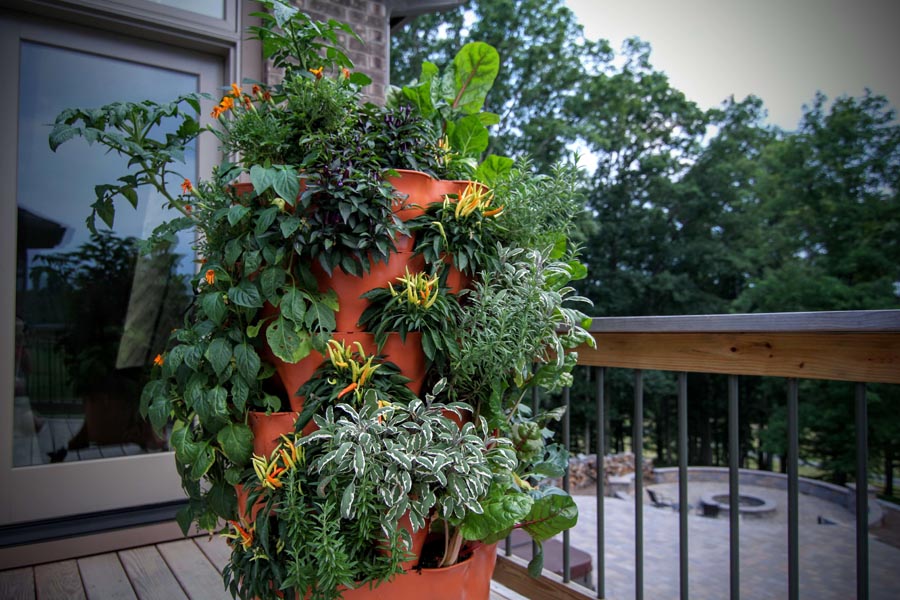 The Garden Tower vs The Garden Tower 2
As mentioned above the original Garden Tower was built in 2012. The Garden Tower 2 came out just over two years later in early 2015.

In short:

In all ways the Garden Tower 2 is an improvement over the original. Some of the improvements include:

Adding more perforations to the composting tube for enhanced aeration and easier access for plant roots.
Easier to assemble, with improved design on the stacking and nesting planting rings.
Improved design of the feet – making them wider and more heavily reinforced with the ability to anchor them to a solid surface.
It is more heavily built and more UV resistant.
Most importantly it can be rotated 360 degrees to allow plants more access to the sun
To put it bluntly:

The Garden Tower was good – the Garden Tower 2 is even better!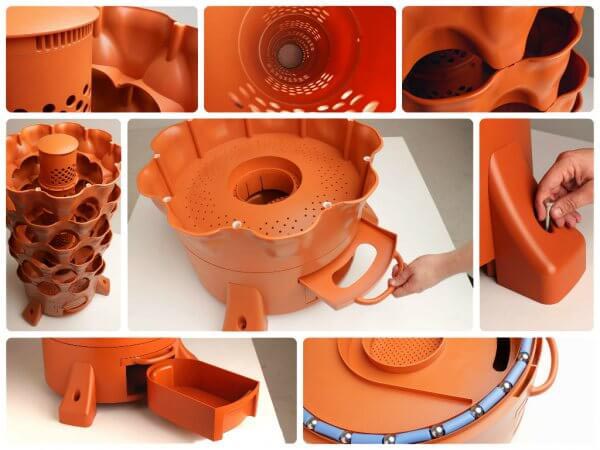 How Does the Garden Tower 2 Work?
The Garden Tower 2 is a thing of beauty! So much innovation is packed into such a small space.

This has a composting column running right through its center. Simply add kitchen scraps (non-meat) and other brown recyclable material, such as shredded paper, to the tube.

Now here is the clever part:

As this compost begins to decay red worms eat it. The red worms are protected by the soil in the surrounding planting pockets – this means they stay nearer the fresh compost as it is a stable habitat for them. In turn this makes the Garden Tower much easier to maintain than other compost bin systems.

Night crawler worms can also be introduced and will travel through the compost, transporting nutrients and improving soil and compost aeration through the pathways they create.

And the best part?

At the same time you can grow a whole host of produce in any of its 50 planting pockets. The benefit here is the plant roots directly access the compost column for nutrition easily absorbing the nutrients.

This replicates the growing conditions of all plants in nature – yet the Garden Tower is the only container garden system to do this.

Astonishing isn't it?

Everytime you water these plants nutrients are moved between root zones. This results in nutrient rich soil and faster growing, more nutritious plants.

The kitchen scraps you feed into this are converted into dark, rich compost. This can be removed quickly and easily by sliding the compost gate out, and letting the compost drop into the drawer below.

The drawer also captures the water that filters through the soil. Known as leachate – this contains a balance of nutrients that are invaluable or plant growth.
The video below goes into a bit more depth about how the Garden Tower 2 works:

Now get this:

The Garden Tower 2 can recycle more than 50 gallons of organic kitchen scraps over a nine month period.

Pretty impressive right?

You are dead right!

The Good
Amongst the many benefits of the Garden Tower 2 – one of the most obvious is the fact you can grow 50 plants – yes 50 – in four square feet – pretty much anywhere.

In short if you live in an apartment with a small backyard it means you can grow a multitude of delicious and nutritious fruits and vegetables quickly and easily.

And what makes it even easier?

This can be rotated 360 degrees – simply spin it round to bring your plants out of, or put them into, the shade ensuring optimal growth and easy plant access in limited spaces.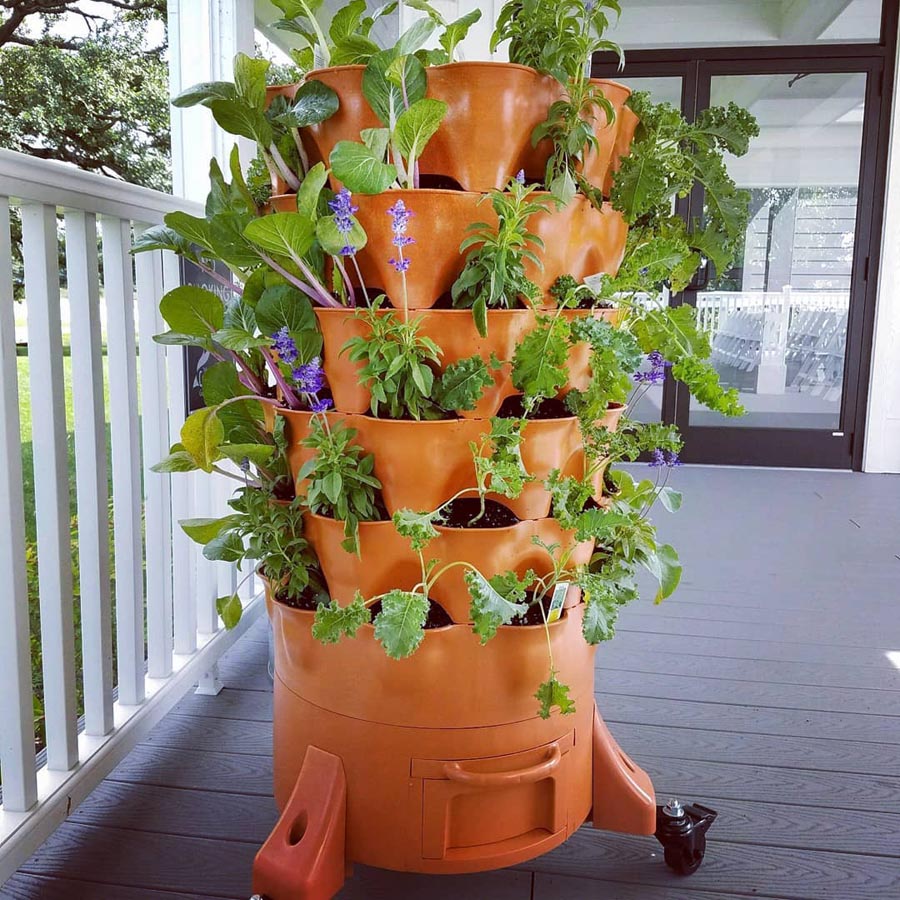 It couldn't be easier.

The integrated composting is wonderful too. The compost tube runs down the center of the Garden Tower, and you can throw your kitchen scraps down it so worms can eat them.

Every 90 days or so simply slide out the compost gate at the bottom of the Garden Tower and the compost will drop into the drawer for removal.

The product you will collect is known as 'nutrient leachate' and is the perfect fertilizer – containing a balance of essential nutrients for your plants.

And you know what is really crazy?

The Garden Tower is simply replicating a natural ecosystem. The plants, growing in the surrounding planting pockets, have direct access to the compost column in the same way they would access similar nutrients if they were growing in the wild.

In nature this is how nearly all plants grow, but in terms of container and vertical gardening systems it is unique to the Garden Tower.

Here's the kicker:

You can grow pretty much any vegetable, herb or flower and do it organically and not only that the built in water-recycling system that is explained above transports nutrients directly to the roots of the plant.

This means plants actually grow more quickly and should flourish more than in a traditional gardening system.

More good news:

Setting this up is simple and can be done quickly. Once soil, worms and plants have been added then the Tower almost takes over, all you need to do is add your kitchen scraps and water it.

Aside from that it requires practically no maintenance

If this is important to you…

It is 100% made in the USA (in fact it is nearly all made in Indiana – the home state of the Garden Tower Project).

It uses 100% UV stable food-grade and high purity HDPE plastic and you can tell a lot of time and thought has been put into the design, with little touches such as:

The easy access, two-gallon, drawer for collecting compost
You can rotate it 360 degrees easily – just using one hand
The legs have a wide stance making it nice and stable, even in more extreme conditions and it can be anchored down for added stability if need be.
The planting pockets have nice wide openings so it is easy to plant seeds.
The design is fantastic and you can tell The Garden Tower Project are continually looking for improvements and listening to feedback from customers.

Talking of which:

You will see lots of positive feedback when it comes to customer service from The Garden Tower Project.

They have an active Facebook page and are frequently praised for their proactive and efficient customer service. They are a small company that evidently really care about their customers and are proud of their products.


The Not So Good
In all honesty there isn't too much not to like about this. Evidently The Garden Tower Project have made improvements on the original Garden Tower when designing the Garden Tower 2 and ironed out most of the problems

For instance:

In the Garden Tower 1 connecting the compost tube was a bit tricky – it was difficult to connect the tube (made up of sections) together. This has now been firmly addressed in the Garden Tower 2.

One thing that would be good is if the strainer tray at the bottom of the Tower had a latch to prevent it accidentally being pulled out.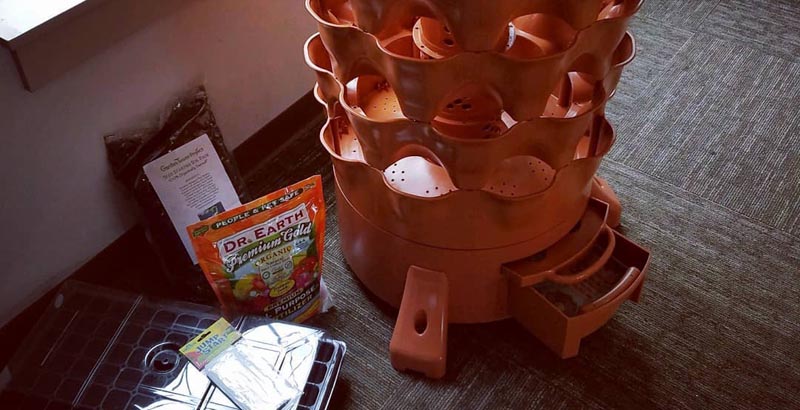 This is because the strainer tray is directly above the compost tray and when you remove it it essentially allows all of the compost to drop through into the compost tray.

It is quite easy to pull the wrong one out and end up dumping a load of compost into the compost tray when it isn't ready/you didn't want to.

Aside from that:

It might be nice if there was a pour spout in the water catchers so it is easier to distribute the water.

But that is probably me being really picky!

Also this is quite expensive, BUT you will get a product that is built to last and will provide you with an abundance of fruits, vegetables and plants and wonderful fertilizer.

At A Glance
✔ Pros
Can grow lots of plants/vegetables…
In a small area
Easy to rotate to allow plants access to sun
Produce amazing compost and fertilizer
Produce grows quickly and abundantly
Replicates natural eco-system
Easy to set up
Needs minimal maintenance
100% USA made
High quality design
Built to last
Great customer service
✘ Cons
Strainer try would benefit from a latch
Pour spout in water catchers would be handy
A bit expensive (but actually great value for money!)

---
Conclusion
My Verdict
Design - 97%
Performance - 98%
Price - 93%
96
%
Ground-breaking gardening system
There is no doubt about it, the Garden Tower 2 is a top quality product that works very well indeed. It is sustainable, easy to use, incredibly well designed and a haven for growing plants, fruit and vegetables.
It is without a doubt one of, if not the best, vertical gardening system out there.
Gardeners of all sorts should love it - especially apartment dwellers or anyone who has a small or restricted yard as you can grow so many things in such a restricted space.
If you suffer from any conditions like arthritis for instance it would also be a great investment as it needs minimal weeding or bending over.
You really can get maximum output from more minimal effort, and even novice gardeners will soon get the hang of this.
You might think it is a little pricey, but if you consider that it will last you a long time and all of the produce you can grow you will soon realise this represents great value for money.
It is truly a groundbreaking product and well worth the investment.

---
FAQs
What can I grow in the Garden Tower 2?
You can grow a huge amount of produce. Such as:

Fruits and vegetables include: Broccoli, Cauliflower, Melons, Peppers and Strawberries.
Herbs include: Basil, Chives, Rosemary and Thyme.
Flowers include: Marigolds, Pansies, Petunia, Sweet Peas and Zinnia.

These are just a few examples though – you can see a more extensive list here.
Is the food really healthier and tastier?

Yes it is. The design of the Garden Tower supplies plants with a huge amount of nutrients and the plants grow from healthy soil leading to tastier produce.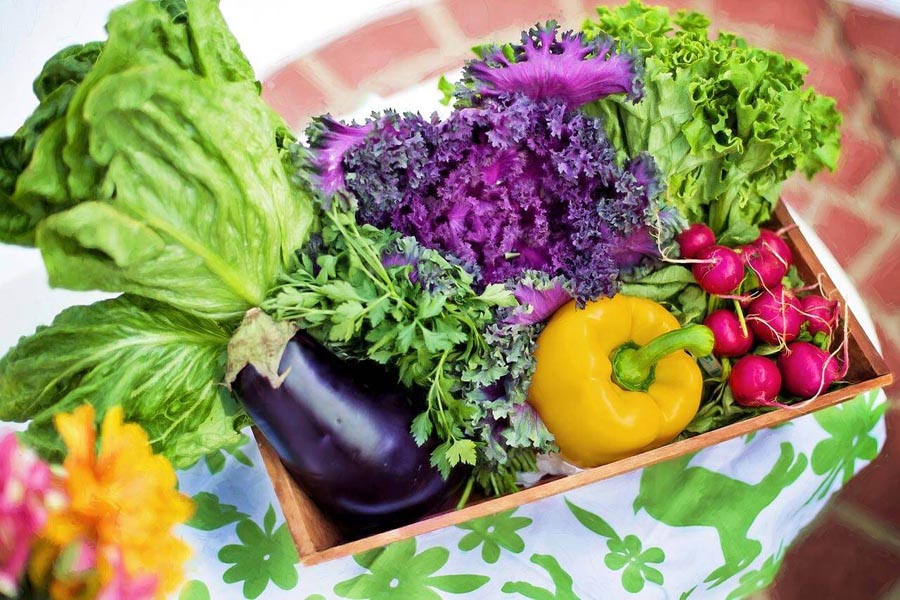 Does it really grow more quickly than conventional gardening?

Yes as growth conditions are optimal – you have healthy soil, steady moisture and a constant supply of nutrient rich compost in a controlled temperature that is well protected from pests.

How should I arrange the plants I grow in the Garden Tower?

You should place the larger plants towards the bottom – try and create a high/low pattern based on the space requirements of the foliage each plant has and look to maximise the amount of light each plant receives.

How much should I water the Garden Tower?

As a rule of thumb, if you live in a moderate climate, water from the top three times per week during the summer and once or twice a week during spring and fall.

In the winter you should water once a month to maintain the soil structure.

Note that the Garden Tower is designed with drainage in mind and over-watering is unlikely.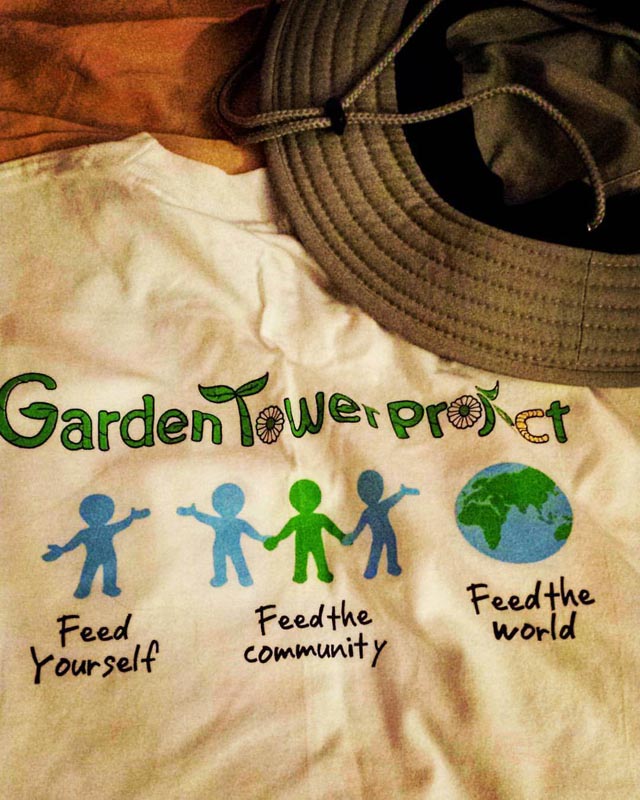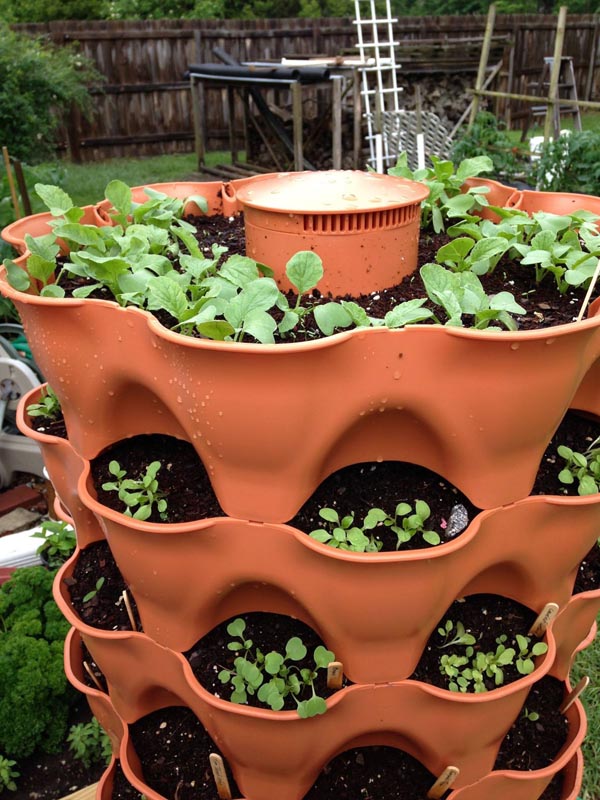 What scraps can I compost in it?

All fruit and vegetable scraps, with the exception of citrus peelings, shredded newspaper or office paper and egg shells.

Do I need to add worms?

It is recommended – they help breakdown compost and transport the nutrients – creating pathways for soil and compost aeration.

How long will this last?

With its UV resistant plastic it should last around 8-to-10 years in full exposure.

What do I do with it in the winter?

Unless you live in a very mild climate the plastic and the worms would benefit from protection indoors during cold winters, but it is sturdy enough to remain outdoors.
What other similar products are there?
This is the best around in my opinion, but you can check out my guide to the best containers for container gardening.