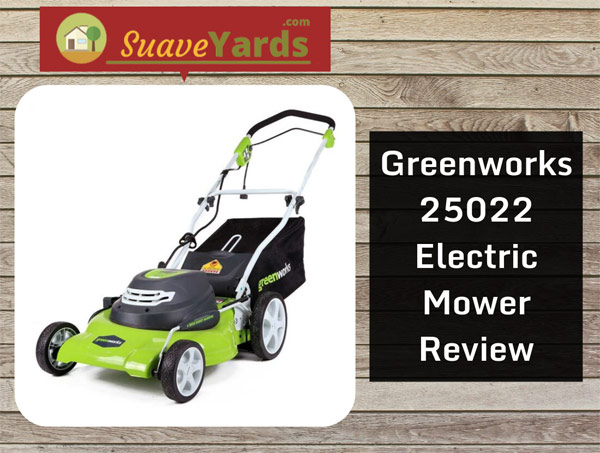 ---
Review At A Glance
---
The Greenworks 25022 is the most popular electric lawn mower on Amazon. It is easy to see why!
MY RATING: 93%

---
---
Editor's Note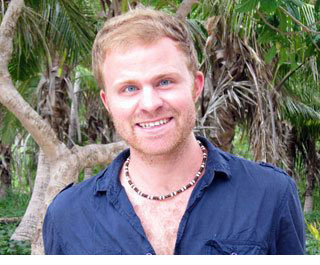 I hope you love the products that I recommend here! Just so you know, I work with Amazon and other affiliate partners and may be compensated from the links below.
---
---
Specifications
---
Power Type – Electric
Model – 25022
Dimensions (inches) – 26.88 (H) x 18 (W) x 16 (D)
Weight – 56 lbs
Motor – 12 Amp
Cutting Width – 20 inches
Wheel size (inches) – Front 7, Rear 10
Discharge – Rear bagging, side discharge, mulching
Cutting Heights – 7
Cutting Height Range (inches) – 1.5 to 3.75
Four Year Warranty
PRICE GUIDE: $$
---
About The Greenworks 25022 Mower
---
Greenworks Tools are a relatively new brand, founded in 2007 by the Global Tools Group. They have been at the forefront of the lawn mower industry ever since, and in 2013 they introduced the first dual blade battery powered cordless lawn mower.
The good news is:
The Greenworks 25022 corded lawn mower is one of the most popular on the market and frequently at the top of the Amazon best seller list.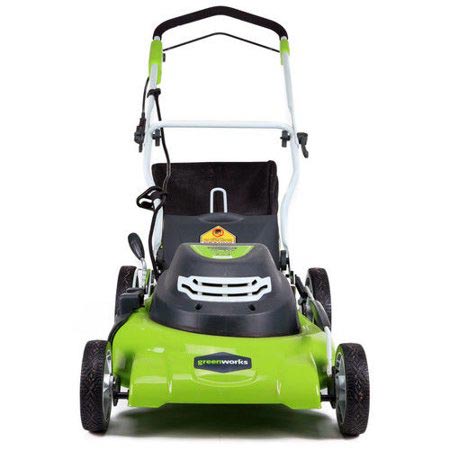 Weighing 56 lbs it has a 20 inch cutting width and is powered by a 12-amp electric motor. It has seven adjustable cutting heights, from 3.75 inches down to 1.5 inches. Cuttings can be side discharged, mulched or rear bagged.
Digging a little deeper:
To start this you hold down the power button and pull the bail lever up to the handle bar and hold it there. To stop you just release the bail lever.
The handlebars are foldable and this comes with a four year warranty.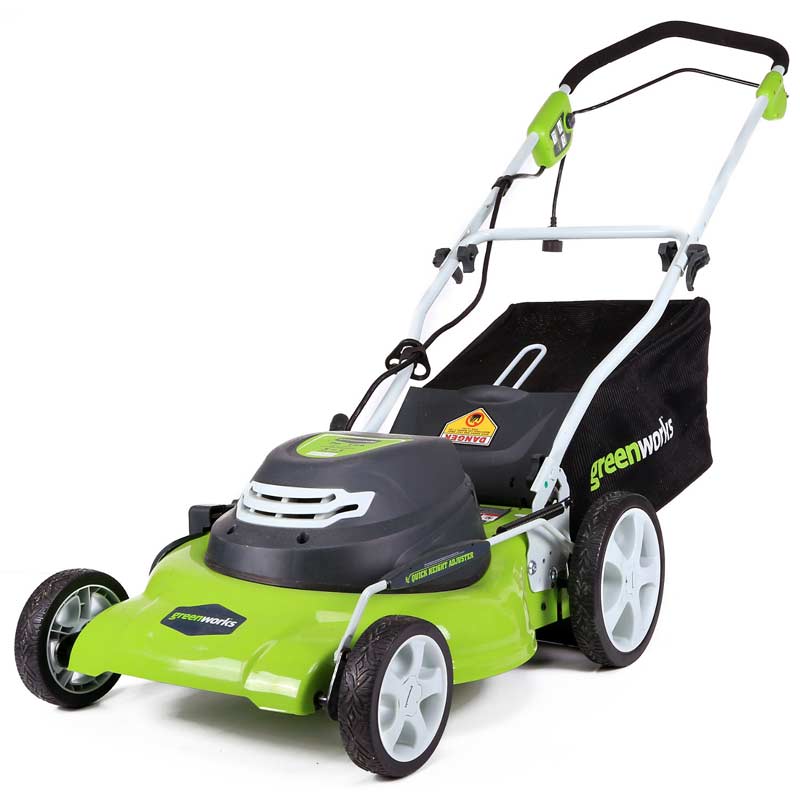 Above: The Greenworks 25022 is one of the most popular electric lawn mowers on the market.
---
The Good
---
There is no doubt about it.
This is super lightweight. As a result it is very easy to push around your yard, thanks to the lightweight and the very large rear tires – at 10 inches they are some of the biggest on the market. They make maneuvering the 25022 a dream.
However whilst it is light it certainly doesn't feel cheap. That is because it is pretty sturdily made. The deck is made of metal not plastic and there are lots of other areas where you can feel the time and thought invested into smaller details – the height adjustment for instance also has strong metal controls and snaps easily and securely into place.
Want to know the difference quality build makes?
Of course it is more durable and will last longer, but it has other benefits that might not be immediately noticeable.
As the mower deck is made of metal, it is much thinner and less bulky than some mowers that have bulky plastic builds. That means you can get much closer when it comes to awkward areas where they might be something jutting out from the wall adjoining your lawn (like a pipe for instance) so there is no need for you to go back and clean up later with a string trimmer or pair of shears.
Back onto something we talked about earlier.
The height adjustment. Sometimes this can be the downfall of what might seem like a good mower. Not with this Greenworks model though.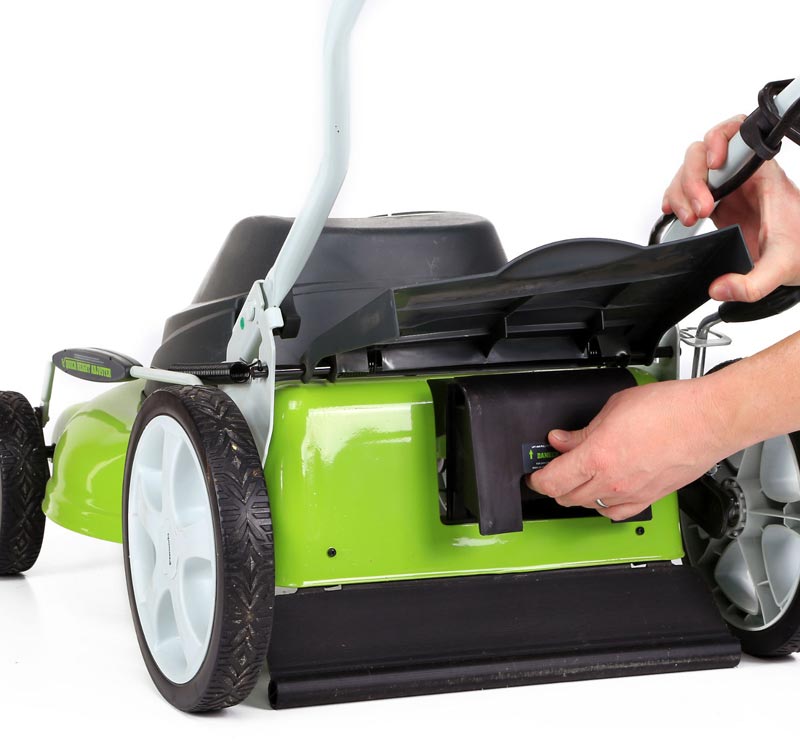 Above: The mower is sturdily made and adjusting the cutting height is easy.
Have you ever had a mower with an individual spring adjuster on each wheel? They are a nightmare to change. This is pretty much the exact opposite – you can change the cutting height quickly and easily using just one hand.
For the record there are seven cutting heights, the lowest is 1.5 inches and the highest is 3.75 inches.
The ease of use extends beyond the height adjuster. This comes pretty much assembled, simply attach the handle to the mower, plug it in and get cutting your grass.
Here's the deal:
This has a neat 3-in-1 feature that means your grass clippings can be rear bagged, side discharged or mulched. It gives you the flexibility to decide what you want to do with the cut grass.
The bag is nice and very easy to install. Simply lift the spring loaded door on the back of the mower, remove the mulching plug and then use the two hooks to secure the bag. It is easy to empty too.
It mulches perfectly adequately, to a fine consistency, and again switching between the three functions is really easy.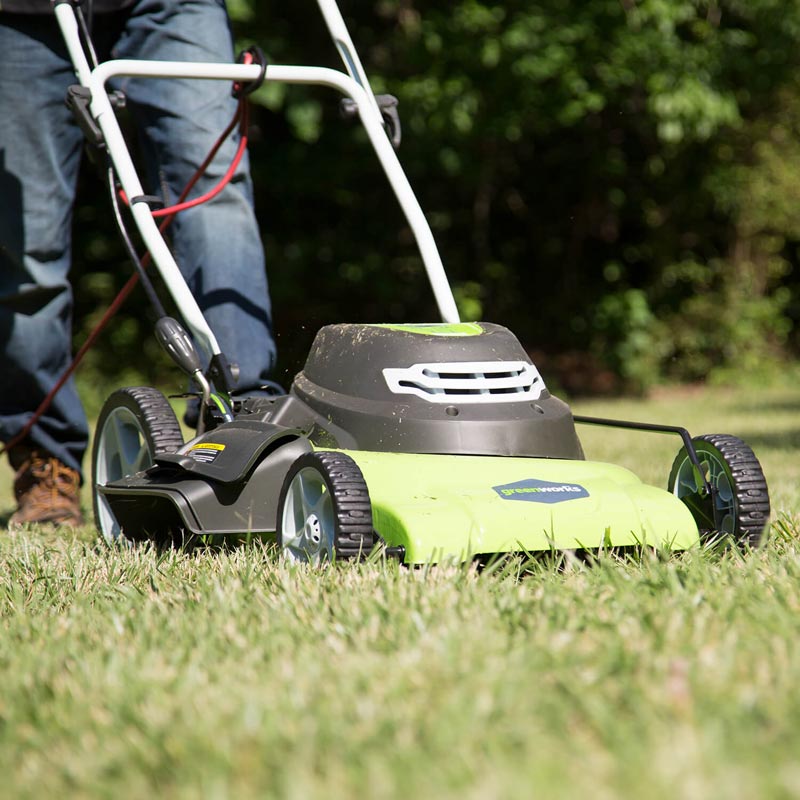 Now let's talk about the really important stuff.
How this thing cuts – and it cuts very well indeed. It leaves your grass with a nice uniform look, and the sturdy metal blade and strong 12 amp motor give it sufficient power to get through mid length grass very easily.
With longer thicker grass it does struggle a little (see Not So Good Section below).
Still not convinced?
There is much more to the Greenworks 25022. It feels very safe – to get it started you have to press in a button and pull the bail lever towards you.
It has a nice cord management system – there is a pigtail cord that secures the power supply securely and you don't feel like it will come unplugged.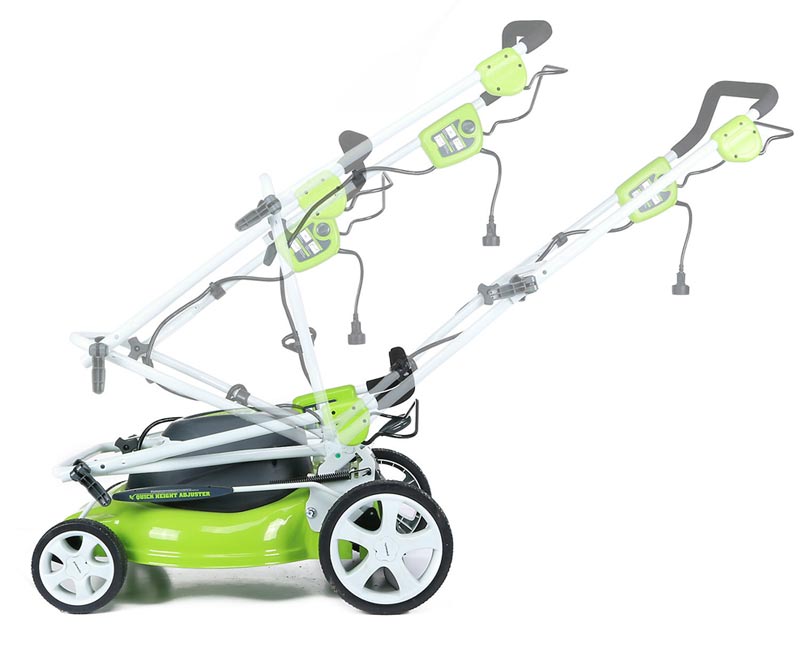 Above: The Greenworks 25022 gives a nice even cut and had a folding handle which means it takes up minimal storage space.
The top half of the handle is held by easy release brackets. What this means is you can literally fold it in half in seconds making storage much easier.
I guess it all adds up to this:
This feels well made and you get the sense it will last for a long time.
On top of everything else the price tag is very reasonable and it will match up to higher spec, higher cost mowers.
This thing is popular for a reason!

---
The Not So Good
---
In all honesty…
There isn't too much wrong with this. However it can feel a little under powered if you have thicker taller grass to mow.
So if you let your grass get to 6 to 8 inches you will find it bogs down and you will need to take it quite slowly.
It probably isn't the mower you want for large lawns – in such cases you will need to find something more powerful.
That said.
You might also find that when you are using the rear bagger the grass has a tendency to gather in the chute as there isn't always enough velocity to throw it into the bag.
It means you will find yourself stopping, unplugging and manually cleaning out the mower.
And let's face it that is a bit of a pain.
Note also the housing around the motor isn't sealed, that means there is a tendency for the motor to get dirty with prolonged use.
Added to that the screws you will need to remove to get at the motor to clean it don't come out very easily, so cleaning the motor becomes even more of a chore.
Above: The mower struggles more on longer, thicker grass
And if I was being really picky.
I'd say the handles are a little thin and the grass catcher bag is a bit undersized.
But maybe that is just me looking for faults!
---
At A Glance
---
✔ Pros
Very light
Easy to maneuver
Can get close to awkward spots
Easy to use
Easy to adjust cutting height
Mulch, rear discharge or bag cuttings
Mulches nicely
Cuts well
Safe starting system
Nice cord management system
Folds up to take minimal storage space
Durable and should last
Very reasonable price
✘ Cons
Struggles with taller, thicker grass
A touch underpowered
Unsealed so motor gets dirty
Difficult to get at motor to clean it
Handles are a bit thin
Grass catcher bag is small
---
Conclusion
---
My Verdict
Design - 94%
Performance - 90%
Price - 94%
93
%
Easy to see why this is so popular
If you look at the Amazon Best Sellers list for lawn mowers this is always right at the top. Not only that it has literally thousands of reviews and a very high average score.
That says it better than I can. In short - people love this mower!
It is light and easy to maneuver, and providing you don't have a huge lawn and really thick grass it cuts really well.
The 3-in-1 mulching/bagging/side discharge feature is a bonus, it is very easy to use and has a clever design making storage simple.
To top it all off it comes at a very reasonable price.
If you have a medium sized lawn this is perfect and as I say, there is a reason it is so popular.

---
FAQs
---
Is the mower self-propelled?
No but it is very light.
Does it come with a cord?
No. You need to buy a separate outdoor extension cord for it. You will need it to be properly rated – ideally a 14 or 12 gauge cord.
What is the size of the grass collection bag?
It is 1.42 bushels (or 50 litres)
Does this have one blade or two?
It has one blade.
What are the cutting heights?
There are 7 adjustments from 1.5 inches up to 3.75 inches.
---
You Might Also Like
---
I chose this in my round up of the best lawn mowers of the year, along with a few other options that are worth looking at.
I have also put together a list of my favorite push lawn mowers if you have set your mind on doing the job manually
Want to get something a bit more powerful? The Honda HRX217K5VKA is an almost perfect gas mower.
Of course buying a lawn mower does require factoring in a number of issues and once you get a mower then it is essential you keep the blades sharp.
Finally if you want to see a summary of everything on my site on one page then check out my Site Index.
Useful Resources