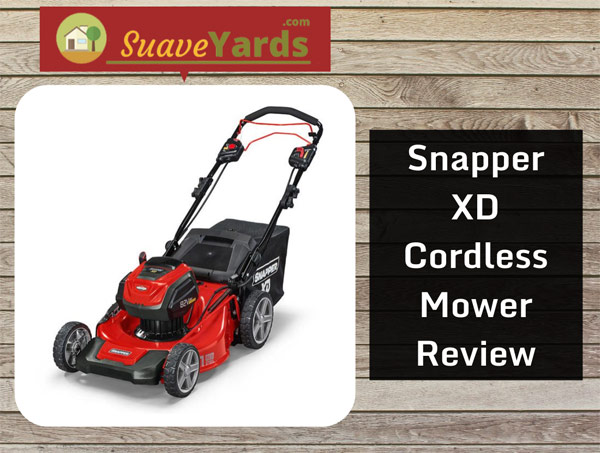 ---
Review At A Glance
---
The Snapper XD 82V mower ticks every box a good cordless mower should, best of all the batteries are fantastic and you get a lot of power!
MY RATING: 95%

---
Editor's Note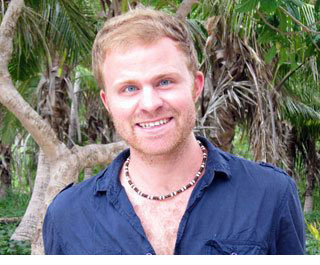 I hope you love the products that I recommend here! Just so you know, I work with Amazon and other affiliate partners and may be compensated from the links below.
---
---
Specifications
---
Power Type – Battery
Model – SXDWM82K
Voltage – 82v
Motor – 1200w, brushless
Charge Time – 2Ah: 30mins. 4Ah: 60mins. 5Ah: 75mins
Run Time – 2AH: 45mins
Cutting Width – 21 inches
Cutting Heights – 7 (from 1 ⅜ inch to 3 ¾ inch)
Wheel Size – Front 8 inch. Rear 10 inch.
Bagger – 1.6 bushel
Weight – 74lbs
Five Year Product Warranty. Two Year Battery Warranty
PRICING: $$
---
About the Snapper XD 82V Cordless Mower
---
Back in 1951 Snapper built and marketed the first self-propelled rotary lawn mower.
The company had been around long before this though, beginning in earnest in 1894 as Southern Saw Works. The company changed its name to Snapper Inc in the late 1940s.
An example of the growth of the industry and the company is the fact their sales increased from $10 million in 1967 to $260 million in 1987.
An interesting fact – it is a Snapper mower that Tom Hanks rides in Forrest Gump.
Pretty cool eh?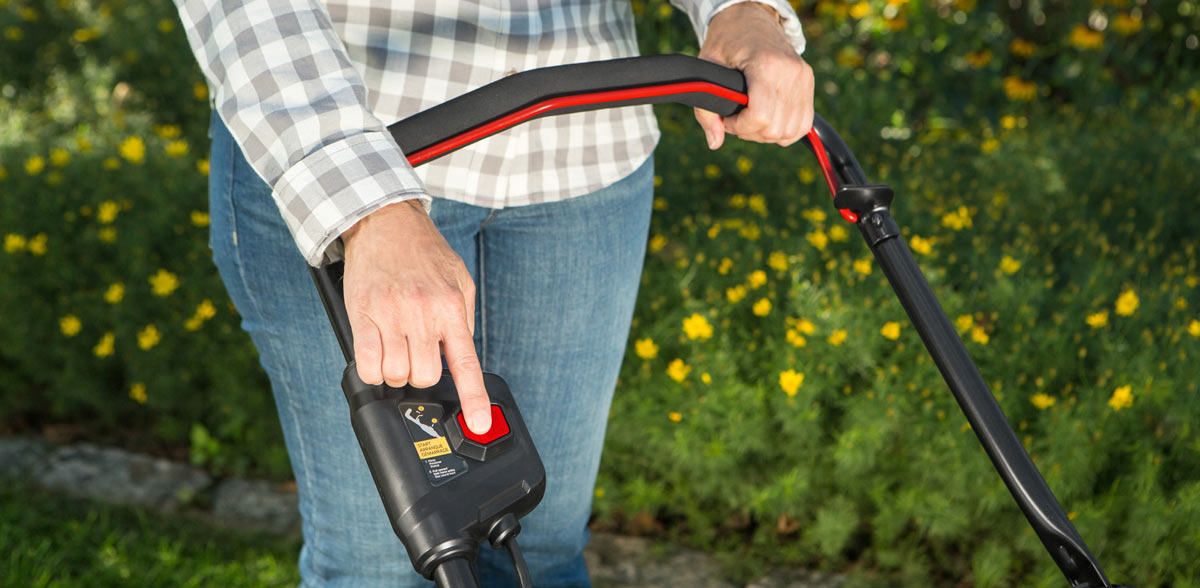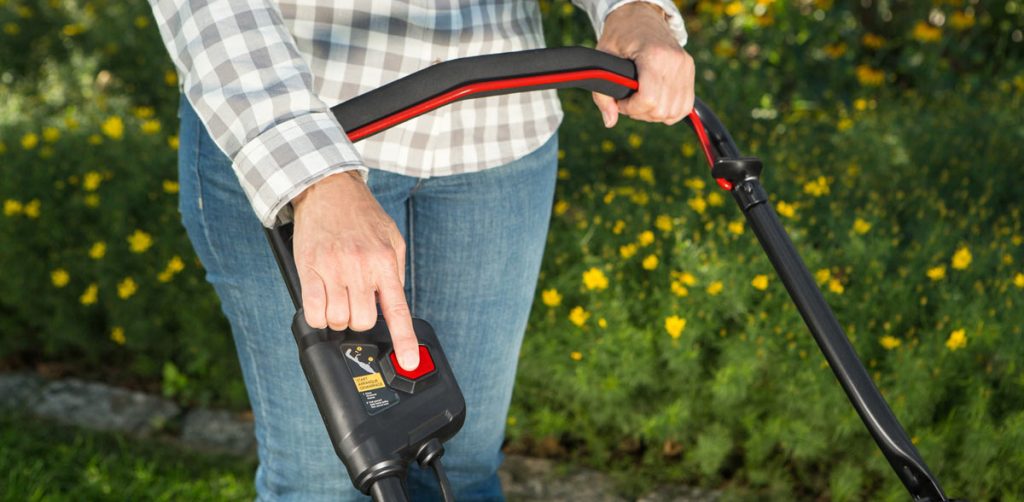 So this is a battery powered mower – officially the Snapper SXDWM82K.
It has a 1200w brushless motor and is powered by a Briggs & Stratton 82V Lithium-Ion Battery. The 2Ah battery takes around 30 minutes to fully charge and gives you up to 45 minutes run time. The 4Ah battery takes around 60 minutes to fully charge but gives a longer run time.
It has a seven position cutting height adjustment. The lowest cutting height is 1 3/8th of an inch and the highest is 3 ¾ inch.
What else?
It has a 21 inch steel mowing deck and comes with a 1.6 bushel grass bagger, giving you the option to mulch, bag or side discharge.
There are both push and self propelled models and this comes with a five year product warranty and a two year battery warranty.
Above: The Snapper XD 82V is a quick and easy to start battery powered mower.
---
The Good
---
Let's face it.
A cordless mower lives and dies by the quality of the batteries that power it and the Briggs & Stratton 82V Lithium-Ion Battery that powers the Snapper XD 82V is from another planet!
Well not quite, but you get the picture!
This comes with two 2Ah batteries and a charging unit. You can only charge one battery in the unit, but boy do they charge quickly.
As mentioned a 2Ah battery fully charges in 30 minutes and a 4Ah battery in 60 minutes. And for once the battery lives up to manufacturer claims – you will get the stated 45 minutes run time from a fully charged 2Ah battery.
Sounds good?
It really is. To put it in perspective you could quite feasible mow a 2,800 square foot lawn and not use much more than half of a 2Ah battery.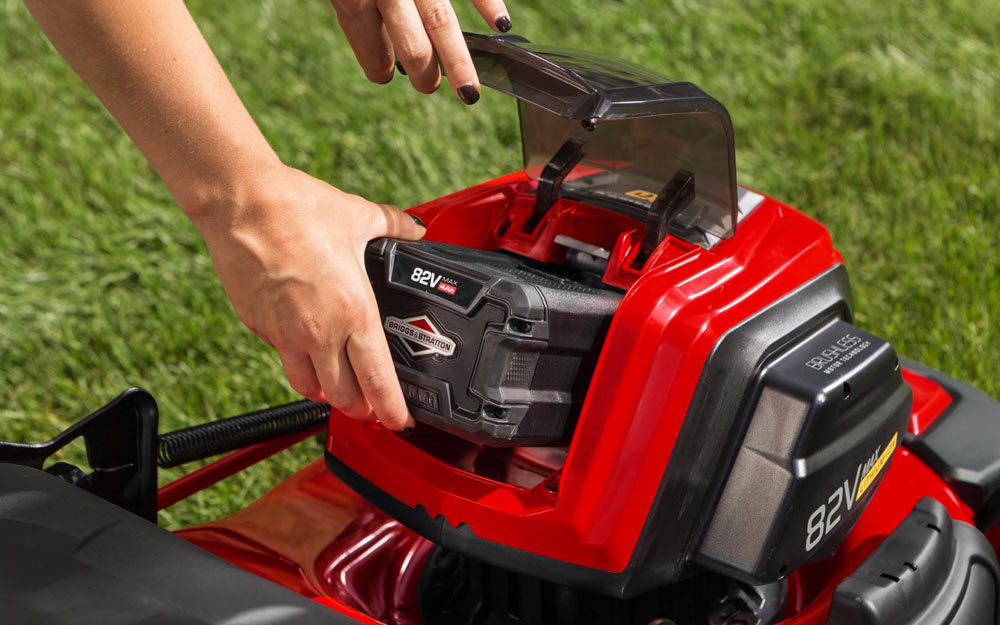 Above: The Snapper has an amazing battery.
Here's the kicker:
The battery doesn't slowly lose power, so by the end of the battery life it is a barely moving mower blade, instead it retains full strength until it is completely used – then it stops.
You can quickly and easily see how much power the battery has from an LED on the battery itself
In other words – they rock!
Now of course there is no point in having batteries with a good run time and recharge time if you they aren't giving you sufficient power to mow your lawn quickly.
Thankfully this is another area where the Snapper XD 82V scores a big tick.
The 82V system is quite a step up from the old 40V battery system (for reasons I will go into below) and it shows.
Put it this way:
If you are switching from a gas powered mower to a battery powered mower you have no need to worry about a compromise on power.
This has plenty of power to the point it probably outstrips most gas mowers, it can deal with thick grass and damp grass and not bog down.
Here is the secret:
At 82V this is a high voltage motor and because high voltage motors allow for a lower current at the same power it is much more efficient than a low voltage motor.
The efficiency is further enhanced by this having a brushless motor – which is often the case with battery powered tools.
There are no brushes adding extra friction and more electrical resistance on the spinning motor, so in theory this should last you longer too.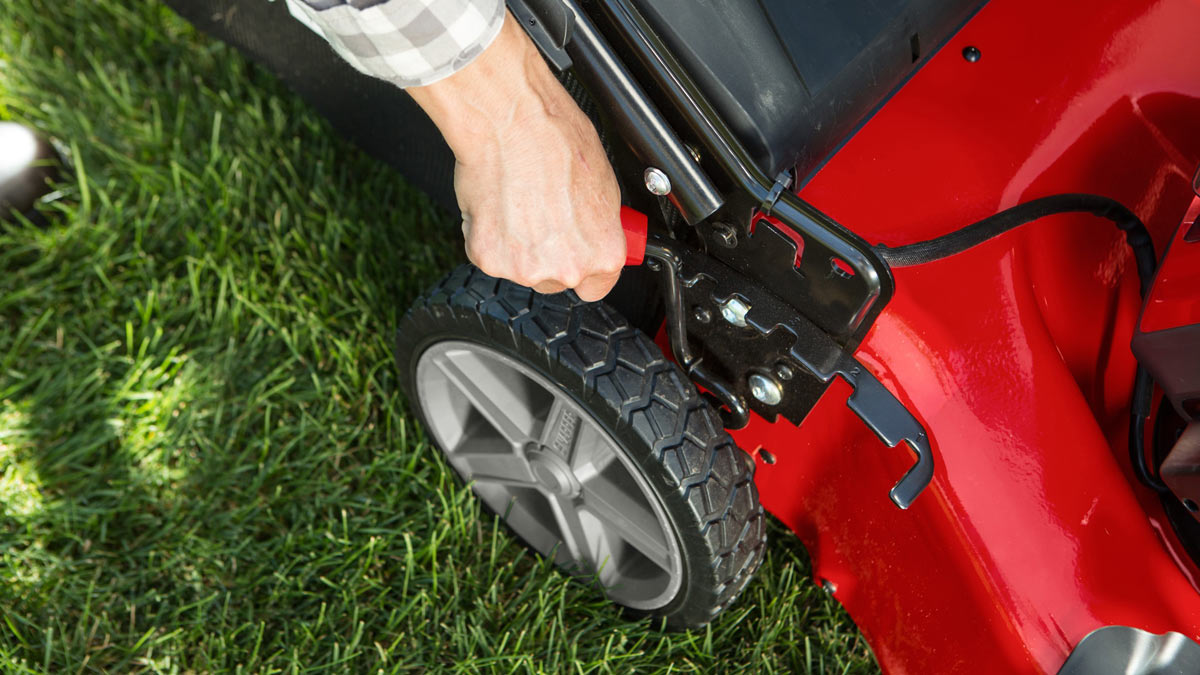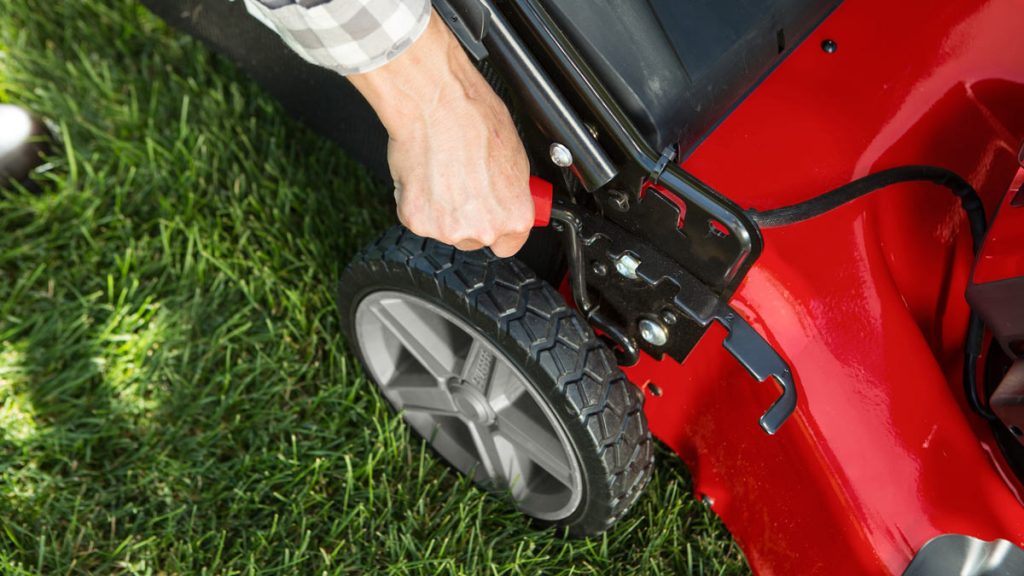 And you know what?
This is indicative of this mower as a whole – it is tremendously well made.
It is solid, made mainly of metal, feels hefty (although not unwieldy) and nicely designed with a lot of time and thought being put into the build.
But you are probably wondering…
How does it cut? And the simple answer is very well indeed.
The batteries and efficient motor we have previously mentioned means weeds, stalks, all kinds of grass are quickly and smartly destroyed, leaving you with a lovely even cut and fresh looking lawn.
Moreover:
You can mulch, bag or side discharge with this and moving from one option to another is very quick and easy.
By default it is in mulching mode, and it mulches pretty nicely as a matter of fact, but to move it to side discharge it is just a case of lifting the mulching door (which is spring loaded) and putting in the side discharge chute.
Or to change to rear bagging you just raise the mulching door again, remove the side discharge chute, close the door, lift the rear door (spring loaded also), take out the rear discharge inner door and quickly and easily connect the grass catcher bag.
It sounds simple and it is.
In fact the clever design and engineering of this model means pretty much everything is easy to do.
There are seven different height settings for cutting your lawn, ranging from 1 ⅜ inch to 3 ¾ inch – adjusting the height is all done quickly and easily with using one lever which adjusts all four wheels.
Changing the battery is quick and easy – done by lifting the motor door, putting the battery in and then closing the door.
Getting this thing assembled takes a matter of minutes and is really easy to do. The instructions that come with it are simple and clear, but honestly it is fairly intuitive.
Above: Changing pretty much any setting is easy with the Snapper XD, and it folds up into a compact size for storage.
And another thing:
I love the load sensing feature on this Snapper XD 82V – so if you are going over some grass that isn't particularly long or thick it powers down slightly and saves the battery life.
As soon as it detects it is in thicker grass the RPMs increase and it starts working harder to get through the heavier grass.
Pretty amazing right?
It is also quiet – far quieter than a comparable gas mower, and of course you don't have the fumes or maintenance of a gas mower.
And for a hefty mower it is light and easy to push (even easier if you get the self-propelled version!).
To top it all off:
It folds up so storage space is literally cut if half – all you need to do is remove the battery and you get dramatic space savings if you have a smaller shed.
All in all there is a lot to like about this mower.

---
The Not So Good
---
Unfortunately something that is pretty unavoidable when it comes to cordless power tools is the cost of replacement batteries.
If you need to get a new battery, or even a new charger, they are expensive. Now of course this does come with two batteries and the batteries are covered by a two-year warranty, but you may need to replace them at some point, so be prepared to shell out.
That could be a problem.
And I am not too keen on the rear wheel drive (if you buy the self propelled version) – it does seem to make it slightly more difficult to turn than a front wheel drive mower.
With a front wheel drive mower you can just lift the front slightly and turn, however with this you need to disengage the drive and then if you let the mower roll back too quickly the rear wheels lock.
It is the one design flaw in the mower.
There is a tendency for grass to get stuck between the front wheels and the metal deck. But not just that, the lack of a complete metal lip around the blades creates a spot where moisture can accumulate leading to paint on the underside of mower peeling.
And if I was really nitpicking:
The motor isn't sealed, so debris does get inside the motor compartment. You will want to semi-regularly take the casing off to clean it out.
The load sensing feature is fantastic, but it sometimes does take a split second to kick back up when you encounter thicker grass.
But that is just being really fussy!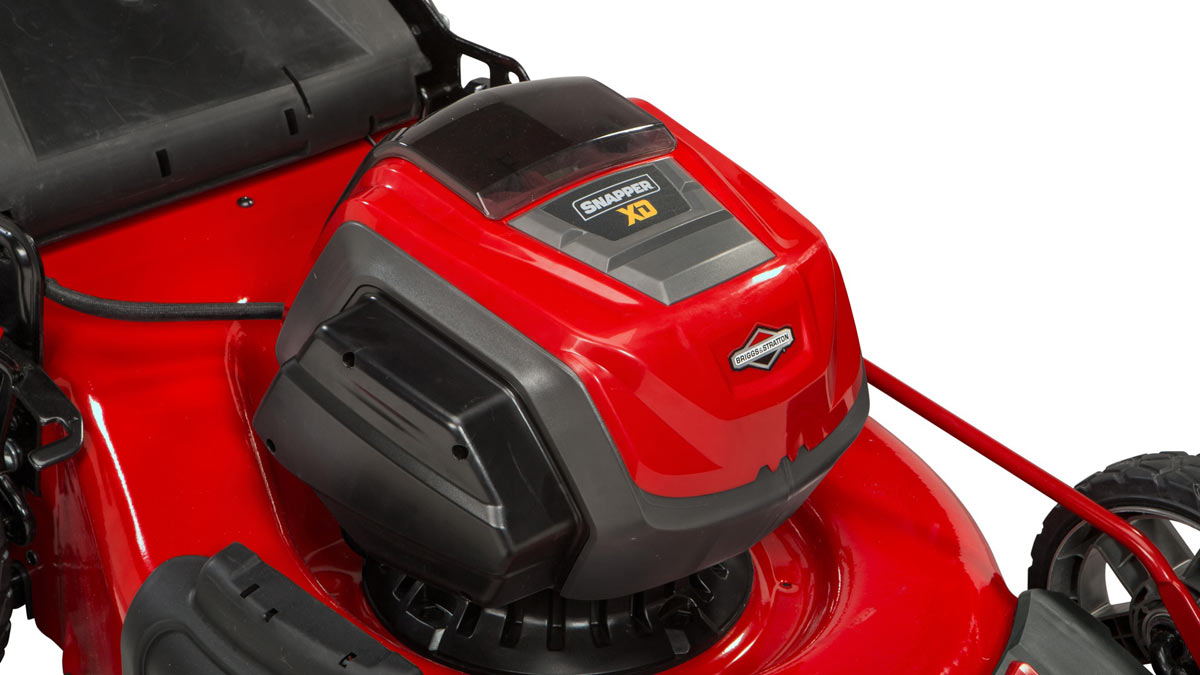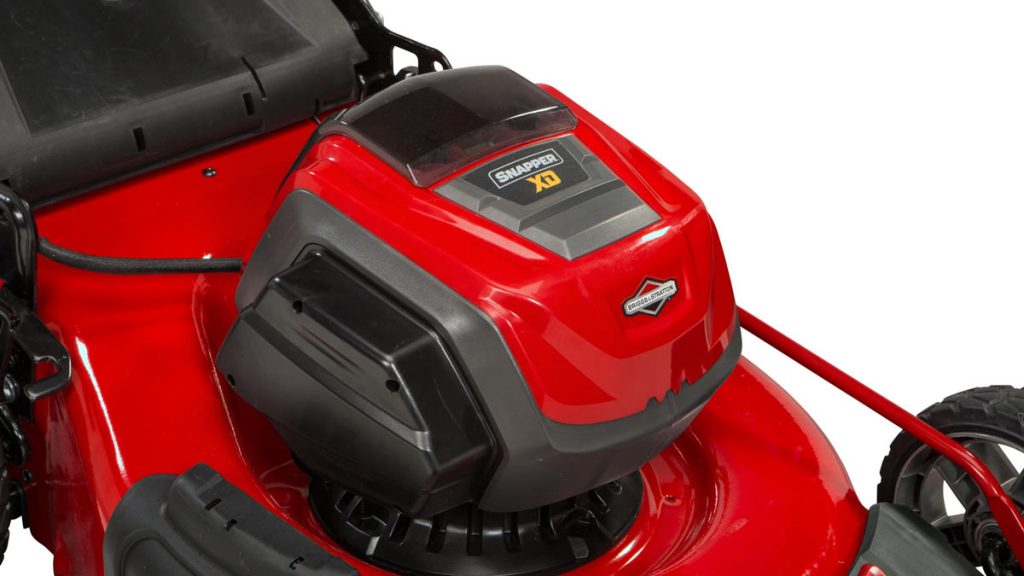 Above: The motor is unsealed so debris will accumulate.
---
At A Glance
---
✔ Pros
Batteries charge quickly
Good runtime on batteries
Battery power stays strong
Lots of power
Nice high voltage, brushless, motor
Quality build
Cuts through pretty much anything
Mulch, bag or side discharge
Changing functions is easy
Seven easily adjustable cutting height
Great load sensing feature
Quiet
Easy to push
Folds up for easy storage
✘ Cons
Replacement batteries and charger are expensive
Rear wheel drive can be frustrating
Moisture trap between wheels and deck
Motor isn't sealed
Load sensing takes a second to kick in
---
Conclusion
---
My Verdict
Design - 93%
Performance - 97%
Price - 93%
94
%
Fantastic battery mower
This really is an example of a mower that goes above and beyond.
The batteries are even better than you might expect. The power is more than you would imagine. It is quieter than you could hope for. It is solid but easy to push.
Cast aside any fears that you are taking a step down by going for a battery powered mower rather than a gas powered mower, that most definitely isn't the case.
Snapper have a series of cordless yard tools and the Snapper XD 82V Mower is as good as any of them - it actually makes mowing your lawn enjoyable.
It is that good!

---
FAQs
---
Do the batteries fit other Snapper products?
Yes – they will fit all Snapper 82V products.
Do you need a different blade for mulching with the Snapper?
No the blade that comes with the mower has a two-level cutting design for both mulching and bagging.
Can you control the load sensing feature?
No you can't, it is automatic.
Can you use this to cut on slopes?
Yes you can, but it is recommended you don't use it on inclines greater than 15 degrees and to mow across the face of the slope rather than up and down.
Does the charger have a cooling system?
It does have a cooling air port that prevents it overheating.
---
You Might Also Like
---
This was very narrowly beaten by the EGO Power+ Mower when I was considering the best battery powered mowers as part of my list of the best lawn mowers of the year. They are both truly excellent lawn mowers.
Beyond those two mowers there are a host of top notch mowers on the market – the Honda HRX217K5VKA is the almost perfect (gas powered) mower, and if you want something a little more basic and less expensive the Great States 415-16 is a lovely push mower.
In fact I have also round up the best push lawn mowers and the best riding lawn mowers of the year, as well as the best lawn mowers for hills if you have a particularly sloping yard.
Do remember there are a whole host of things to consider when you buy a lawn mower. But a nice looking lawn goes beyond just having a good mower, you need to make sure you have good quality soil and a nicely seeded lawn.
Finally to see everything on one page check out my Site Index.
Useful Resources