Review At A Glance

For a low price robotic lawn mower it is hard to beat the WORX Landroid WG794. Ideal if your yard is ¼ acre or less.
MY RATING: 91%


---
Editor's Note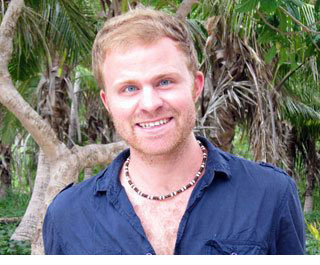 I hope you love the products that I recommend here! Just so you know, I work with Amazon and other affiliate partners and may be compensated from the links below.
---
---
Specifications
---
Power Type – Battery
Model – WG794
Rated Voltage – 28V
Weight – 20 lbs
Warranty – Three year
Cutting Diameter – 7 inches
Cutting Height – 1.6 inches to 4 inches
Maximum Cutting Area – ¼ Acre
Fuel Tank Volume – 14.9 fl. oz
PRICE – $

---
About The WORX WG794 Landroid
---
WORX are actually a relatively new company formed in 2004 as an offshoot of the Chinese Positec Tool Corporation. It wasn't until 2009 that WORX product began appearing in retailers rather than selling directly.
From then on they have continued to grow and now produce trimmers, lawn mowers, chainsaws, leaf blowers, leaf mulchers and much, much more.
Want to know something amazing?
The first commercial robotic lawn mower was actually introduced in 1969! However it was in 2012 when the market really exploded – with robotic lawn mower sales increasing at a rate 15 times faster than traditional lawn mowers.
The Landroid WG794 is the WORX entry into that field.
So let's dig a little deeper.
This is powered by a 28V rechargeable battery and has a 7 inch cutting diameter. It has 5 different cutting heights that are set by using an interface located on top of the machine (underneath a protective cover). The lowest cutting height is 1.6 inches and the highest is 4 inches.
It weighs 20lbs, can cut a maximum surface area of a quarter of an acre and has a three-year warranty.
You want to know how it works right? Let me explain.
With the Landroid WG794 you get 590 feet of low voltage boundary wire and 200 installation pegs. You essentially place the wire around the perimeter of the area you want to mow, the mower then uses this as a guide and mows within the set area.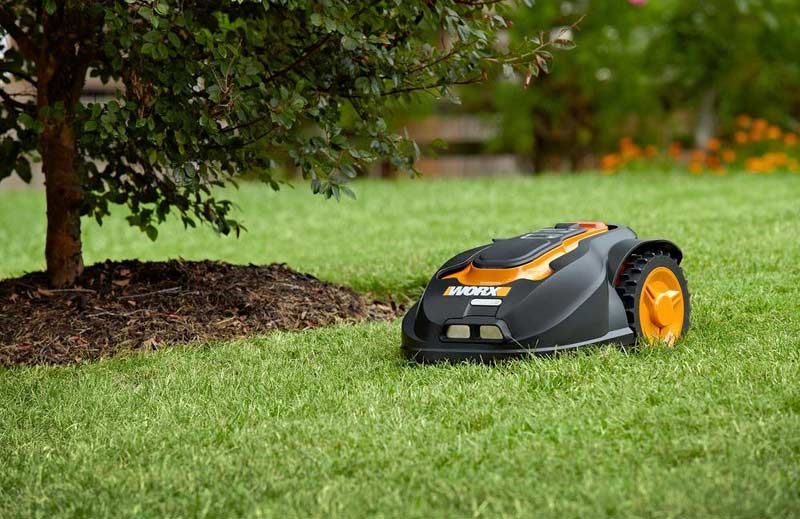 Above: The WORX WG794 Landroid has a 7 inch cutting diameter and a control panel on top of the unit, underneath a protective cover.
And this is where things get really interesting.
You set the mower to mow your lawn and it will automatically select a schedule and get mowing. It mows in a relatively random pattern, but does follow an algorithm to make sure it reaches all parts of the lawn.
When the battery is getting low, or when it has done its mowing for the day it will follow the boundary line back to the charger.
It is worth noting:
This uses three razor blades to cut the grass, each blade has four cutting surfaces and the manual recommends they are rotated once a month – so each blade should have roughly a four month life span. It costs around $18 for four replacement blades.
---
The Good
---
"I believe that children are the future" sang Whitney Houston in 1985. She was wrong. Robotic lawn mowers are the future!
There is lots to love about the WORX Landroid WG794, but lets start with the basics, does this thing cut grass well?
Yes, yes and yes!
If you are like me you might be sceptical when you find out this uses razor blades to cut the lawn rather than normal steel blades.
But you shouldn't be. The cut quality is fantastic – nice and even. As it trims a small amount of grass at a time and it works in a relatively random fashion you might never get the satisfying appearance of a freshly cut lawn you get when you use a conventional lawn mower, however it is dependable and does as good a job as any normal lawnmower.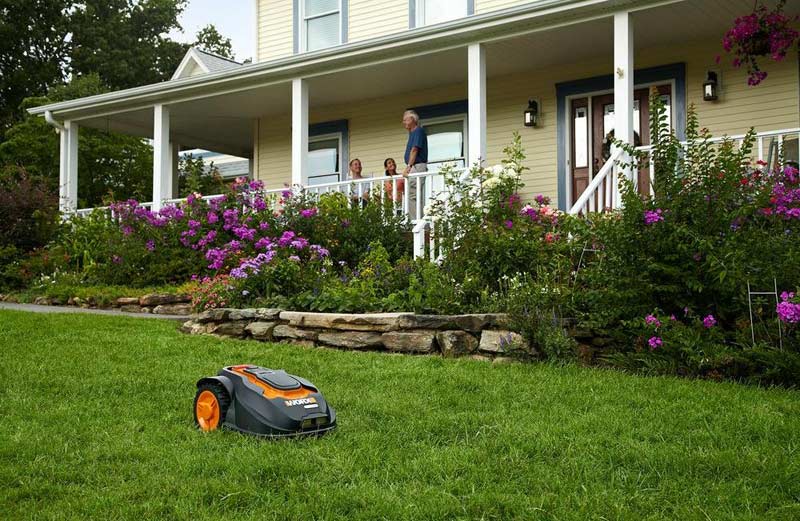 And you know what else?
This is exceptionally easy to use, thanks to some fantastic instructions from WORX that guide you step-by-step on how to get it set up and cutting your yard.
The programming and control interface is on the top of the Landroid and it is very intuitive – for instance changing the cutting height is simply a matter of turning a dial.
WORX even have a dedicated support line to deal with queries relating to the Landroid.
How good is that?!
To say this is a pretty intelligent mower is an understatement. I love the rain and moisture sensor which work ridiculously well.
If it starts raining whilst the Landroid is cutting then the sensor will detect it and despatch the mower back to base to prevent it from breaking.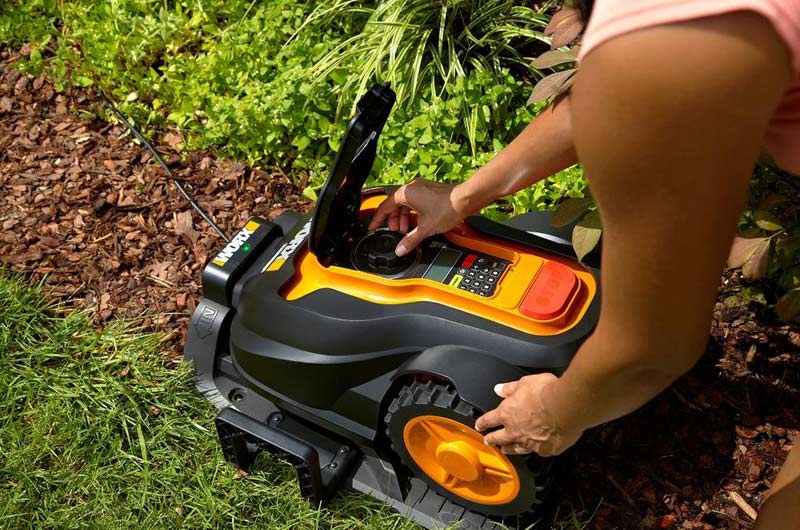 Above: The programming and control interface is on top of the Landroid and is easy to use.
What is equally impressive is that, providing you have the boundary line setup correctly, the WG794 can always get out of tight spots and corners without you having to go out and move it manually.
Here is the deal:
Once you have scheduled your mower you won't even know it is out there cutting the grass as it is so quiet to the point it is almost silent.
You could literally schedule this to run in the middle of the night and it wouldn't disturb anyone.
But hang on a minute…
What about if you have kids and/or pets? You have no need to worry as this is incredibly safe. It stops instantly if someone lifts it up and if it runs into something, the merest tap makes it change direction.
Not only that you can set it not to run unless you input a pin and it has an alarm on it.
Aside from that:
This is 28 volt mower, which means the batteries are smaller – which are more cost effective and don't affect performance either.
And whilst the cutting path is 7 inches, I think that is actually good thing as you can run the mower daily and not have to worry about clippings to drop off in a compost bin or to clog the mower up.
But what it all boils down to is:
This is fun! If you live in a hot climate there is no need to try and maintain the lawn in the sweltering heat, the WORX Landroid does it for you. If you don't,you don't have to be out in the cold or wet mowing your lawn.
Either way it saves you time that you can then spend doing other jobs or just with your family. It is good for the environment too – no air pollution.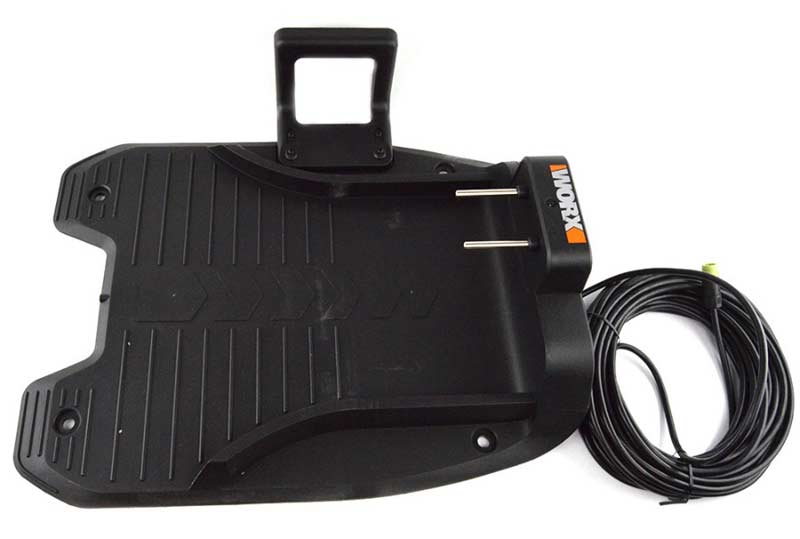 Above: The Landroid is very unobtrusive when in use and returns to its charging station to recharge when needed.
Best of all:
This is one of the cheapest robotic lawn mowers on the market. Many competing models cost double or treble the price of the WG794.
The blades will need to be replaced roughly every 4 months, but it only costs $18 for an entire set and there is no oil to change, no air filter to replace, no belts to wear out, etc, etc.
I think you can see where I am going with this – it is great!

---
The Not So Good
---
I am not going to lie…
Yes this works really well, but the initial setup is time consuming. Although the instructions, and the wire and stakes, are top class expect to take most of a day to get things working properly.
Of course the plus is that once you have done that you should never have to do it again and you should never have to mow your lawn yourself again. However be prepared for a little frustration whilst you set this up. Oh it could come with a few more stakes too – I am not sure 200 is enough if you have a larger yard.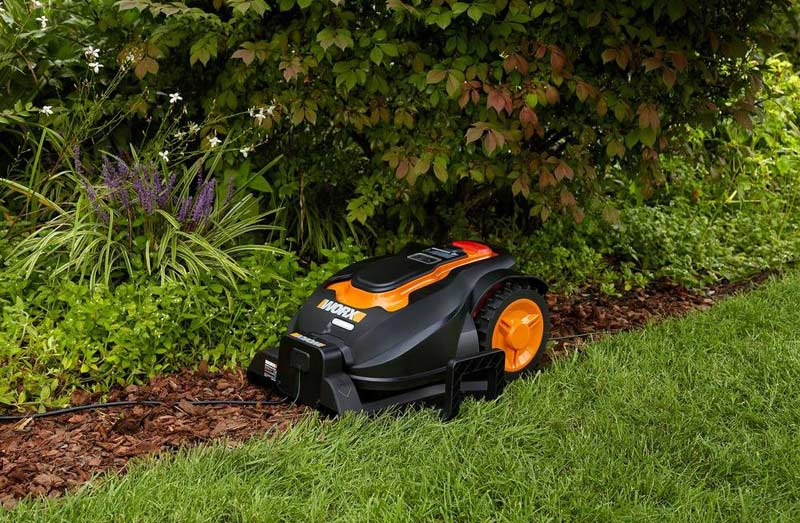 On top of that:
If you have a yard that is made up of what I would call separate areas, this struggles. It can't go through gates or over paths or sidewalks and if your lawn is some what segmented you might end up having to move it from segment to segment yourself.
And that almost defeats the purpose of getting it!
The Landroid isn't Wi Fi enabled either so you can't use your smartphone to schedule it or see if, or where, it is in your yard.
I don't like the positioning of the stop button either – it is on top of the mower, so if it goes under something low to the ground (for instance some swings) it means that the stop button can easily be hit and the mowers stops.
It would be much better if the button was on the side or designed so it was slightly indented within the machine.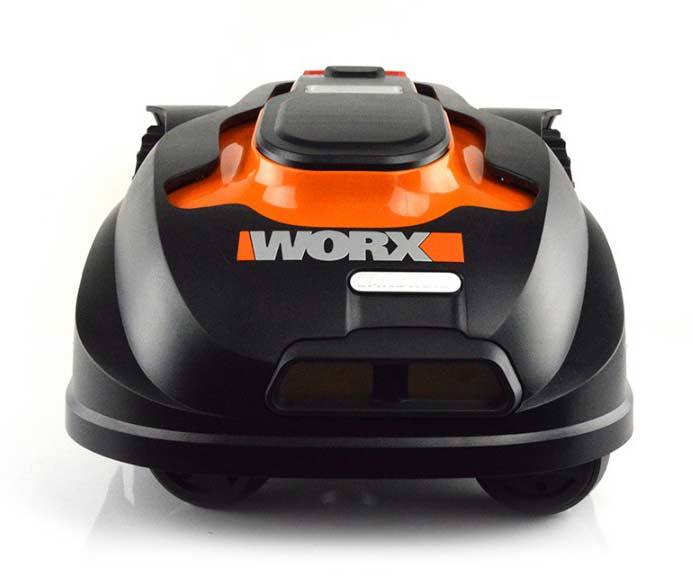 Above: The stop button could be better position on the Landroid.
You won't be surprised to know.
This won't work on wet or long grass. It isn't powerful or big enough. Once it is running regularly you are fine, but if your lawn is overgrown the first time you want to use this… Forget it and borrow a neighbours mower for that first cut.
And that is pretty much it really.
---
At A Glance
---
✔ Pros
Lovely even cut
Very easy to use
Great programming and control interface
Clever rain and moisture sensor
Can navigate its way out of difficult spots
Almost silent
Very safe
Time saver
Great fun
Minimal maintenance cost
Great price for a robotic mower
✘ Cons
Initial setup is time consuming
Can't go through gates or over sidewalks
No wifi or smart phone control
Stop button is awkwardly positioned
Won't work on wet or long grass
---
Conclusion
---
My Verdict
Design - 89%
Performance - 90%
Price - 93%
91
%
Fun, easy and it works!
Not afraid to try something new? Don't mind the small challenge of setting up the boundary line? Happy to reap the rewards after as you have a beer and watch a robot mow your lawn for you? Then you will want the WORX WG794 Landroid.
After the initial set up this works wonderfully well and neatly and silently trims your lawn regularly, leaving it look as good as it would if done by a human.
In terms of robotic lawn mowers, when you compare it to most of its competitors this comes out tops price wise and compares more than favourably performance wise.
It will give you more time to tend to your gardens and enjoy your lawn - it is pretty good fun too!

---
FAQs
---
Can I get this to mow my front yard and back yard without moving it manually?
Yes but you will need a pathway the Landroid will follow. And that pathway would need to be wide enough to place the boundary wire one foot away from any walls or paths either side of the path and have three feet between the wires (so really five feet minimum).
How often will I need to change the blades?
Probably once or twice a season. The blades have four cutting surfaces that last once month each. So they will need changing every four months or so.
Changing the blades is easy and a full set of replacement costs around $18.
How long does the battery last?
Around a couple of hours, but you don't need to worry as if it runs out of battery it will go back to the base, recharge and start cutting again – you won't even notice.
What is in the box?
You get the mower, charging base, power supply and cord. There there is 500 feet of boundary wire and 200 pegs for the boundary wire. You also get a set of spare blades and the instructions.
What heights can it cut?
From 1.6 inches to 4 inches.
How does the scheduling of cuts work?
Basically you set which days to mow, what time it starts mowing and how long you want it to mow. Or you can key in your yard size and then it will setup a schedule for you.
There is no bag, so want happens to the grass you cut?
As the cuttings are so fine they just drop down and fertilize the lawn. So in effect it is a mini mulcher.
Couldn't someone pick this up and steal it?
Yes – but if they did they would need to know the pin to get it to run and also an alarm sounds if someone tries to do so.

---
You Might Also Like
---
In terms of robotic mowers this is one of the best priced on the market, hence why it made my list of the best lawn mowers of the year. But if you want something even better try the WORX Landroid WR150.
If you decide you want something a bit more conventional there are some great push mowers available.
There are also several factors you might want to consider when you are shopping for a new lawn mower, whether it be electric, gas, battery or robotic! And I have prepared some handy summer gardening tips to keep your lawn looking good in the warmer months.
Finally you can see everything on my site on one page – just check out my Site Index.
Useful Resources