---
Review At A Glance
---
There are so many great things about the Greenworks S600202 20-Inch Snow Thrower. It is environmentally friendly, lightweight, affordable, and really easy to use. It works like a gas-powered snow thrower!
MY RATING: 89%

---
Editor's Note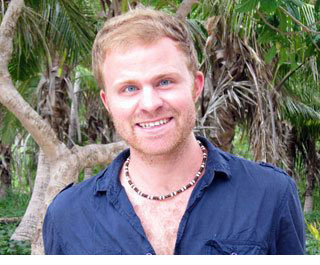 I hope you love the products that I recommend here! Just so you know, I work with Amazon and other affiliate partners and may be compensated from the links below.
---
---
Specifications
---
Model number: 2600202
Power source: Electric
Motor: 13 amps
Clearing width: 20"
Clearing depth: 10"
Throwing distance: 20'
Weight: 33 lbs
Warranty: 3 years (limited)
PRICE GUIDE: $

---
About the Greenworks 2600202




20-Inch Snow Thrower
---
People are sometimes afraid of buying electric equipment because they think it's not as powerful as the gas-powered ones.
That's definitely not the case with the Greenworks 2600202 20-Inch Snow Thrower.
How so?
With 13 amperes, this snow equipment works really well. It could be just as powerful as its gas-powered counterpart but without the carbon footprint.
It has a clearing width of 20 inches and a clearing depth of 10 inches.
Not bad, right?
It's really enough to clear small to medium areas.
The snow will be thrown 20 feet away from you, which is quite good especially since it's just for a small and medium driveway.
In connection to that
This snow thrower comes with an adjustable 180-degree directional chute. That kind of feature makes snow throwing manageable.
Finally
It has a two-year tool warranty and a limited three-year warranty for the equipment.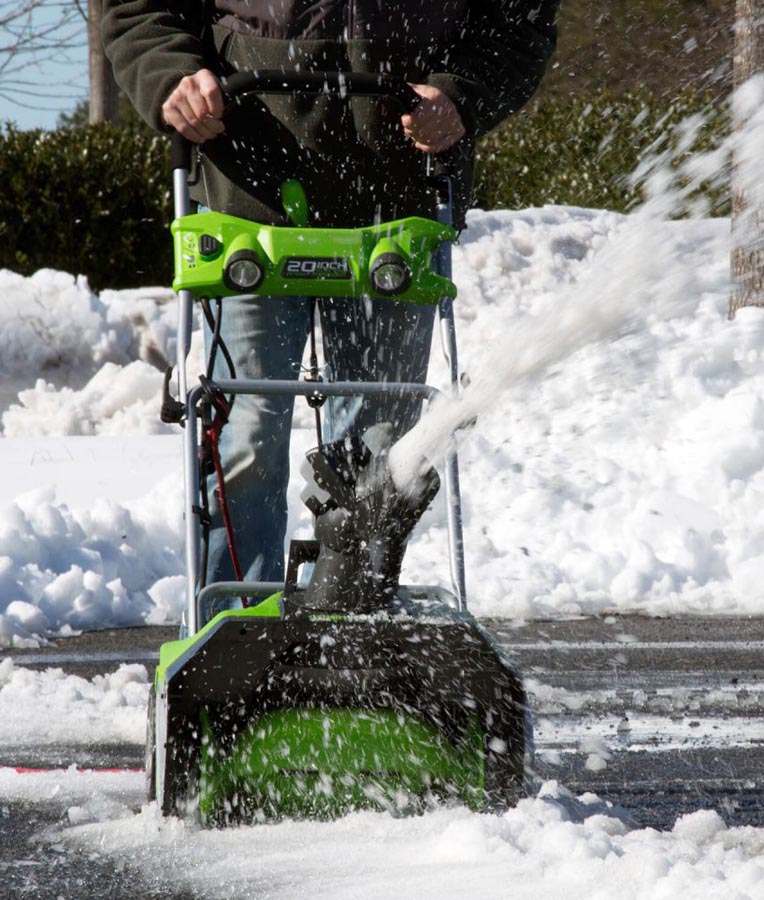 ---
The Good
---
One of the reasons that I really love this machine is that it can really compete with the gas-powered equipment that is usually more messy and more expensive.
Messy?
Yep! Because you have to put gasoline, which could spill, and you need to change the oil every now and then.
You also need to do a bit of tuneup.
Light it up!
It's really a great idea to put lights on snow equipment. You know how winters are, daytime gets shorter and nighttime gets longer.
You really need lights for visibility even during daytime.
Now, with this baby
You actually get two LED lights!
Even when snow is still falling when you are working, there is visibility and clarity. You can do your work without squinting.
Here's another one to make that better:
Seven-inch tires. You have the lights to make your way more visible, and you get the wheels to make the machine better to maneuver.
That works well if you have to clear inches of snow.
Of course
This equipment can clear snow with a maximum height of 10 inches.
Complement that with the machine's ability to clear a width of 20 inches. That will certainly make your work easier.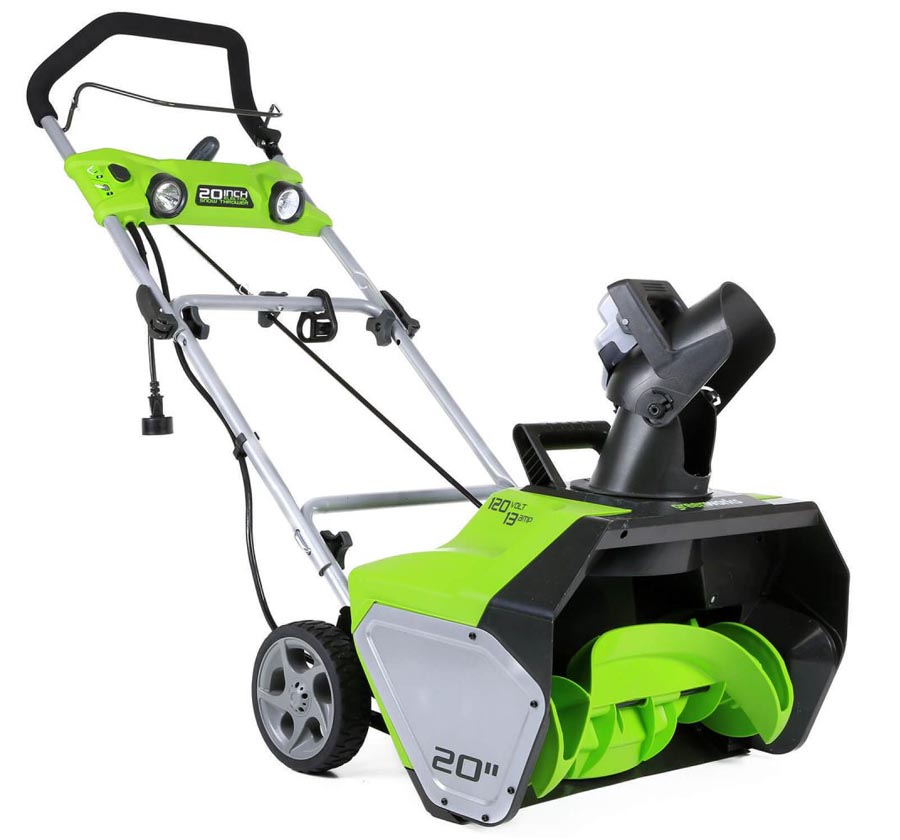 How?
If you clear a lot in just one trip, then you can definitely complete the task in a short period of time.
Besides, it doesn't matter if you take a long time to work because the Greenworks 2600202 can run for a long time.
Moreover
This can power through inches of powdery snow and even wet snow.
It features a motor and rotor that work really well. I've never experienced issues with them.
Then
It's actually quite light at 33 pounds.
While the machine has a pair of wheels, there are still times when you might have to carry the product to transfer it from one place to another.
Storage, for example, might need a bit of lifting. Not always, of course. It depends on your storage area.
By the way
It's quite easy to start since you only need to push a button and it's ready to go.
It also has a folding handle so that it won't take up a lot of space when in storage.
Since it's electric
It has less noise and vibration.
This way, you can clear your snow no matter what time it is.
Look:
It's kind of irritating when you have to be mindful of the time when you need to use the machine.
You can't clear snow too early or you will disturb the neighbors. The same when you do it too late.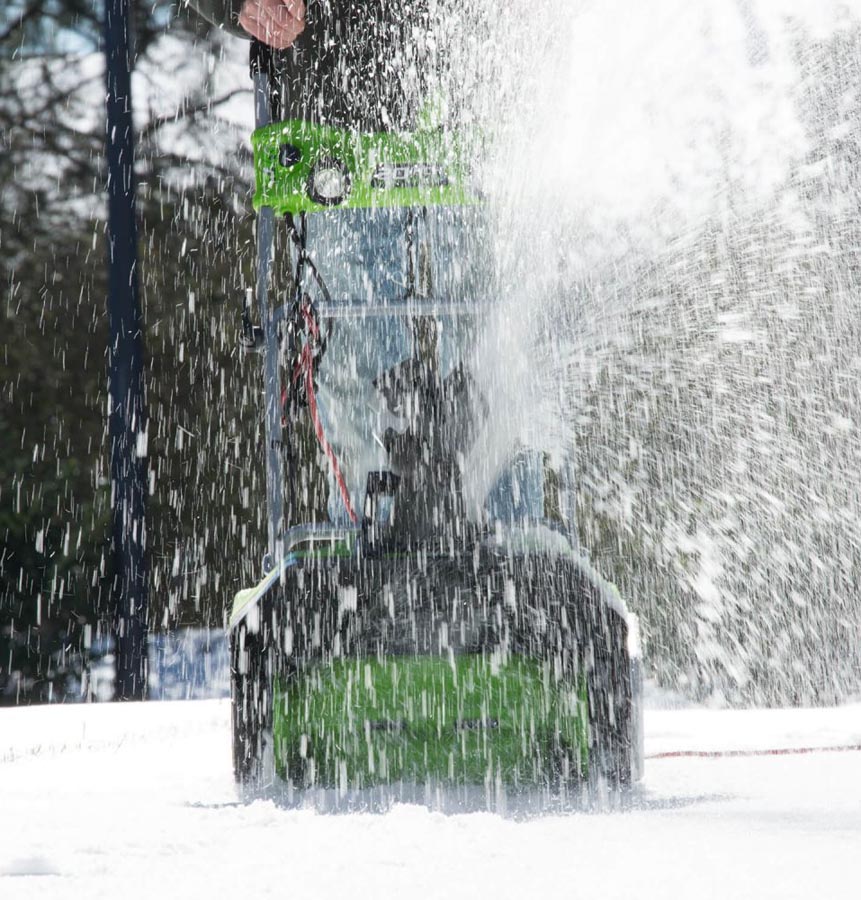 You would also like to know:
This product is quite easy to assemble.
There's no need to sweat over the manual as everything is pretty understandable.
Let's talk about the brand:
Greenworks has been manufacturing battery-operated machines for a long time.
The brand offers every tool for all kinds of jobs.

---
The Not So Good
---
You just need to watch out for icy patches that are over six inches because the Greenworks 2600202 20-Inch Snow Thrower may not be too reliable for that.
That's primarily due to the product's lightness. It's too light to soldier on.
Don't get me wrong
Greenworks does say that the product has a clearing depth of 10 inches. That is still true, but it is mostly for powdery snow.
If it's too icy, then you would have to do some stop-and-go motion.
How does that go?
Push a bit, then stop. You can then pull the machine back to have more power in pushing through again.
That would be the only time when strength is really necessary in handling this machine.
Here's another hitch
Some snow would come out of the different areas other than the chute. It's kind of annoying.
I also think that this product would work better with front wheels.
Why?
It doesn't really glide on concrete. This means that you have to make sure the front is elevated a bit so it can move.
However, if you do that, you will not be clearing all the snow on the pavement.
Another thing:
The product is mostly made of plastic, which is understandable because this snow thrower is really affordable.
Having said that, you just have to take care of this product and use it properly so that it won't get damaged.
As long as you are careful, this Greenworks snow thrower will last longer than you would expect.
Also, if I may recommend something:
Buy an outdoor extension cord for better usage of this machine.
---
Conclusion
---
My Verdict
Design - 88%
Performance - 89%
Price - 91%
89
%
Affordable and lightweight
The Greenworks 2600202 20-Inch Snow Thrower is great for small and medium areas. It's light, so you won't have to exert too much effort when clearing your area of inches of snow. With a 13-amp motor, this machine can give its gas-powered counterpart a run for its money.
You know what the best part is? This product is really affordable. There are a lot of cheap products that also work cheap. This one is just fantastic!
Since it's electric, there is no mess and there are no tuneups necessary. It's really quite convenient. More importantly, it's better for the environment. We have to do what we can for the environment and going electric is one way to do it.
Plus--this product is less noisy compared to others. The positive attributes about this product just keep on going.

---
At A Glance
---
✔ Pros
Works like a gas-powered machine
Dual LED lights
Long run time
Can do the job quickly
Light
Easy to assemble
Folding handle for easy storage
✘ Cons
Difficult on icy patches
Exterior is not very durable
Snow comes out in other areas, too
---
FAQs
---
Are there replacement parts available?
Yes! You can get replacements from Greenworks. The manual contains the numbers for the parts, which would make it easier for you to order them.
Can this machine be used in gravel driveways?
It's not advisable. The thing is, the gravel might damage the machine. Not only that, you might pick up small stones or pebbles and throw them away. That could hurt.
What extension cord should be used?
It has to be an outdoor extension cord at 12 awg. Something at least 50 feet would be great.
---
You Might Also Like…
---
For larger areas, you should get a snow blower. Snow Joe has a couple of great models: the Ultra SJ620 and SJ621.
If you are a woman like me, then you might want to check out lighter equipment. Good thing I have a list of the best snow blowers for women for you to browse.
During the summer, you are going to need a lawnmower–obviously! The most convenient one is the riding lawn mower. If you are planning on buying one, here are some things you should know about buying a riding lawn mower.
Useful Resources