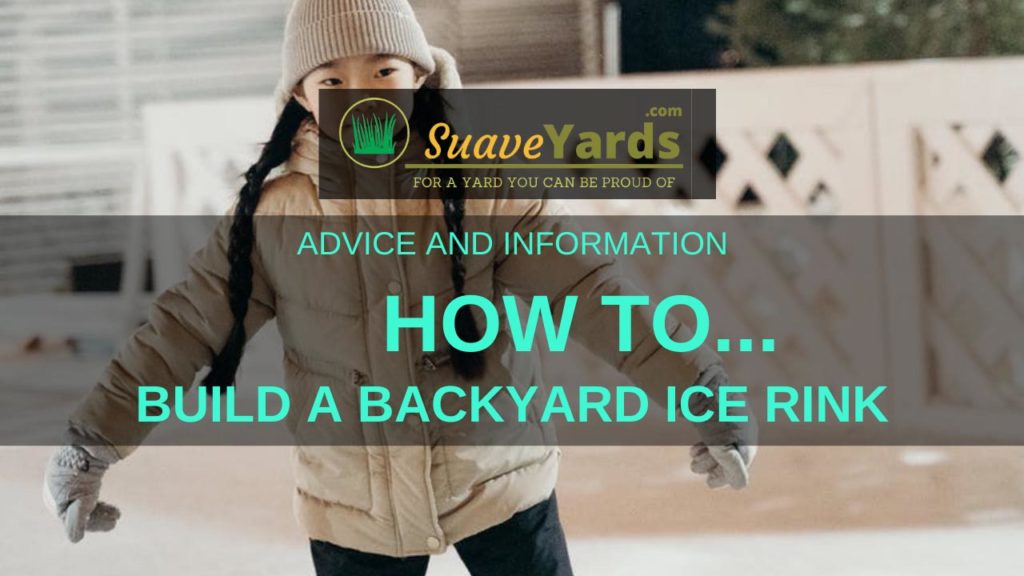 Gear up for the winter season and get yourself your own ice rink at home. There are some ice rink kits available on the market. However, why buy one when you can make your own?
Here are some simple steps on how to build a backyard ice rink.
---
Why You Should Have an Ice Rink
at Home
---
Isn't ice skating fun?
It truly is! Majority of the population would have to pay in order to have fun on an ice skating rink. But if you have it at home, you can have fun on ice anytime you want!
Ok, not really
You still need snow in order to complete your ice skating rink. Basically, you can have fun on ice anytime during winter.
Having your own ice rink also makes it more versatile. Usually, when you go to a skating rink, it's just for regular skating.
On the other hand
If you want to do some hockey, you need to go to a hockey rink as a lot of the skating rinks don't have the goals.
But if you have an ice rink at home, you can use it for regular skating and even for hockey. Even if your rink is just big enough for one hockey goal, it's enough to call a game of hockey among family members.
When you have children
This is the best kind of bonding you can have. You don't have to travel anywhere and it's quite cheap.
Who knows? Your child might just become the next bemedalled Olympic skater or the next National Hockey League player. 
In essence
Having an ice rink in your backyard is just so convenient. It's cheaper, too.
You see, there are available skating rink kits in the market. You just purchase them, assemble based on instructions, and you have yourself a skating rink.
However
Building the entire set yourself is just cheaper. Not only that, you can build the rink according to the size of your backyard.
A skating rink set has standard sizes. But if you just make the rink yourself, it will surely be based on your available space.
Speaking of space
How big should your backyard be in order to have a skating rink?
A standard hockey rink is 200 feet by 85 feet. Community skating rinks could be half of that. Backyard skating rinks could be even smaller.
More about the size next…
---
Considerations
---
Here are the important things you need to consider when building a backyard ice rink.
Size
The size of the skating rink is really dependent on your space. If you have a large area, then you can definitely make a large rink.
There's something else
The larger the rink, the more expensive it is. There's also a bigger area to maintain.
Of course, the bigger it is, the better. You have to remember that skating is about movement. You will be able to move more when you have a spacious rink.
Even better!
You can enjoy a game of hockey! This, even when you only set up one goal. Hockey is a team game, which means it's only fun when there are more people involved. 
You definitely need a large space to play hockey.
You know, a skating party also sounds really fun. A big space would allow people the freedom of movement.
But if the budget won't fit
Even a small skating rink is fun enough. The budget is an important consideration. Besides, you can always just start small and then expand the rink once you think it's necessary.
If you really want a number, a 30 foot by 30 foot rink would be good enough for a regular-sized backyard. This is already a good enough size to skate around with children. It may be a bit cramped for a game of three-on-three hockey though.
Location
Where do you want your ice rink?
There are some important considerations when it comes to location. First, the area should be relatively flat. A flat space would be best. If it's not perfectly flat, that's just fine. You can always level the area with snow.
Then there's this:
You need a sloping area, too. The slope will give your rink a neat look and it will allow you to use the least amount of water possible.
You want a sloping side that is around six inches or less. For this height, you can have around four inches of water / ice on the shallow part and more than double that on the deep side.
Furthermore
You want the rink to not be too close to the house especially if you plan to play some hockey on it. You don't want broken windows from stray pucks, do you?
On that note, the rink should be parallel to the house to lessen the chances of pucks going into the house.
Lastly
You want to be near a water supply for convenience. If not, you can buy a really long hose.
Timing
The best time to build your backyard ice rink is when the temperature is consistently freezing.
You want the base to have some natural snowfall before you start the construction of your rink.
Now, you are ready to build your ice rink!
---
How to Build a Backyard Ice Rink
---
Here are the materials you need to create a simple backyard ice rink:
Shovel
Rake
Hose + water supply
Lumber or plywood for walls
(optional) plastic or tarpaulin as liner
Steps:
1. Level the base with snow
You want a base of an inch or two of really packed snow. You use the rake to smoothen the snow.
2. Build the border
You can use either lumber or plywood as containment walls of your skating rink. Since there is no standard size for a backyard ice rink–that would be up to you–I have not specified the number of plywood or lumber you need to use.
You can always ask assistance from the hardware store where you will buy your border materials.
The important thing:
The border should at least be three inches high. You don't need a border on the sloping part of the rink.
3. Strengthen the base
This is quite easy. You just need to put some water into the snow base. Now, this is crucial, you only need to put little at any given time.
Let me elaborate
You want the water added to the base to freeze. You absolutely don't want the water to melt the base.
This freezing water will be your sort of liner for when you have to flood the rink with water. You may also add a plastic sheet or tarp over the frozen water as additional liner.
4. Flood the area
Now, the fun part. With the use of your hose attached to the water supply, flood the rink area.
The best time to do this is when you have experienced a temperature of 20℉ for at least three days. For this temperature, your ice will be ready for skating soon enough.
Here's another way
This will require more effort on your part and it will take more time. The effect, though, is better.
You can put a small amount of water at a time. You can wait for it to freeze before you add another layer. You can do this until you reach the desired thickness.
Guess what time it is?
It's time to skate!!!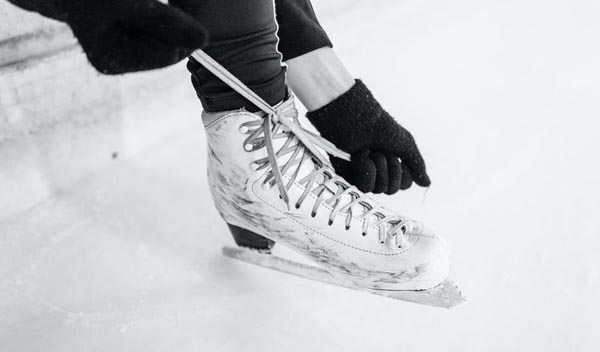 Of course, you have to maintain the rink so it will always be in good condition. If cracks appear from overuse, you make a slush of water and snow and apply it into the cracks. Wait for it to freeze.
You can add another layer of water and wait for it to freeze to make it perfectly level again.
What about snowfall?
When snow falls, you can use a snow pusher to level the snow.
If you want the ice to be smoother, then you can add a layer of water to the rink and allow it to freeze.
End of winter:
If you have a lawn at the bottom of your ice rink, you wouldn't want to flood it with the melted snow.
When the ice in the rink starts melting, find a way to speed up the process and spread the water around. Remove your borders so the water will drain easily.
---
Summary
---
An ice rink in your backyard seems quite complicated. Surprise, surprise! It's not complicated at all! It's actually quite easy.
How to build a backyard ice rink? It only involves four easy steps. It's going to take some effort on your part, especially if you want to make a large one. But it won't hurt your pockets and the end result is a fun time with the entire family.
Build your own backyard ice rink and teach children how to skate early. It's a great form of training for balance and grace in movement. If there are enough members, it's also a good way to learn hockey, which embodies teamwork and competition.
---
Useful Resources
How to Build the Perfect Backyard Rink – Global News
With Indoor Rinks Closed, Players Turn to 'Speakeasy Hockey' – New York Times
Backyard Ice Rinks All the Range in Franklin County – The Recorder