February 23, 2020
Husqvarna 128LD Review: Commercial Power, Residential Trimmer

Review At A Glance

The Husqvarna 128LD is truly excellent. You get the power of a commercial weed eater, smooth performance, 11 convertible yard care tools and at an amazing price.
MY RATING: 94%


---
Editor's Note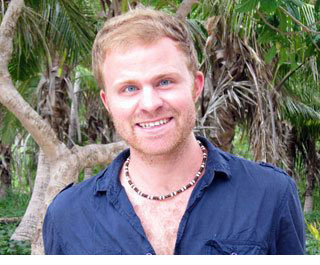 I hope you love the products that I recommend here! Just so you know, I work with Amazon and other affiliate partners and may be compensated from the links below.
---
---
Specifications
---
Power Source – Gas
Model – 128LD
Dimensions (w x h x d in inches) – 10 x 40 x 12
Cutting Width – 17 inches
Line Diameter – 0.095 inches
Feed System – Dual Bump Feed
Engine Type – 2-cycle
Engine CC – 28
Fuel tank volume 13.53 fl oz
Power Output – 1.0hp
RPM – 8000
Weight – 11.11lbs
Two Year Warranty
PRICE – $$$
---
About the Husqvarna 128LD String Trimmer
---
The Husqvarna 128LD is a gas weed eater/string trimmer with a 28cc engine and a cutting width of 17 inches. It has a T25 semi-automatic trimmer head – you can add 11 different lawn care attachments to the head so as well as a weed eater it also doubles up as a hedge trimmer, edger, tree pruner, etc.
It has a bump head, dual feed line, which takes line that is 0.095inches in diameter.
This is a nice touch:
It has an automatic return stop switch which resets to the 'on' position to make it easier to start and an air purge function that removes air from the 128LD's carburetor and fuel system for more efficient starting.
It weighs in at 11lbs and please make sure you use non-ethanol fuel with this. I'd recommend a 50:1 mix of a good two cycle oil, or you could even pay a little more and get synthetic two cycle oil which will be even better.
So let's move on…
---
The Good
---
With its 28cc, two cycle engine the 128LD comes as close as you can get to a commercial weed eater at this price.
It really is that good.
It has A LOT of power for its size and you can literally have it running all day on your weed eating jobs. It can slice through anything and will not jam or bog down, it is a monster of a weed eater.
Combined with the dual feed heavy duty strings it has no problems at all with anything, in fact a lot of the time you will probably find that you only need to run it at a quarter to half throttle to get the job done.
Sounds impressive right?
Despite the abundance of power, this Husqvarna is incredibly smooth and has no vibration. Whereas similar gas powered weed eaters may leave you with numb hands, after using the 128LD, even for several hours, you will feel next to no fatigue.
Even better:
What I really love about the 128LD, and what gives it an advantage over other comparable gas weed eaters is its versatility. You can replace the trimmer head and fit one of 11 different yard care tools to take care of other jobs in your yard. The split shaft attachment works with all MTD brands (ie Ryobi Poulan, Troy-Bilt, etc).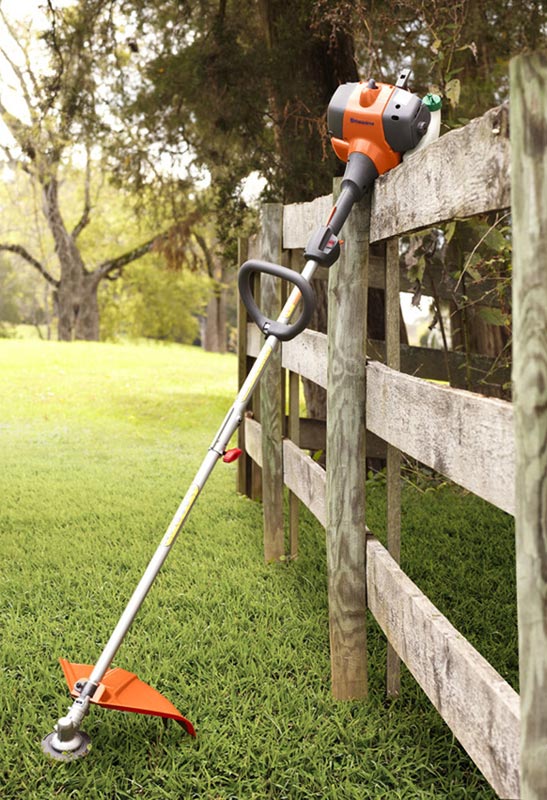 Above: The design of the Husqvarna means you feel literally no vibrations when holding the handle (right).
What does this mean for you?
It means when you are doing weed trimming you can quickly and easily swap attachments and start brush cutting, hedge trimming, edging, using a pole saw, leaf blower, chainsaw, etc, etc.
This can save you a lot of money when you think how much it would cost to buy each of these tools individually.
This is HUGE:
We all know that gas powered devices can sometimes be a pain to start, but thanks to some intelligent design by the folks at Husqvarna, a Smart Start® engine and an air purge functionality you will find that this will rarely be an issue for you with the 128LD.
Starting from cold you might need to prime the pump a few times and then it will get going. Been using it for a bit and stop quickly for a break? The restart will generally be on the first pull. No frustration for you in that aspect.
What's more:
This has a straight shaft, which is actually really good and works well for getting to hard to reach areas and under bushes, etc. All in all it has been well designed ergonomically and feels pretty light for a gas weed eater – it weighs around 11lbs.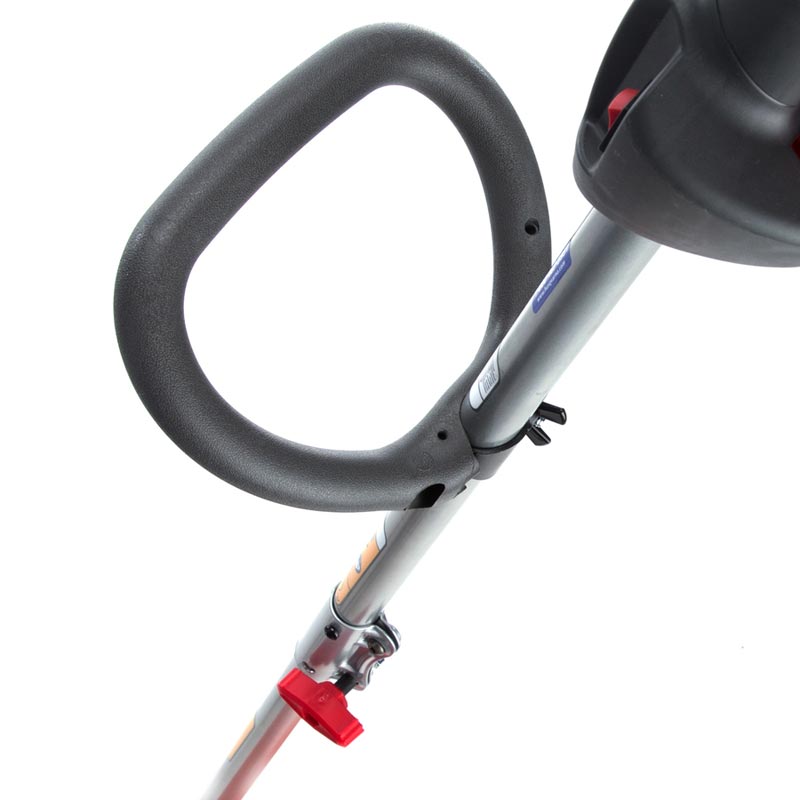 Above: The throttle function (above left) is great and the handle (above right) is well designed.
This is really built to last. It is made of quality materials and feels sturdy and of use.
Let me tell you a secret:
I have a friend who works in a yard care store and he has said Husqvarna products are hardly ever brought back in due to something going wrong, so this indicates they are very reliable and you certainly feel that with the 128LD.
The dual, bump head, feed line is a delight and works nicely. The line is easy to install and durable and should last you a good time. This is a real bonus in the weed eater field where the line feed system is often where a good tool can fall down.
And you can't beat this:
This is exceptionally well priced for the level of performance and the fact it is a gas weed eater.

---
The Not So Good
---
There are a few things I don't like about this weed eater. The choke switch is on the inside of the unit, this means it is all too easy to accidentally turn it off. However the good news is it starts right back up again!
This sucks:
I love the versatility and attachments you can add to this, however I do have an issue with the attachment joint as it is plastic and it is pre-split down each side.
This has a negative effect if you are using one of the attachments that uses a lot of torque – ie the tiller, chainsaw or brush cutter. It means the slug spins of the square shaft of the attachment and reduces the power.
And another thing:
I don't particularly like how the head doesn't turn when it is idling. It is a safety feature, I accept that, but it means that as you put it to the ground the head isn't moving, then when it is at about half throttle and the RPMs increase it suddenly engages and starts spinning all over the places, which makes it difficult initially to work with it.
In some ways this might be too powerful. I mentioned earlier in the review that you will find yourself using it at a quarter or half throttle most of the time.
The problem with this:
Because you are always operating at high RPMs it makes it more difficult if you have very delicate areas of your yard you need to take care around.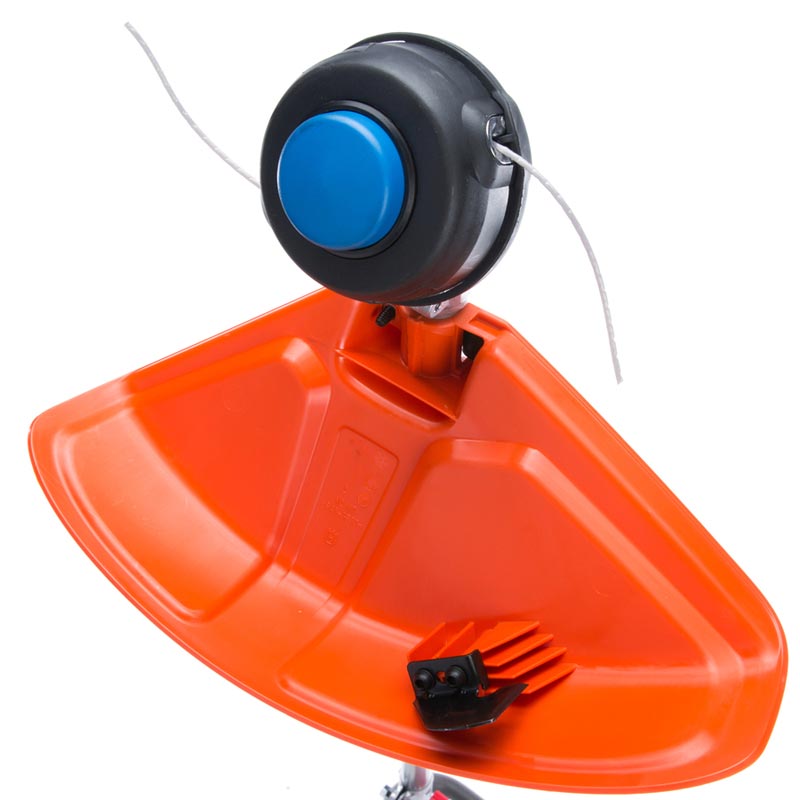 Above: The head of the Husqvarna 128LD does not turn when it is idling.
---
At A Glance
---
✔ Pros
Oozes power
No vibration
Smooth and well balanced
So versatile – can use 11 attachments
Easy to start
Ergonomic and light
Built to last
Nice straight shaft
Good bump head feed and line
Great price
✘ Cons
Choke switch placement
Attachment joint is plastic
Head doesn't turn when idling
Too powerful?

Conclusion

My Verdict
Design - 93%
Performance - 93%
Price - 96%
94%
Loads of power!
If you want power from your weed eater - this is the tool you need. It has it in bucketloads. As I mentioned before it is as close as you will get to a commercial weed eater for the price.

If you have a lot of dense vegetation and tough weeds you want to cut back - this is the tool you need. Thanks to the power and the cutting system no weed will stay standing!

If you want something that will leave you with no fatigue and no numb hands after a couple of hours of use - this is the tool you need.

If you want something that you can easily transform from a top quality weed eater to one of 11 other useful garden tools, this is the tool you need.

In short this has pretty much everything you want from a weed eater. Power, no vibration and versatility. It is truly excellent and at a great price.

User Rating:

2.72 ( 26 votes)


---
FAQs
---
Is this one string or two string?
It is two strings that are opposite each other.
What line do I need to use?
The T25 head holds 0.065 inch, 0.080 inch or 0.095 inch trimmer line. It comes pre-wound with 0.095 inch TitaniumForce trimmer line.
Is the shaft adjustable? Yes it can be shortened or lengthened by sliding the shaft and tightening the screw.
Is there a trimmer attachment that can be used with it?
Yes the 128LD accepts the TrimmerPlus Edger Attachment.
---
You Might Also Like…
---
Check out my Best Weed Eaters of 2018 Buyers Guide for my favourite weed eaters/string trimmers of the year (yes this one features in it!).
My favourite is the Ego Power String Trimmer – it is battery powered, but it is great! To the right are a list of general resources that maybe be of use.
You can also view my Site Index, which shows everything on my site on one page or you can check out my recommended links below:
Useful Resources
The Best Weed Eaters of 2018
Husqvarna Official Website
Consumer Reports String Trimmer Guide
Choosing And Using String Trimmers