February 21, 2020
Makita XRU02Z 18V LXT String Trimmer Review: Bump Feed Heads Don't Get Any Better That This

Review At A Glance

I love the line feed system, I love the power, I love the battery performance, I love the Makita XRU02Z 18V LXT String Trimmer!
MY RATING: 91%


---
Editor's Note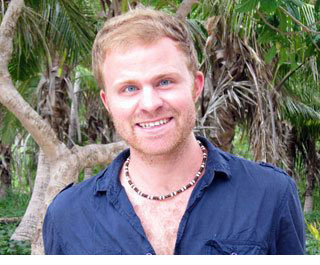 I hope you love the products that I recommend here! Just so you know, I work with Amazon and other affiliate partners and may be compensated from the links below.
---
---
Specifications
---
Power Source – Battery
Model – XRU02Z
Size (w x h x d in inches) – 10 x 49 x 5
Battery – 18V LXT® Lithium-Ion
Speed – 7,800 RPM
Overall Length – 56.5 inches
Weight (excl. cutting equipment) 11.24 lbs
Cutting Diameter – 10.025inches
Line Diameter – 0.065inches
Feed Type – Single line bump feed
Net Weight (with battery) – 6.4 lbs.
Shaft Type – Telescopic
Three Year Warranty
PRICE GUIDE: $$
---
About The Makita XRU02Z String Trimmer
---
The Makita XRU02V String Trimmer is part of the Makita 18V Lithium-Ion series – powered by an 18V Lithium-Ion battery. A 3.0Ah battery will deliver up to 45 minutes of run time on a single charge.
In more detail:
It has a telescopic shaft that can be extended by up to 7.5inches, a 180 degree rotating head that has 5 adjustable positions and a ratcheted handle. It delivers up to 7,800RPM and has a cutting diameter of 10.025inches.
It has a single line bump feed head and uses a 0.065 inch line and weighs 6.4lb with the battery. It comes with a three-year limited warranty. It will work with any Makita 18V battery and charger.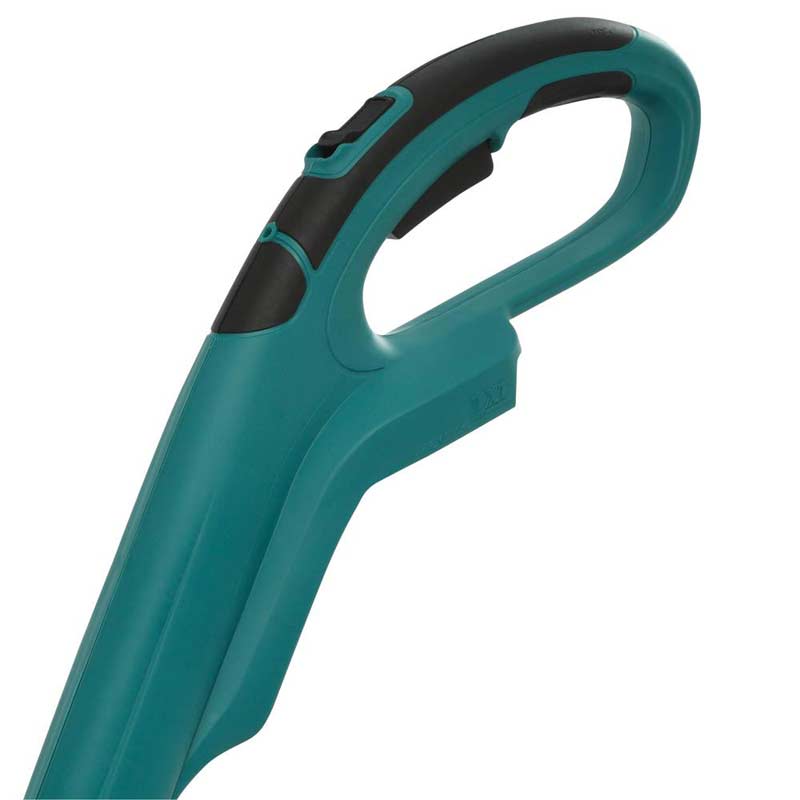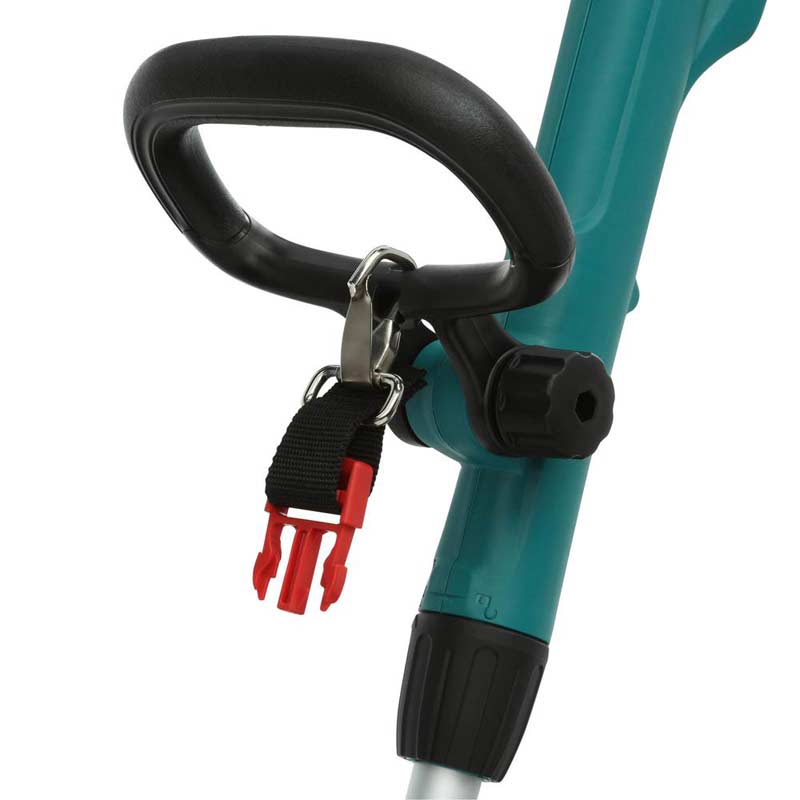 ---
The Good
---
Although battery powered devices are often thought of as being a bit flakey when it comes to power output this has a very strong motor.
It really bucks the trend.
It delivers 7,800 RPM and it easily cuts through light and medium grass or weeds. Like any string trimmer once the weeds get a bit tougher it might struggle.
The battery system is great. This uses Makita 18V LXT or Compact Lithium-Ion batteries, which have extremely fast charge times and great run times.
As a rule of thumb a 5.0Ah battery can last up to 60 minutes and a 3.0Ah battery up to 45 minutes (note this is on the basis they are not being worked overly hard).
And that is HUGE for you.
The battery has an indicator light that switches on to show that the battery is running low and it maintains full power up to the last moment and then stops, rather than power slowly and painfully ebbing away.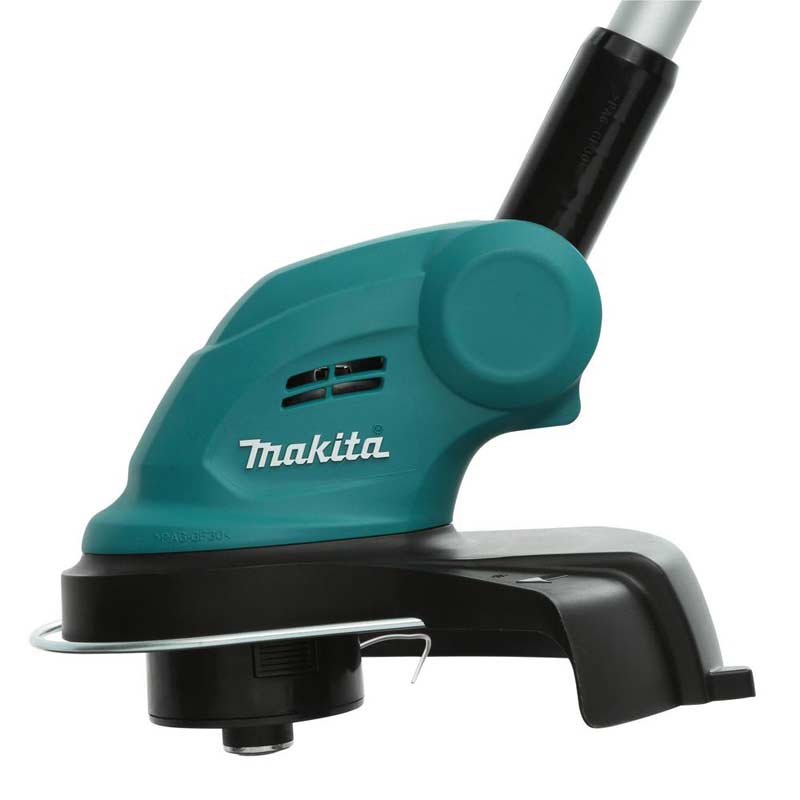 Above: The Makita XRU02Z bump feed head is great and overall is nice to use
The rapid charger gets the batteries fully charged quickly too. It takes around 45 minutes to fully charge a 5.0Ah battery and 30 minutes for a 3.0Ah battery.
That is great for you:
This is a big plus as you get more time using the battery and less time charging it.
Please note that you have to buy a battery and charger separately from the tool itself. Again Amazon have some great deals on a battery and charger pack.
The bump string head really excels – an area where string trimmers often struggle. It works as well as any weed eater I have tried.
Think I am exaggerating?
A simple tap of the head and it automatically feeds out the line and trims its length. It is simple and easy to use and works perfectly.
The angle of the head can automatically be adjusted to one of five positions by pressing a button on the side of the head and then angling it into one of these positions.
This is a nice feature to give you the best possible chance of dealing with whatever you need to. The guard goes on the head easily as well and fits into place with two screws.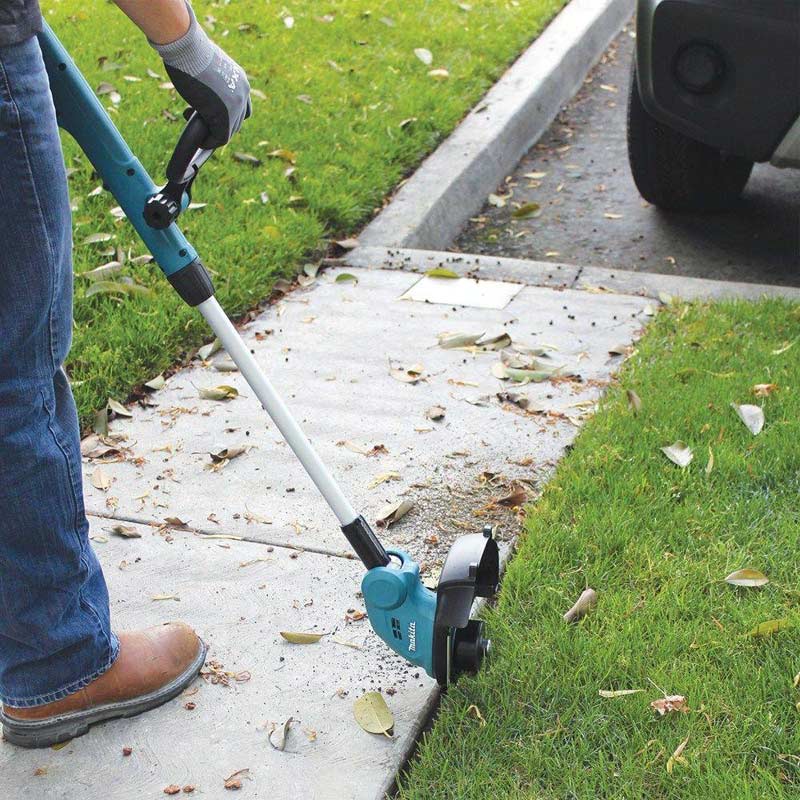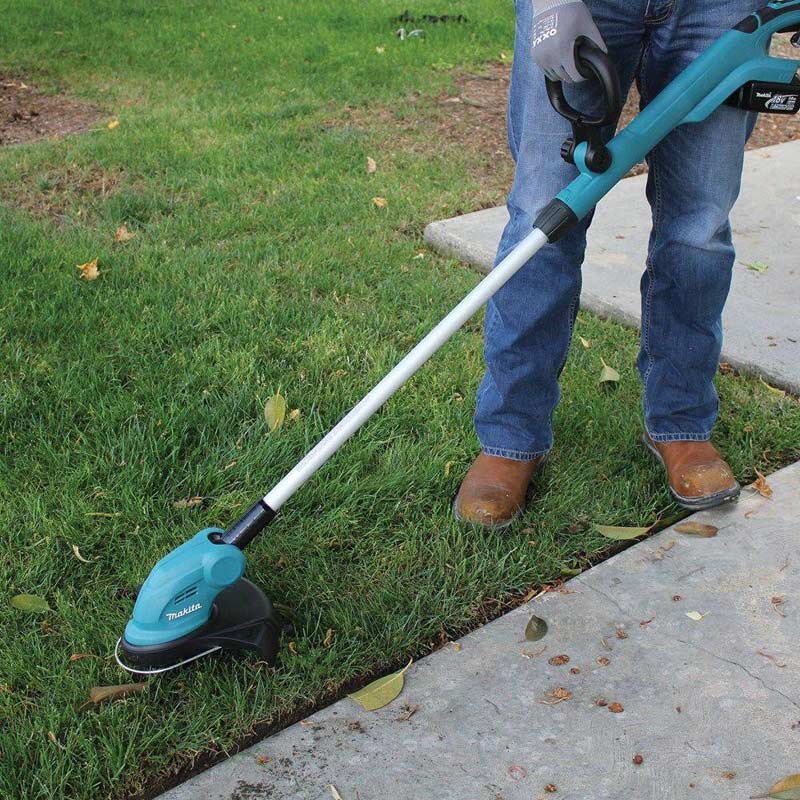 Above: It is easy to switch between trimming and edging.
I love how the head rotates 180 degrees, to make it super easy to switch between edging and trimming. It is really easy to operate and a real time saver if you find yourself regularly needing to switch between the two modes.
Add to this:
It is nicely built, comfortable and easy to use. It has an easy trigger pull and comfortable interlock, and a safety lock to stop you squeezing the trigger accidentally.
It has a ratcheted handle you can adjust and lock into place to keep the trimmer steady. Beneath the handle is a locking mechanism, turn it counter-clockwise to unlock it and then you can extend the shaft by up to 7.5 inches, then just turn it clockwise to lock it into place.
Even better:
Like most Makita products it feels it just feels well made and is well balanced with minimal vibration.You can just tell this is a high quality product as soon as you start using it.

---
The Not So Good
---
This is a really solid weed eater, there are a couple of minor adjustments that could make it even better.
For instance:
I think it would be better balanced if the motor was near the handle instead of the feed (the Makita gas-powered trimmer is designed like this). As it is you end up working against gravity, with the middle handle acting somewhat like a badly position fulcrum.
There are a couple of issues around the spools, they aren't particularly well constructed and will wear down. Replacements cost $15.
A good idea is:
To keep a watch on the condition of the metal part of the spool and when you advance the string make sure you don't do it by bumping the head against particularly hard surfaces.
Additionally the string it comes with is not great quality. It is fairly cheap nylon string. I'd advise you look for some durable, edged string to get this working to its full potential.
Lastly:
Opening the head to re-feed or refill the cord is a little difficult. Adding ears, tabs or something to get hold of when you open it would make it a lot easier.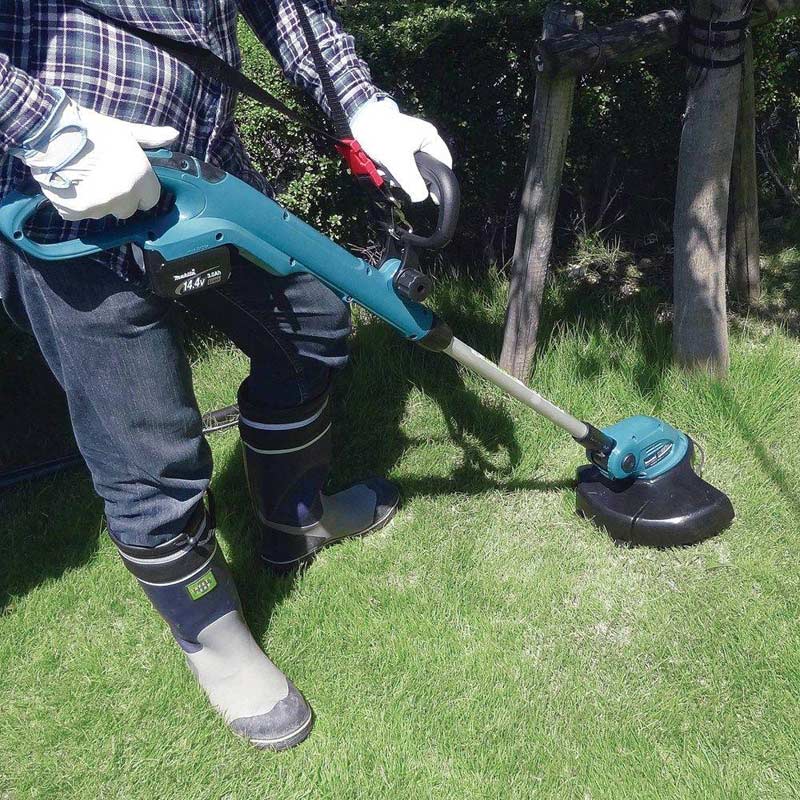 Above: Overall the Makita XRU02Z is a great buy.
---
At A Glance
---
✔ Pros
Powerful

Batteries have a good run time

Batteries charge quickly

Bump feed head works well

Adjustable head

Rotable head – easy to switch between trimming & edging

Nice ratcheted handle

Extendable shaft

Quality build
✘ Cons
Motor should be near handle not feed

Spools wear down quickly

String that comes with it is poor quality

Opening head is difficult
---
Conclusion
---
My Verdict
Design - 92%
Performance - 91%
Price - 90%
In short this is a top notch household trimmer and is great for a typical urban lawn. If you already have any Makita LXT tools then I strongly advise you to buy this as it will work with their batteries, making it a bargain purchase.
When you purchase a battery powered trimmer you are probably looking at two things. The first that it does its main job, trimming/weed eating, well and second that the battery system works well. This scores top marks on both accounts. You get a lot of power and a good battery that lasts a while and recharges quickly.
As an additional bonus the line feed system works as well as any other string trimmer I have seen.
I love Makita Tools as they are always solidly made and without exception work well. This once again fulfills those expectations. It is a great piece of kit.

---
FAQs
---
Does this come with string?
Yes it comes with one spool.
Is there a good quality replacement string that can be bought?
I particularly like the Cyclone 0.065-Inch by 300 Foot Spool Commercial Grade 6-Blade ½-Pound Grass Trimmer line. It is nice and durable. If you get replacement string make sure it is 0.065 inch thickness.
Is this variable speed?
No it is just one speed.
Can I use batteries from other tools with this?
You can use any 18v LXT battery with it.
Is a battery and charger included?
No. You have to buy them separately
---
You Might Also Like…
---
This is one of a whole host of wonderful weed eaters. My favourite is the Ego Power String Trimmer – also battery powered. To the right are a list of general resources that maybe be of use.
You can also view my Site Index, which shows everything on my site on one page, or look at my recommended links below.
Useful Resources