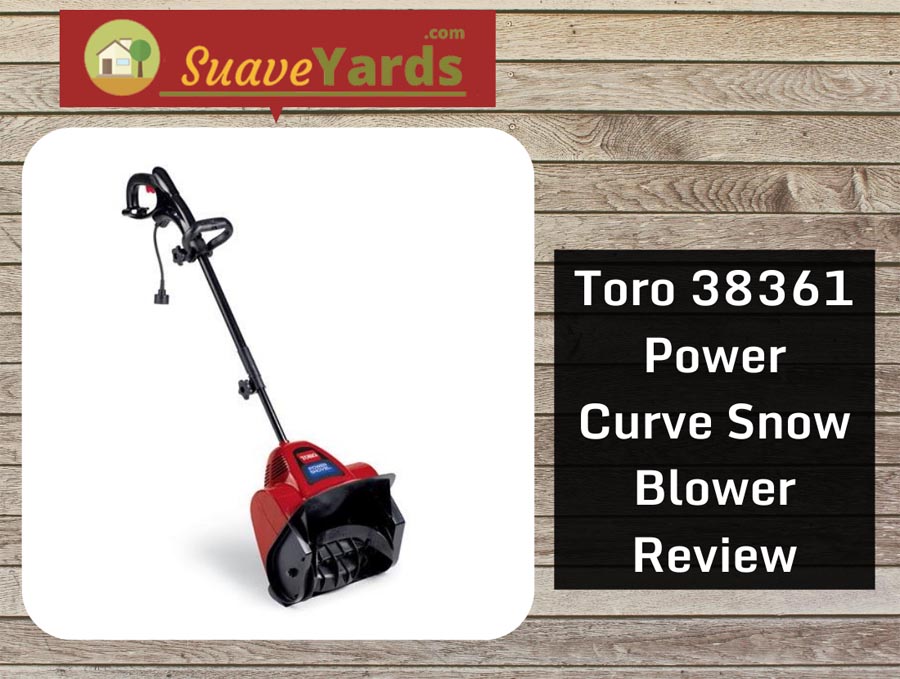 ---
Review At A Glance
---
For minor snow clearing tasks, the Toro 38361 Curve Snow Blower is a great piece of equipment. It's easy to use and it's great for really quick work. It can efficiently clear 12-inch wide of snow and a maximum depth of four inches.
MY RATING: 88%

---
Editor's Note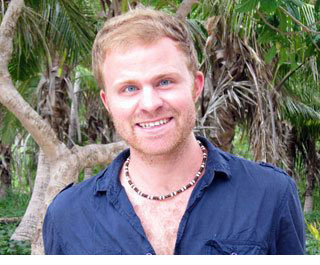 I hope you love the products that I recommend here! Just so you know, I work with Amazon and other affiliate partners and may be compensated from the links below.
---
---
Specifications
---
Model number: Toro 38361
Power source: Electric
Motor: 7.5 amps
Clearing width: 12 inches
Maximum clearing depth: 4 inches
Weight: 13.5 lbs
Warranty: 2 years
PRICE GUIDE: $
---
About the Toro 38361 Power Curve Snow Blower
---
For small areas like small driveways, decks, steps and sidewalks, the Toro 38361 will be a fast and efficient tool come winter.
Running at a 7.5-amp motor, there is power behind this really light electric snow shovel.
How light?
It weighs 13.5 pounds, which is a perfect weight for really quick work.
It can clear 12-inch width of snow.
Not bad for a small tool
The product has the following dimensions: 15 x 12 x 52 inches.
Coupled with its weight, you know that this isn't a hefty piece of equipment to get out of the storage room and return after you have cleared what you needed.
Plus
It clears off a depth of four inches.
This is also a snow blower and it can throw the cleared snow 20 inches away from you.
That's great, right?
It has a power curve rotor and a stationary scraper.
I just mentioned the facts, now let's talk about what's great about the Toro 38361.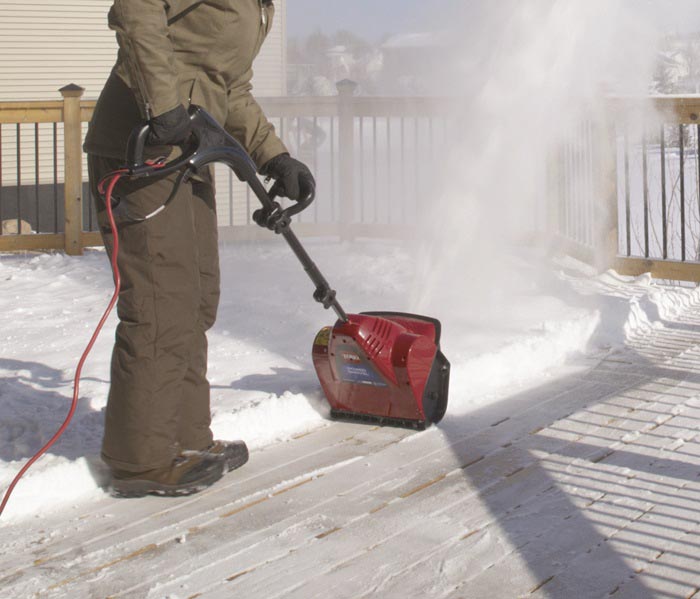 ---
The Good
---
Most people are truly busy. Even the wealthy are busy.
People make a living while also making time for their social life.
That's what living is about
There should be a good balance between work, family and friends.
However, winter always comes and adds to our already busy schedules.
The snow won't clear itself!
That's exactly why you will need something handy. Something you can take out really quickly and then do the work.
For quick work, you just want to clear the snow on your pathway or driveway.
When that's done
Then you can return the shovel to the storage room and go on your merry way.
If you have more time later, then you can spend some time clearing snow in various other places surrounding your home.
That sounds simple, right?
It is exactly as simple as it sounds. It's that efficient.
It's fast, too!
Check this out:
With a motor that runs at 7.5 amps, you know that this shovel can power through the snow.
Just make sure that your snow is about four inches high.
Okay, four inches is what Toro will tell you.
But you want to know a secret?
I used it on six inches of snow and it didn't bog down. It just worked like it's supposed to.
Although, the snow was powdery and fresh.
You have to remember
This is a lightweight shovel, so don't use it for heavy snow tasks. Don't try to power it through ice.
The Toro 38361 can also clear snow at a width of 12 inches.
Small but incredible
That's exactly a great description. The product might be lightweight, but you must know that there is some power behind it.
It can actually move around 300 pounds of snow per minute.
That's not bad, right?
The snow, too, will be blown away at a maximum of 20 feet.
That's exactly why you can finish your work right away.
There is also this:
Because it is lightweight, you can also use it for your deck.
It's actually quite versatile. You can use it on your roof, too.
Plus
It's not a complicated tool at all!
As far as assembly is concerned, you don't need to do much.
Then, you just need to plug the wire in and push the button. You are ready to do some cleaning!
You know what else?
The handle height is adjustable.
This is a common complaint among users of electric shovels. They usually complain that the shovel is too short for some really tall people.
Why is height important?
If you are tall and the handle is too short, then that means you have to bend more. That will not be good for your back.
This would defeat the purpose of having a piece of lightweight equipment since it will just hurt your back anyway.
On the other hand
If you are shorter than the average height, you won't be able to have a comfortable grip on the handle if it's too high.
Having an adjustable handle height also means that anyone at home could use the Toro 38361.
Meaning?
Family members can take turns cleaning the driveway, sidewalk, pathway and deck, among others.
Moreover
There are just so many good things about a piece of electric outdoor power equipment. It's just so good that you don't have to deal with gas and oil and the tuneups.
It's also better for the environment.

---
The Not So Good
---
I'm right handed, so I had no trouble using this power curve snow blower.
However, a left-handed peer complained that the product is actually too right-hand dominant.
The explanation
Since the power switch is on the right, it's quite uncomfortable for a left-handed person to push the button while also pulling the trigger.
Toro should have thought about making this product more user-friendly to all people.
Speaking of the trigger
You do have to hold the trigger as long as you are clearing snow.
It could be quite tiresome.
Also
While I raved about the handle, I also noticed that it's not really made from a sturdy material. So, when I'm using it, I have to be more careful in the handling.
Although, I'm thinking of the possibility of reinforcing it so I don't have to think about it all the time when I'm actually working.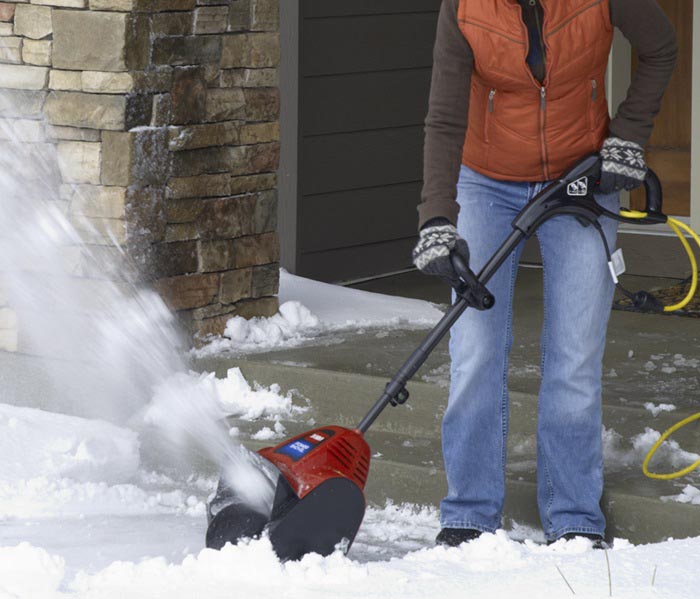 Lastly
This product is an electric snow blower, so it is understandable that you have to contend with an electric wire.
Perhaps Toro should think about having a cordless model? This already works so well and is light, having a cordless electric shovel sounds even better.
---
Conclusion
---
My Verdict
Design - 88%
Performance - 88%
Price - 89%
88
%
Perfect for quick work!
There are so many things to do to survive - we have to work, take care of our family and friends, and keep healthy. Who needs to do extra stuff? Good thing there is the Toro 38361 Power Curve Snow Blower to help us do a quick work of snow removal.
After all, we could hardly work if inches of snow is blanketing our driveway or our pathway. The Toro 38361 is light, small and affordable. You can easily store it at home and easily take it out of the storage room when you need it. Just as easily you can return it because this is not heavy at all.
It can power through four inches of snow at a width of 12 inches. You can also use it on your deck, porch and roof. It's that versatile!

---
At A Glance
---
✔ Pros
Fast & efficient
Light
Simple to use
Versatile
Adjustable handle height
Can actually clear 6 inches of powdery snow
✘ Cons
Quite uncomfortable for left-handed people
Flimsy handle
Holding the trigger button could be tiring
---
FAQs
---
How do you assemble the Toro 38361?
It's actually very easy. You just need to take it out of the box–obviously–then tighten some screws. You don't even need to read the instructions. You will know how to assemble it as soon as you see it.
Would this work on a rough or gravel driveway?
Ideally, it shouldn't. Although, the small pebbles could easily be spit out and thrown away like the snow. Larger ones could damage the rotor.
What is the length of the power cord?
It's less than a foot, so you should definitely buy an extension cord for this.
---
You Might Also Like…
---
If you are shopping for electric shovels and want to know about other brands, here is my expansive review of the Earthwise SN74016 Cordless Electric Shovel.
For larger areas (driveway, yard) you might want to use a snow blower for maximum efficiency. Snow Joe is a good brand. Check out the Snow Joe Ultra SJ620 and SJ621 Snow Blower.
The above-mentioned snow blowers have also made it to our list of the Best Snow Blowers for Women of the year.
Useful Resources